At Anderson Sinclair, we go above and beyond to create truly specialist bespoke interiors that elevate your home with exceptional style, effortless functionality and long-lasting quality.
Loughton's Leading Team of Kitchen & Bedroom Specialists
Since our humble beginnings in 2000, our family-run company has gone from strength to strength. We have dedicated over 20 years to developing the most luxurious quality range of kitchens and bedrooms and our talented team of designers and fitters ensure our service is second to none. As a small independent business, our values of care, quality and honesty are close to all our hearts. Our outstanding commitment to our customers ensures we put you at the centre of every stunning bespoke interior we create.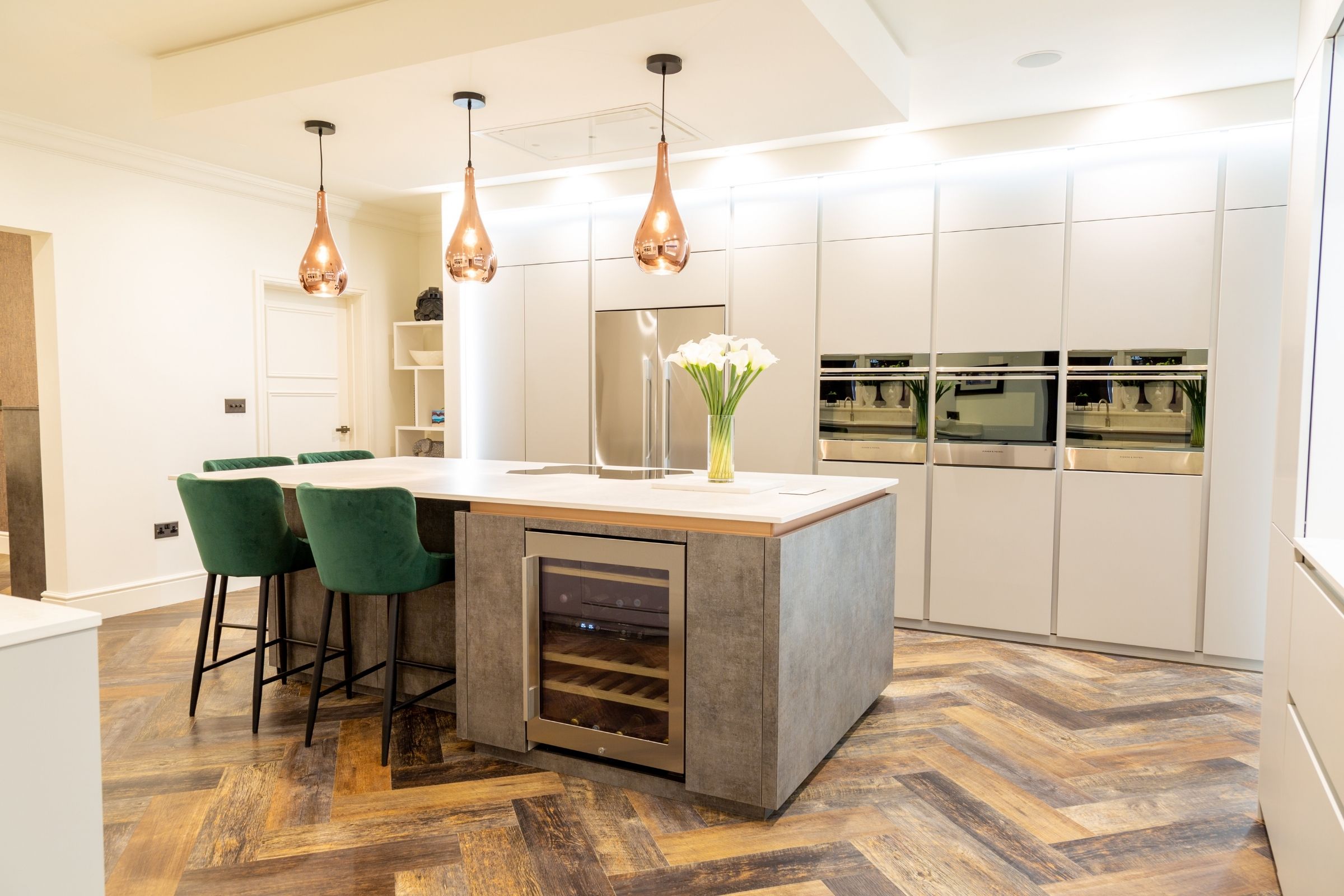 Explore our Exceptional Loughton Showroom
At Anderson Sinclair, we pride ourselves on the flawless quality of our interiors and we have taken great time and care to find a supplier that meets our exacting standards. Over the years we've built a fantastic relationship with British family-run manufacturers Mereway, which means that, alongside their extraordinary range of stunning modern and traditional designs, we can also offer wonderful custom solutions to perfectly achieve your vision and maximise your space.
Beautiful Bespoke Bedrooms
Bedrooms are a truly personal part of your home and they can present a tricky task when it comes to achieving the perfect balance of style and functionality. At Anderson Sinclair, our talented designers are true masters of their craft and they know exactly what it takes to create a beautiful interior that captures your personality while giving you plenty of space to store what you need.
We have collaborated with our manufacturers Mereway to bring you a completely unique range of bespoke bedroom furniture. Our impeccable relationship with our suppliers means we can customise your made-to-order bedroom to suit you and your home absolutely flawlessly. You can find out more about our stunning bespoke bedrooms by clicking the button below.
A Team that Truly Goes the Extra Mile
Having designed and installed outstanding bespoke interiors across Essex for over 20 years, we've proudly continued to uphold the same small business values since day one. Genuine care, honesty and quality are at the heart of everything we do, and nothing is more rewarding for us than seeing our customers delighted with their new space.
For us, designing beautiful kitchens isn't just about installing a great set of furniture, it's about ensuring every detail across the whole room fills you with joy and creates an environment that you'll love spending time in for years to come. We take a collaborative approach to design, taking you out of your comfort zone and closely supporting you to find an interior that's so much more than you could've imagined.
At Anderson Sinclair, we thrive on getting our teeth into an exciting new project. We have unrivalled expertise in working with builders and architects and can help from the very beginning to ensure your new space exceeds your expectations. With our talented and highly trained in-house team of installation specialists and partner tradesmen, we can manage every aspect of your project from small building works to tiling and decorating. Our exceptional service guarantees we maintain the highest standards, delivering your project efficiently and with painstaking attention to detail.
From our talented designers to our expert fitters, every member of our team is dedicated to going the extra mile to ensure your new interior is simply outstanding.
We visited many different retailers before meeting the friendly and professional team at Anderson Sinclair. We were struck by Jon and Lily's wonderful service; they immediately went above and beyond to help us. Since purchasing our kitchen over a year ago we have had so many compliments and are incredibly grateful to the team at Anderson Sinclair.
Mr Patel
We would definitely recommend Anderson Sinclair. Their service was fantastic, the quality of the installation was exceptional and all in all their team really is second to none. From start to finish we found the potentially daunting experience of buying a kitchen was made easy and enjoyable!
Mr Beardon
We are absolutely delighted with our finished kitchen and couldn't be more grateful for the fantastic service we received. Jon and his team were incredibly professional, and communication was clear throughout our project. We wouldn't hesitate to recommend Anderson Sinclair to our friends and family.
Mrs Grave
We have just bought a kitchen from Anderson Sinclair and are really thrilled with the attention to detail and beautiful finishing touches it incorporates. No matter how many questions I asked, they always took the time to explain clearly and were able to help with my design. With the amazing support of the team at Anderson Sinclair, I can now safely say we have the kitchen we've always dreamed of.
Mrs Pearce
The amazing team at Anderson Sinclair couldn't have been more patient and accommodating. We needed extra time to store our kitchen and Jon was more than happy to help. They made the whole process completely seamless and we are totally over-the-moon with our gorgeous new kitchen.
Mrs Adelman