The growing demand for handleless kitchens is reflective of the changing relationship we have with our homes. Modern open-plan living is increasingly desirable and long-gone are the days when the kitchen was used just for cooking. Originally conceived in Germany, handleless kitchens are the ultimate in luxury contemporary interior design. But why have a Porsche when you can have an Aston Martin? At Anderson Sinclair, our sublime handleless kitchens are made in England using the finest materials and state-of-the-art technology, and they establish an extraordinary environment that demonstrates modern living at its best.
Our fantastic team has years of experience in designing breath-taking, boundary pushing kitchens, which coupled with their passion for design innovation and their eye for detail ensures every space they create is simply outstanding. Our exceptional handleless kitchens beautifully pair texture, colour and finish to capture a refined and minimal aesthetic. With unlimited design flexibility and the knowledge of our fantastic team, there's no ground that can't be broken on our quest for the perfect bespoke contemporary kitchen.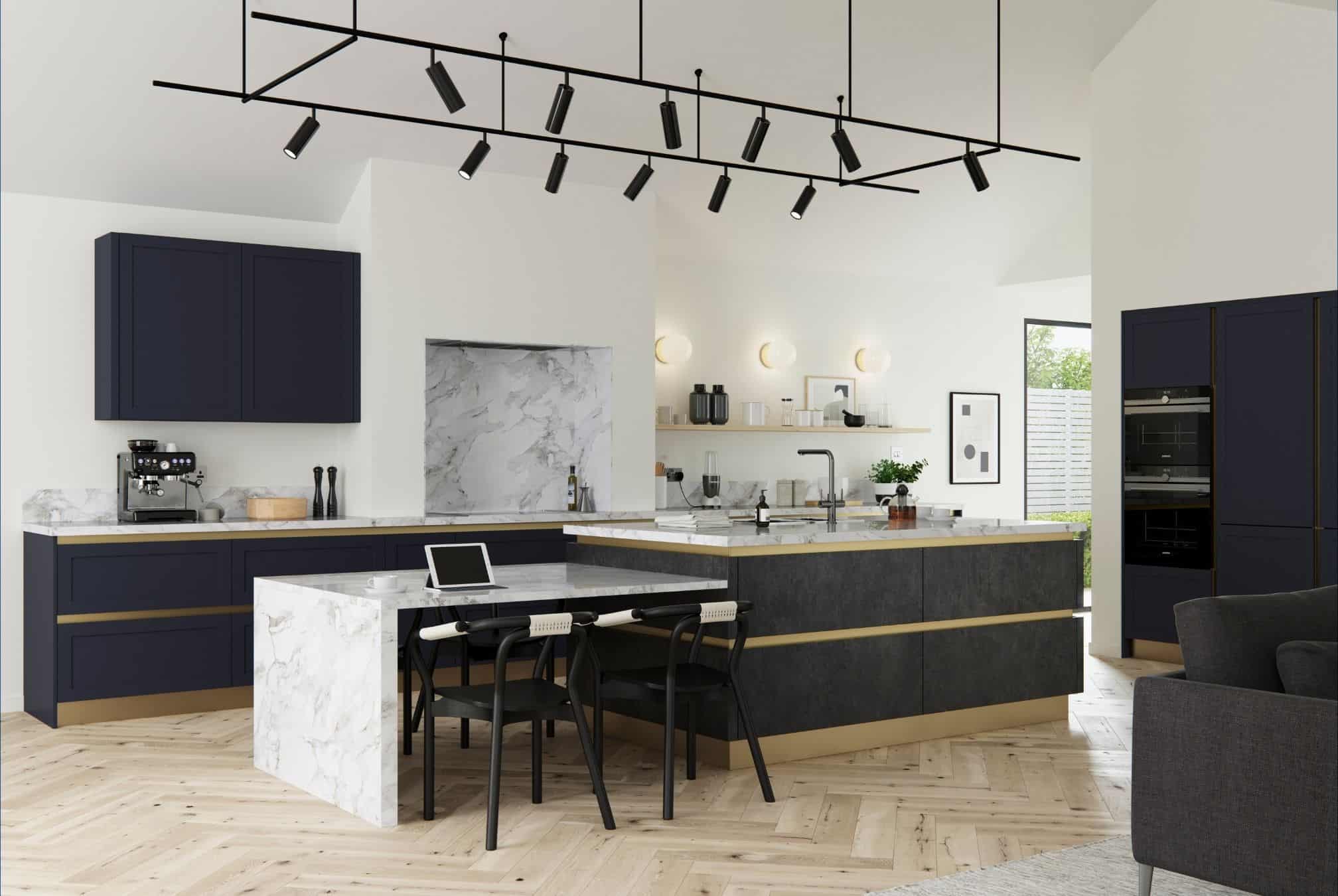 Discover Our Stunning Showroom
Based in the Debden area of Loughton, our showroom is undeniably the best place to start your kitchen design journey. Our exceptional handleless kitchens operate a little differently from a traditional kitchen and so experiencing their smooth usability first-hand is advisable before making any firm decisions about your design. Our showroom is easily accessible from Harlow, Ilford and Brentwood and is the perfect place to find inspiration for your project.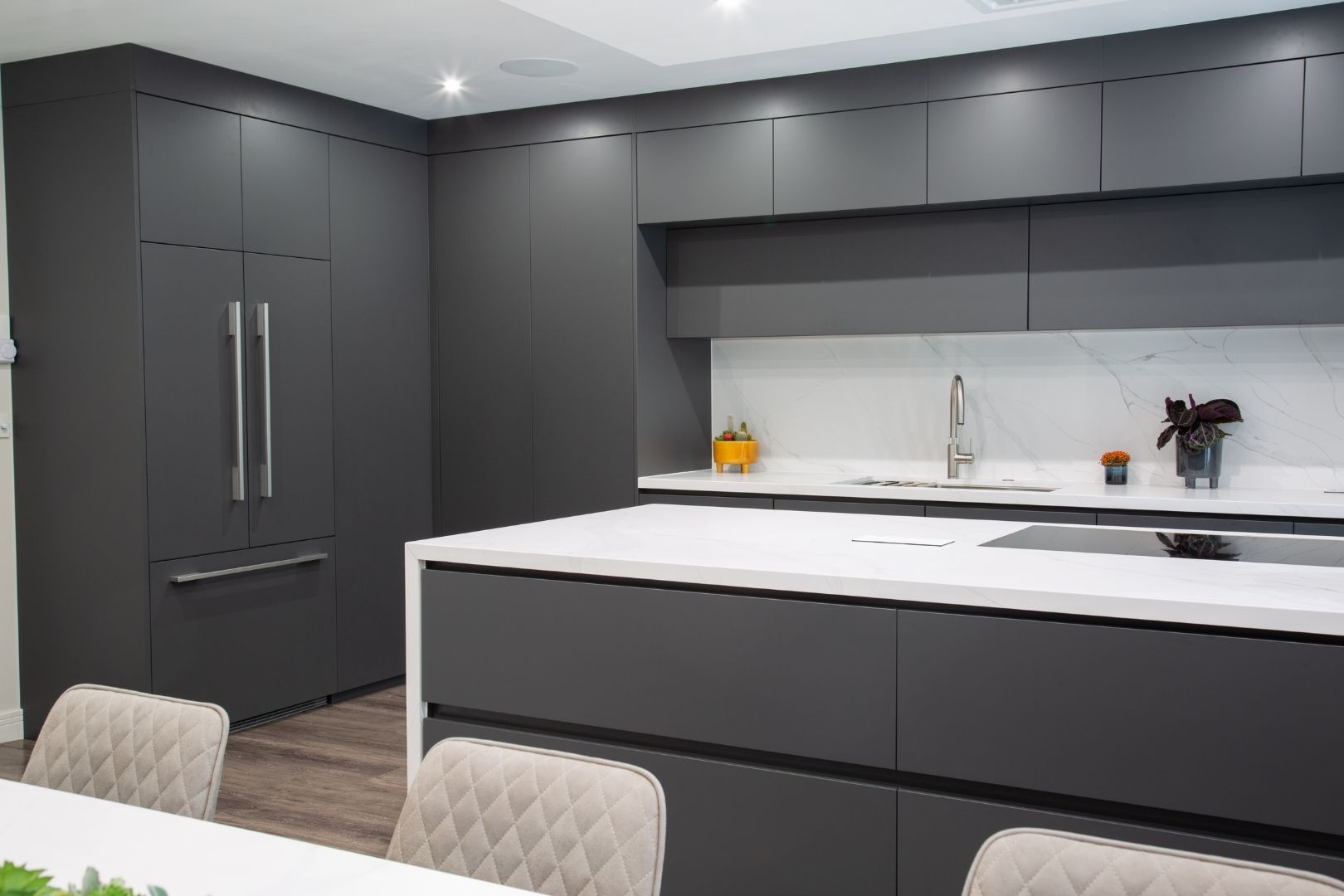 The precision engineered construction, superb quality components and innovative design of our handleless kitchens make them superbly functional. They offer fantastic storage solutions to keep your sleek and minimal kitchen clutter-free which, combined with our team's expert kitchen knowledge, make them some of the most wonderfully efficient and useable kitchens available.
We visited many different retailers before meeting the friendly and professional team at Anderson Sinclair. We were struck by Jon and Lily's wonderful service; they immediately went above and beyond to help us. Since purchasing our kitchen over a year ago we have had so many compliments and are incredibly grateful to the team at Anderson Sinclair.
Mr Patel
We would definitely recommend Anderson Sinclair. Their service was fantastic, the quality of the installation was exceptional and all in all their team really is second to none. From start to finish we found the potentially daunting experience of buying a kitchen was made easy and enjoyable!
Mr Beardon
We are absolutely delighted with our finished kitchen and couldn't be more grateful for the fantastic service we received. Jon and his team were incredibly professional, and communication was clear throughout our project. We wouldn't hesitate to recommend Anderson Sinclair to our friends and family.
Mrs Grave
We have just bought a kitchen from Anderson Sinclair and are really thrilled with the attention to detail and beautiful finishing touches it incorporates. No matter how many questions I asked, they always took the time to explain clearly and were able to help with my design. With the amazing support of the team at Anderson Sinclair, I can now safely say we have the kitchen we've always dreamed of.
Mrs Pearce
The amazing team at Anderson Sinclair couldn't have been more patient and accommodating. We needed extra time to store our kitchen and Jon was more than happy to help. They made the whole process completely seamless and we are totally over-the-moon with our gorgeous new kitchen.
Mrs Adelman