Stunning Bespoke Chigwell Bedrooms
Your bedroom is the most personal room in your home, and everything about your space should make you feel calm, comfortable and welcome. As the place where you start and end your day, your Chigwell bedroom is the perfect spot to embrace a little luxury, allowing you to escape the stress of everyday life. At Anderson Sinclair, our expert team will work with you step by step to craft a bespoke design that perfectly complements your individual style. Our breath-taking made-to-measure bedroom products offer everything you need to create a truly sumptuous and unique interior.
Achieving the relaxing and sophisticated bedroom you've always envisioned isn't quite so easy when you take into account just how much space you need to store all your belongings. Too much bulky freestanding furniture can soon leave your room feeling cramped and claustrophobic. At Anderson Sinclair, our fitted bedroom designs, complete with sliding doors and ingenious internal storage solutions, are fantastic for making the most of every inch of space. For a bedroom that's as gorgeous to admire as it is to use, you can trust the team at Anderson Sinclair to deliver.
Practical & Elegant Bedroom Interiors
Keeping your bedroom tidy when you're short of storage is always going to be a losing battle, and if one thing's for sure, it's that there's absolutely nothing relaxing about a cluttered and messy space. At Anderson Sinclair, our luxurious bedrooms are tailored to suit your storage needs as well as looking simply spectacular. Our made-to-measure fitted wardrobes will slot perfectly into alcoves or beneath sloping ceilings, allowing you to optimise tricky spaces while achieving a beautifully sleek finish. We will help you plan a custom internal storage configuration to ensure all your belongings have their place. Our practical and elegant bespoke bedrooms will transform how you experience your Chigwell home.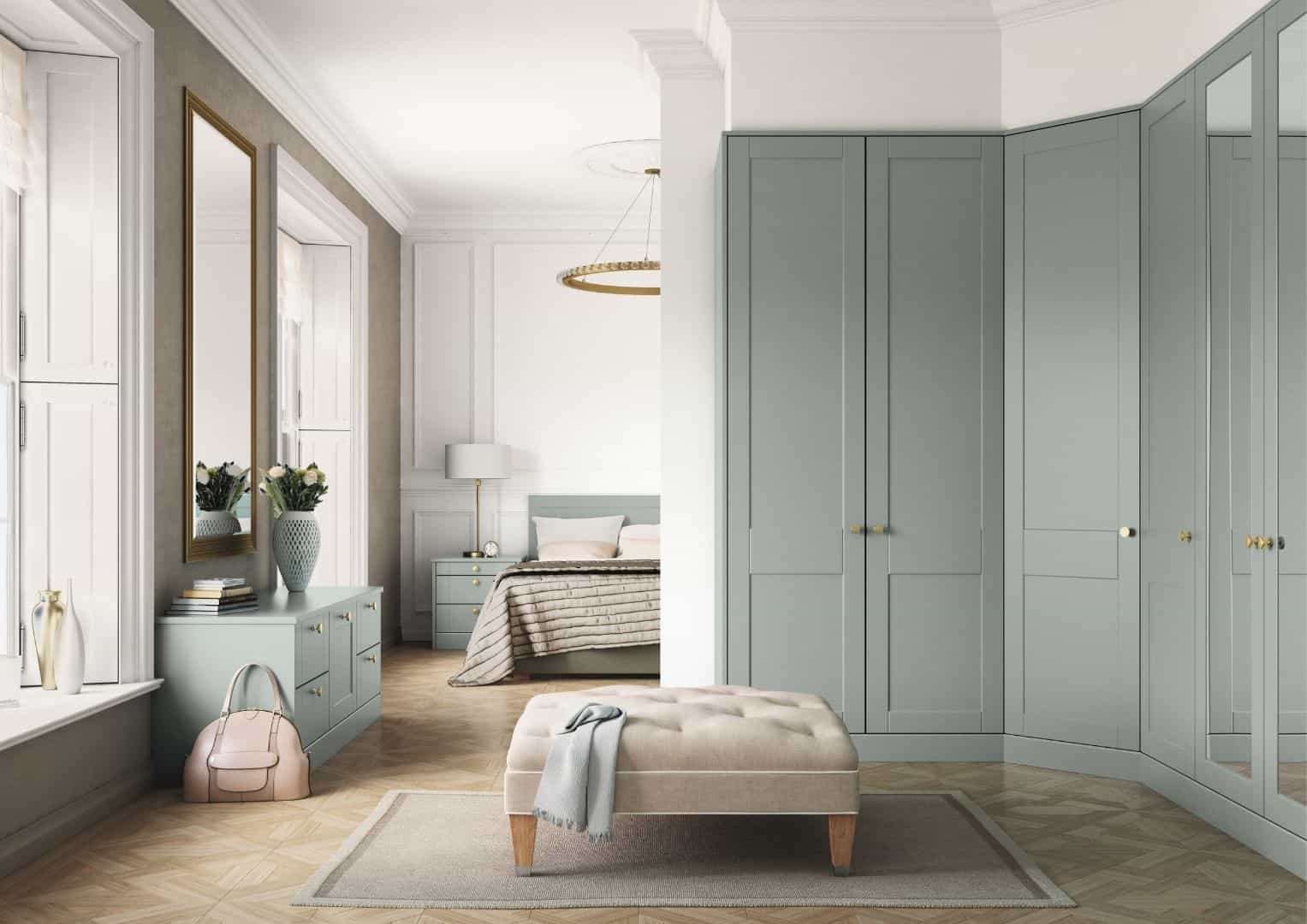 Our Commitment To QUality
In the 20 years that we've been designing and installing luxurious Chigwell bedrooms, quality has always been and will continue to be our number one priority. We are a team of perfectionists passionate about design excellence, and thus we go to great lengths to deliver bedrooms that we can really be proud of.
We've worked with Midlands-based company Hepplewhite for many years and can safely say that the quality of their bedrooms is second to none. Their outstanding products have been manufactured from the finest materials and components right here in the UK for over 40 years. The exceptional standard of Hepplewhite's furniture ensures that each stunning piece lasts a lifetime. As Chigwell's independent bedroom specialists, we pride ourselves on our reputation for quality and love nothing more than introducing local clients to our exquisite bespoke interiors.
Beautiful Bedrooms In Chigwell
Whether you're looking for a timeless classic design that oozes traditional charm and luxury, or you'd prefer to create a sleek and sophisticated minimalist-inspired space, we have a wonderful range of fitted furniture styles to choose from. Our professional team of experienced designers will help bring your vision to life, guiding you through our selection of beautiful colourways and finishes, as well as working closely with you to plan a highly functional and elegant layout. You can explore some of our beautiful designs now by clicking below to browse our bedroom gallery.
Our Chigwell Bedroom Showroom
We would love to welcome you to visit our wonderful showroom near Chigwell. Based in Loughton, just a stone's throw from Chigwell, our spacious showroom is the perfect place to get an introduction to our fantastic service. Our friendly team would be delighted to hear all about your upcoming project and are always happy to offer their expert no-obligation advice.
At our showroom, you can experience the seamless functionality of our fitted wardrobe with sliding doors. As you admire the superb quality of our products and browse our material samples, you will no doubt find yourself looking forward to your exciting bedroom transformation. You can plan your visit now by clicking here.
We visited many different retailers before meeting the friendly and professional team at Anderson Sinclair. We were struck by Jon and Lily's wonderful service; they immediately went above and beyond to help us. Since purchasing our kitchen over a year ago we have had so many compliments and are incredibly grateful to the team at Anderson Sinclair.
Mr Patel
We would definitely recommend Anderson Sinclair. Their service was fantastic, the quality of the installation was exceptional and all in all their team really is second to none. From start to finish we found the potentially daunting experience of buying a kitchen was made easy and enjoyable!
Mr Beardon
We are absolutely delighted with our finished kitchen and couldn't be more grateful for the fantastic service we received. Jon and his team were incredibly professional, and communication was clear throughout our project. We wouldn't hesitate to recommend Anderson Sinclair to our friends and family.
Mrs Grave
We have just bought a kitchen from Anderson Sinclair and are really thrilled with the attention to detail and beautiful finishing touches it incorporates. No matter how many questions I asked, they always took the time to explain clearly and were able to help with my design. With the amazing support of the team at Anderson Sinclair, I can now safely say we have the kitchen we've always dreamed of.
Mrs Pearce
The amazing team at Anderson Sinclair couldn't have been more patient and accommodating. We needed extra time to store our kitchen and Jon was more than happy to help. They made the whole process completely seamless and we are totally over-the-moon with our gorgeous new kitchen.
Mrs Adelman