EAST LONDON'S BEAUTIFUL BEDROOM SHOWROOM
As such a personal part of your home, there's nothing more important than creating a stunning bedroom space that reflects your personality and captures the mood you're looking to achieve. Visiting your local showroom to experience a range of styles in person is undoubtedly the best way to ensure the design you choose is just right for your home and lifestyle. Our fantastic showroom in Loughton is just a short drive from East London. We have several beautiful displays to explore, and our knowledgeable team will be on hand to share their expertise. If you're looking for a stylish and practical solution to your East London bedroom, visiting our nearby showroom is the perfect way to begin your project.
DISCOVER GORGEOUS BESPOKE BEDROOM Furniture
Whether you're looking for a place to display your gorgeous handbag collection or simply need somewhere to keep the clutter out of sight, we have the perfect solution for your space. At Anderson Sinclair, we pride ourselves on thinking outside the box. Alongside our stunning modern and traditional fitted bedroom collection, we often design our own bespoke features, such as beautiful glass display doors and elegant Hollywood style dressing tables. We are passionate about creating exceptional bespoke interiors and are keen to take the time to get to know you and the vision you have for your East London home. You can explore some of the wonderful bespoke bedrooms we've created for our clients by clicking the button below.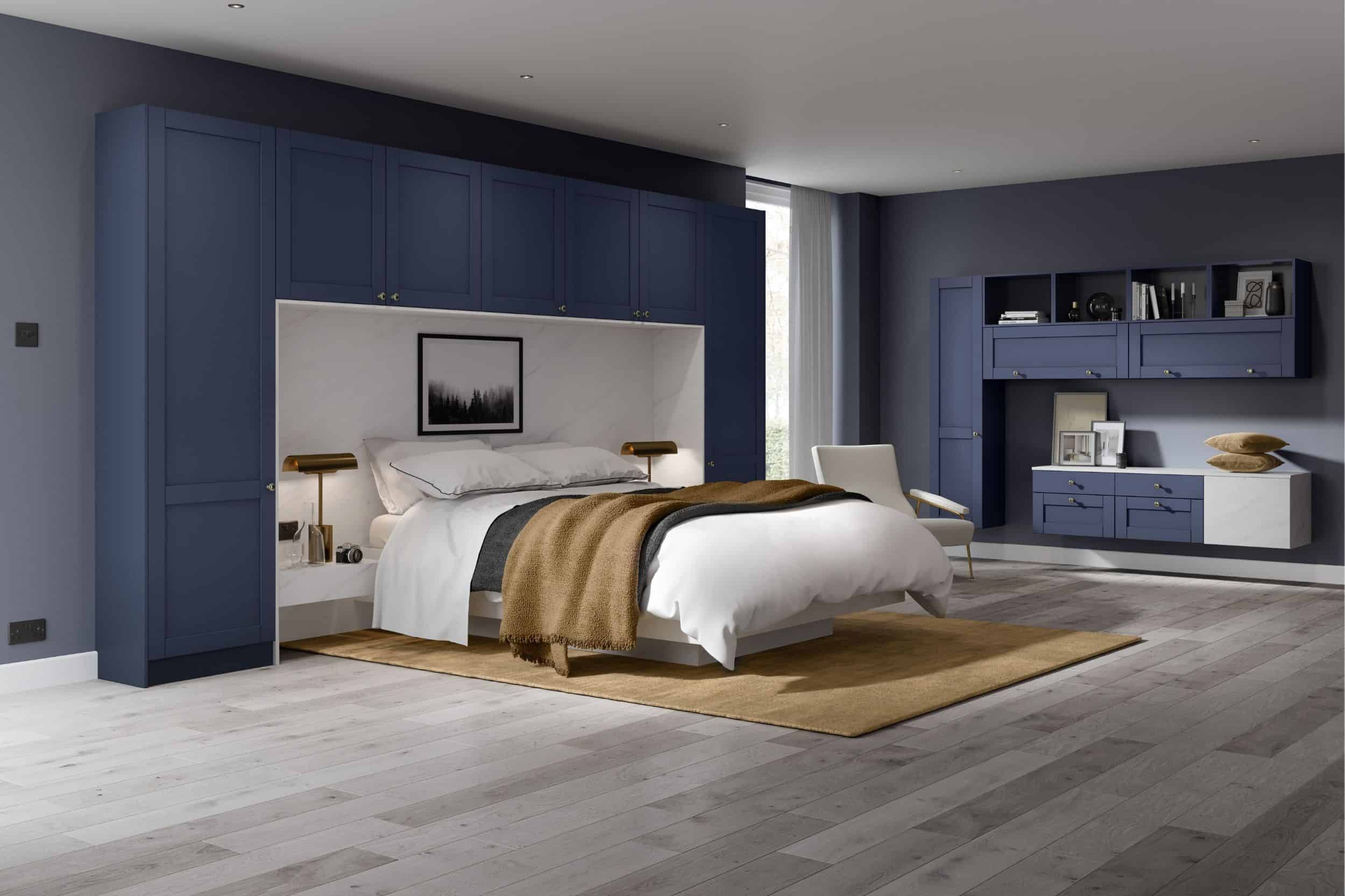 EAST LONDON'S EXPERT BEDROOM DESIGN & INSTALLATION TEAM
Creating a truly outstanding East London bedroom isn't just a case of installing a row of fitted wardrobes. At Anderson Sinclair, we pride ourselves on our attention to detail and ability to plan your space as a whole. We will work closely with you to find a layout that maximises your room while coordinating your fitted furniture with colours and surface finishes that set a sophisticated and relaxing tone. Your project starts with an in-depth discussion about your ideas, taste and practical requirements. Our talented designers will then guide you through our collection, helping you select the perfect style before crafting a design that seamlessly brings all the elements of your room together.
Here at Anderson Sinclair, we've been designing and installing stunning bespoke East London bedrooms for over 20 years. Our experienced professional designers are undoubtedly passionate and talented in what they do. However, it's not just our impeccable design credentials that set our service apart. Our expert team of designers, managers and fitters will support you throughout your journey to ensure your project runs smoothly. Our standards are exacting, and we know yours are too. That's why we only work with the finest quality British-made products, which paired with the skill of trusted installers guarantees flawless, long-lasting bedrooms. You can find out more about the team behind our beautiful bespoke East London bedrooms by clicking below.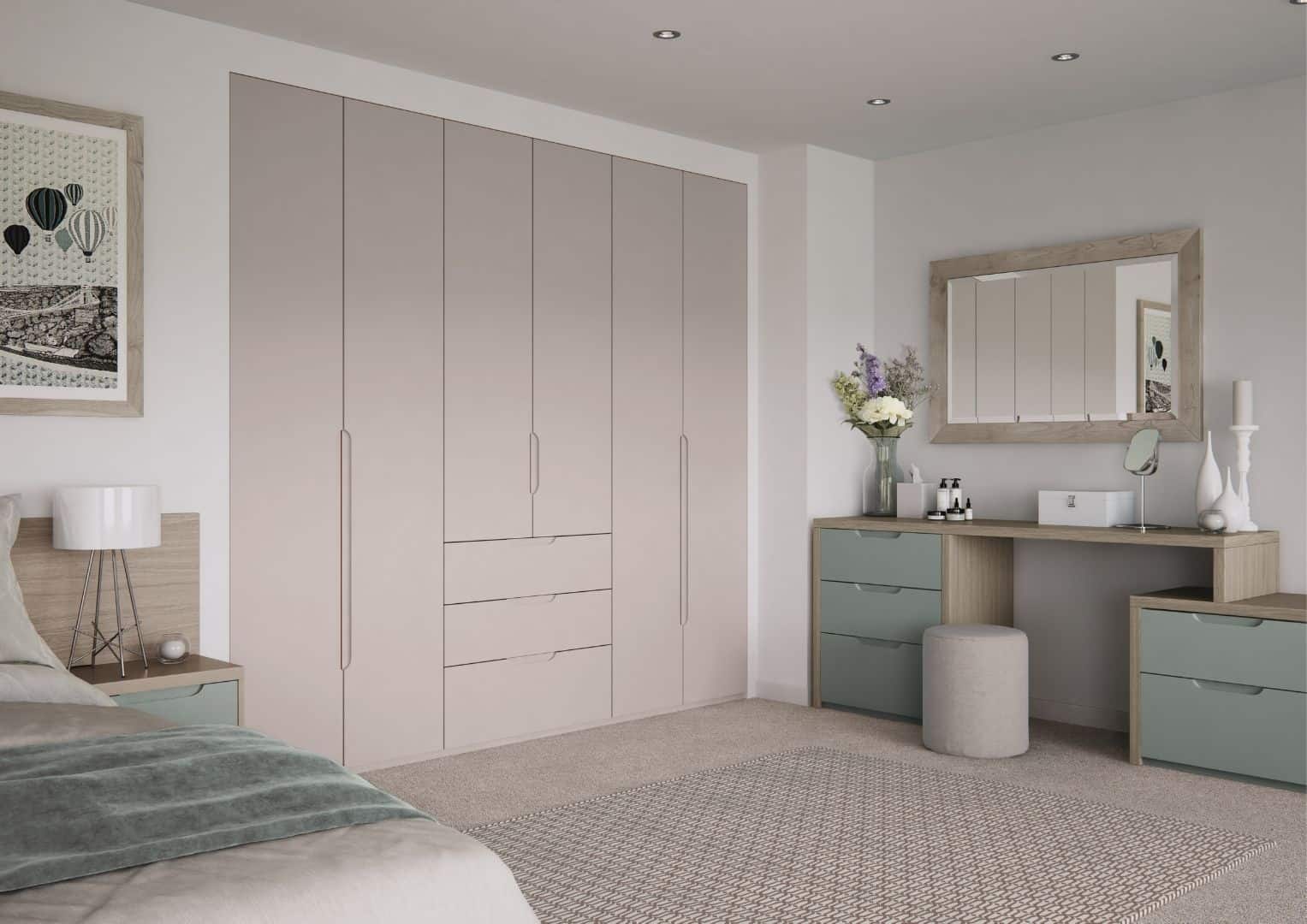 FUSING LUXURY & PRACTICALITY
Unlike the rest of your home, your bedroom is yours and yours alone. It should be a luxurious and relaxing space that sets you up for a great night's sleep and leaves you feeling organised and ready to face the day each morning. However, with so many clothes, books, spare bedding and general bits and pieces to stow away, the perfectly serene hotel-inspired bedroom can seem out of reach. Our elegant custom-made, fitted bedrooms offer a great way to maximise every inch of your space. The personalised internal storage layouts make keeping your bedroom neat and organised simple. We have a stunning collection of modern and traditional styles and gorgeous colours to suit your taste. What's more, the innovative Austrian components used in our bedrooms give impressively smooth functionality and excellent durability, so you can rest assured your beautiful new East London bedroom will stand the test of time.
VISIT OUR BEDROOM SHOWROOM NEAR EAST LONDON
Located on the outskirts of Loughton, near Chigwell, our East London bedroom showroom is less than a 25-minute drive from Enfield, Woodford, Wanstead, Ilford, Stratford, Harlow and Epping. Visiting our showroom is a great opportunity to get a feel for the superb quality and style of our luxurious fitted bedroom furniture. This way you will know exactly what to expect from your beautiful new interior.
Visiting our showroom is also a great chance to meet the friendly and knowledgeable team behind our fantastic designs. They will be delighted to discuss your ideas and answer any questions you may have, whether you'd like to know more about our service or need help finding inspiration for your home. For more information on how to find us, please click here.
We visited many different retailers before meeting the friendly and professional team at Anderson Sinclair. We were struck by Jon and Lily's wonderful service; they immediately went above and beyond to help us. Since purchasing our kitchen over a year ago we have had so many compliments and are incredibly grateful to the team at Anderson Sinclair.
Mr Patel
We would definitely recommend Anderson Sinclair. Their service was fantastic, the quality of the installation was exceptional and all in all their team really is second to none. From start to finish we found the potentially daunting experience of buying a kitchen was made easy and enjoyable!
Mr Beardon
We are absolutely delighted with our finished kitchen and couldn't be more grateful for the fantastic service we received. Jon and his team were incredibly professional, and communication was clear throughout our project. We wouldn't hesitate to recommend Anderson Sinclair to our friends and family.
Mrs Grave
We have just bought a kitchen from Anderson Sinclair and are really thrilled with the attention to detail and beautiful finishing touches it incorporates. No matter how many questions I asked, they always took the time to explain clearly and were able to help with my design. With the amazing support of the team at Anderson Sinclair, I can now safely say we have the kitchen we've always dreamed of.
Mrs Pearce
The amazing team at Anderson Sinclair couldn't have been more patient and accommodating. We needed extra time to store our kitchen and Jon was more than happy to help. They made the whole process completely seamless and we are totally over-the-moon with our gorgeous new kitchen.
Mrs Adelman