Creating Stylish Fitted Bedrooms In Enfield
Enjoying a luxurious, sophisticated and elegant bedroom can really make you feel special, giving you that plush hotel experience every day. However, with a collection of clothes, books, shoes, make-up and all manner of items to stow, transforming your Enfield bedroom into a peaceful and clutter-free interior can seem like an unattainable dream.
At Anderson Sinclair, our gorgeous, fitted bedrooms are designed to help maximise your space while looking sublime. We have a variety of beautiful modern and traditional designs to choose from, allowing you to create a stylish bespoke space. From sliding doors to clever internal organisers, our amazing functional features are perfect for keeping your bedroom neat and tidy. As a team of trusted local specialists, we take great pride in delivering exceptional quality; all our bedrooms are painstakingly crafted to stand the test of time. Bring exquisite luxury to your Enfield home with a stunning bespoke bedroom from Anderson Sinclair.
Bedrooms Designed Around You
Whether you have a fabulous collection of designer heels to keep organised or are in need of somewhere to store bulky winter bedding, at Anderson Sinclair, we will work closely with you to make sure your individual design perfectly suits your lifestyle and complements your storage needs. Our talented designers are experts in spatial planning and will help devise a fantastic layout to optimise your room. We have a wonderful range of beautiful colours, finishes and styles to suit your unique home, so you can look forward to discovering a design that's as elegant as it is functional. With our stylish and practical tailormade designs, there will be no excuse for a messy bedroom!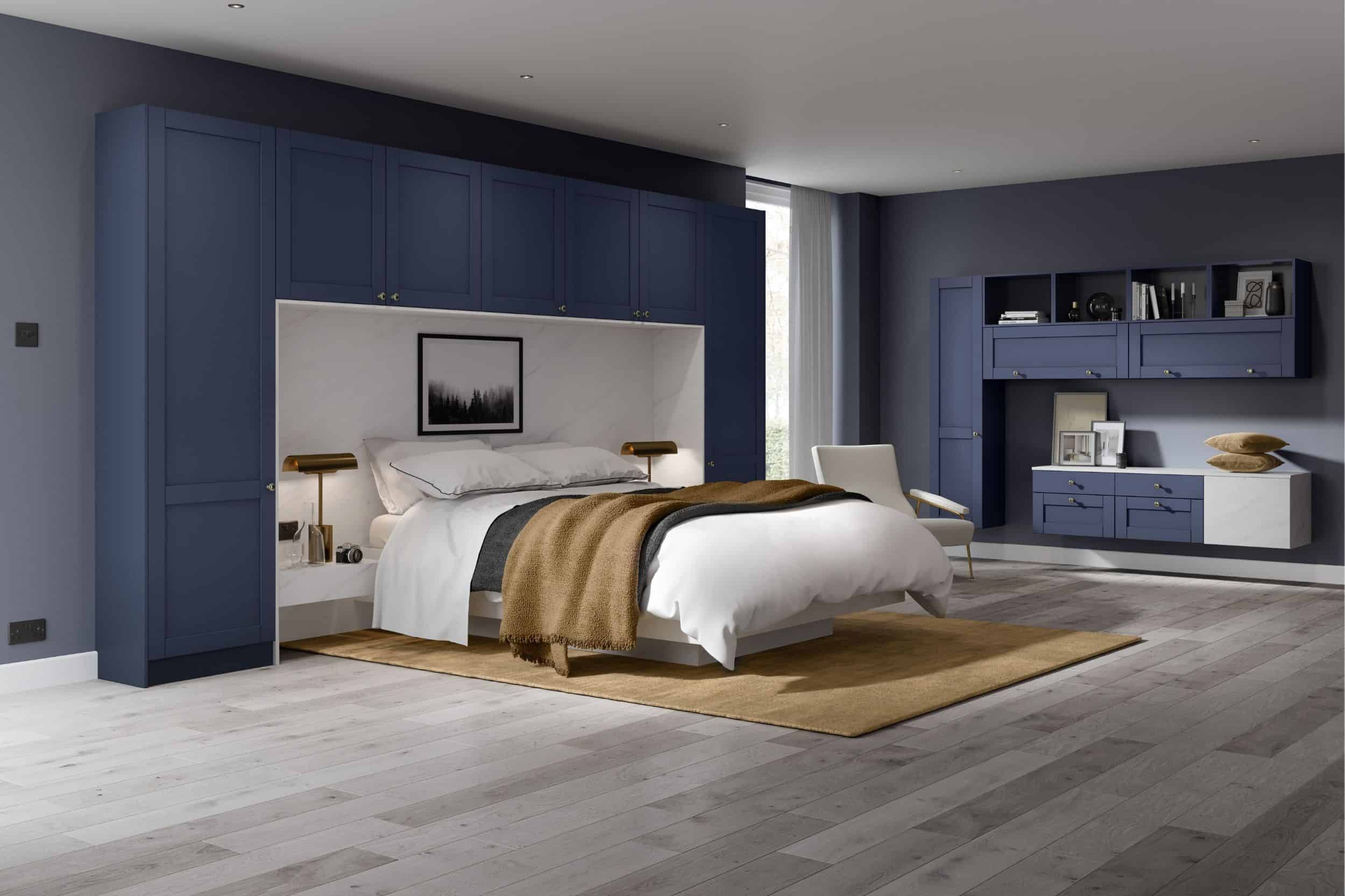 Ingenious Enfield Bedroom Solutions
Our broad collection of fitted wardrobes, sliding doors, internal storage systems and individually designed pieces of furniture offer the endless potential to create your perfect bespoke Enfield bedroom. All our furniture is made to measure, which allows us to tailor our designs around even the trickiest architectural features like beams, alcoves and sloping ceilings. Fitting your furniture to the dimensions of your room is the best way to make the most of every inch of space.
If you're looking for a truly sleek and stylish design, our sliding wardrobes could be the ideal solution. The cutting-edge mechanism behind our sliding wardrobes makes opening and closing the door completely seamless, even in the tightest spaces. Whichever beautiful door design you choose, you will find our clever internal storage systems transform your space. Featuring a custom arrangement of rails, shelves and drawers, our wardrobe interiors make every item easy to find straight away. Find out more about our ingenious Enfield bedroom solutions by clicking the button below.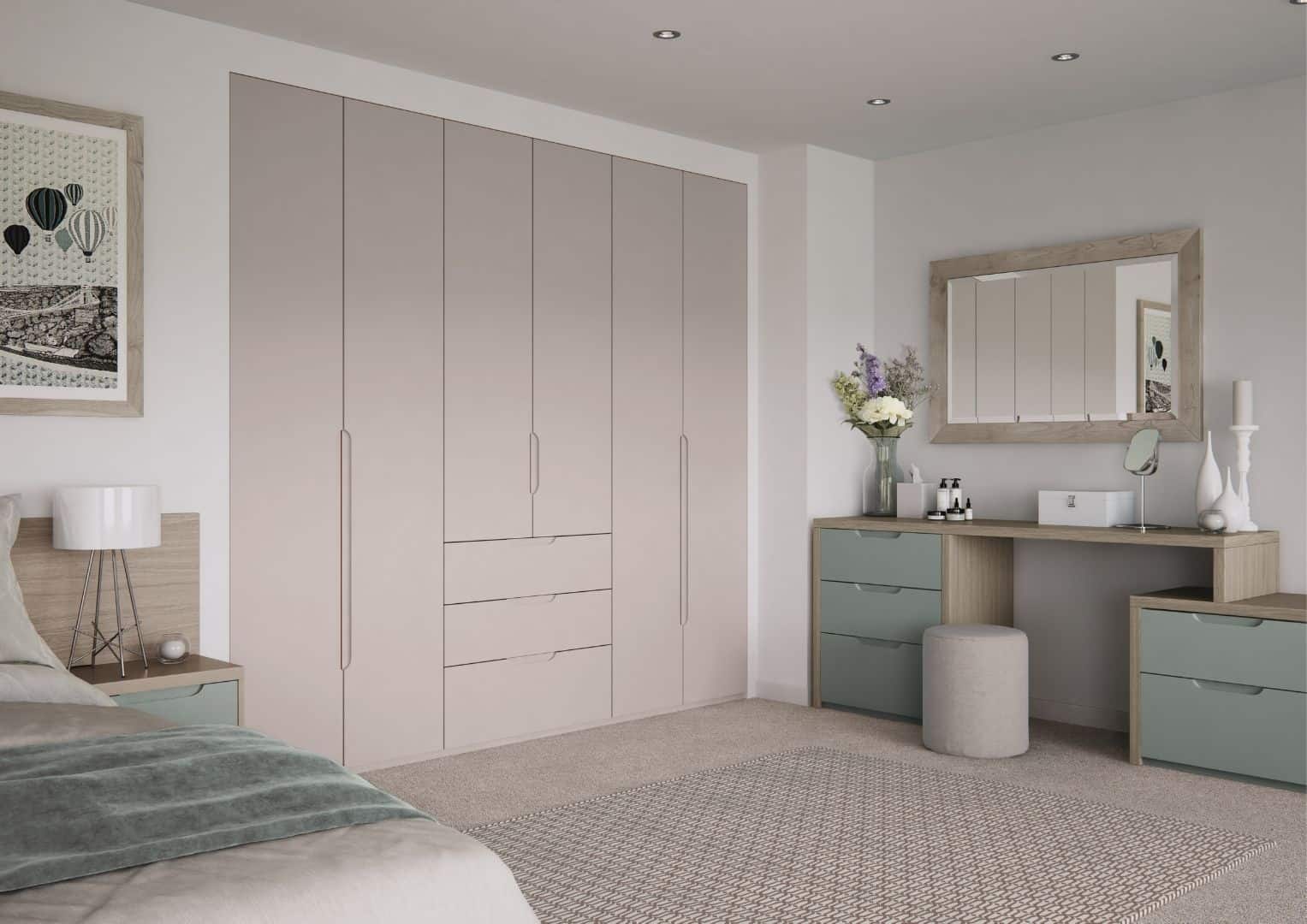 Enfield's Fitted Bedroom Experts
At Anderson Sinclair, we've been designing and installing luxurious bespoke bedrooms for over 20 years. As a local independent company, we pride ourselves on our honest personal service and exacting standards. Our highly experienced and qualified team will go to great lengths to create a long-lasting design that maximises your space and your budget. We know how much your home means to you, and that's why we only rely on our trusted fitters to install our bedrooms. Our manufacturers Hepplewhite have been crafting British-made bedrooms for over 40 years, and all their products represent the highest quality. From start to finish, we go above and beyond to ensure you are delighted with every detail.
Visit Our Bedroom Showroom Near Enfield
Visiting our nearby showroom is a wonderful opportunity to meet our team and discover the exceptional quality and style our products have to offer. As well as trying out our fantastic sliding wardrobe for yourself, we also have a wonderful collection of samples to explore to help you get a feel for the kind of look you'd like to create.
Located in Loughton, less than a 30-minute drive from Enfield, our friendly team would be delighted to give you a warm welcome. We would love to hear about the ideas you have for your space and are more than happy to talk you through our service. For more information on planning your visit, please click here.
We visited many different retailers before meeting the friendly and professional team at Anderson Sinclair. We were struck by Jon and Lily's wonderful service; they immediately went above and beyond to help us. Since purchasing our kitchen over a year ago we have had so many compliments and are incredibly grateful to the team at Anderson Sinclair.
Mr Patel
We would definitely recommend Anderson Sinclair. Their service was fantastic, the quality of the installation was exceptional and all in all their team really is second to none. From start to finish we found the potentially daunting experience of buying a kitchen was made easy and enjoyable!
Mr Beardon
We are absolutely delighted with our finished kitchen and couldn't be more grateful for the fantastic service we received. Jon and his team were incredibly professional, and communication was clear throughout our project. We wouldn't hesitate to recommend Anderson Sinclair to our friends and family.
Mrs Grave
We have just bought a kitchen from Anderson Sinclair and are really thrilled with the attention to detail and beautiful finishing touches it incorporates. No matter how many questions I asked, they always took the time to explain clearly and were able to help with my design. With the amazing support of the team at Anderson Sinclair, I can now safely say we have the kitchen we've always dreamed of.
Mrs Pearce
The amazing team at Anderson Sinclair couldn't have been more patient and accommodating. We needed extra time to store our kitchen and Jon was more than happy to help. They made the whole process completely seamless and we are totally over-the-moon with our gorgeous new kitchen.
Mrs Adelman