Sophisticated & Luxurious Cheshunt Kitchens
Modern living has undeniably changed the way we use our kitchens. They are no longer just a place to cook. Whether relaxing with family or spending time with friends, the kitchen is at the centre of your Cheshunt home, and this should undoubtedly be reflected in your upcoming project.
At Anderson Sinclair, our gorgeous kitchens are much more than just a set of appliances and cabinets. We specialise in transforming spaces, paying meticulous attention to every detail of the room, from the layout to the finishing touches like lighting and furniture. Our stunning interiors are designed to elevate your Cheshunt home both practically and aesthetically, bringing a sophisticated and timeless elegance to your space. With our dedicated in-house team of professional designers and fitters and a collection of exceptional quality products to choose from, you can look forward to discovering a spectacular Cheshunt kitchen that lasts for years to come.
Stress-Free Cheshunt Kitchen Transformations
Renovating your kitchen is a substantial undertaking, and with a host of practical details to consider, trades to organise and products to order, ensuring your project runs on schedule can be a challenge. At Anderson Sinclair, we've been designing and installing exceptional Cheshunt kitchens for over 20 years. As well as gaining indispensable experience and assembling a team of trusted specialists, in this time we've also garnered an outstanding relationship with our wonderful suppliers. We pride ourselves on our supportive service and take full responsibility for bringing every aspect of your vision to life. Confident in the exemplary quality of our kitchens and the dedication and skill of our trusted team, we ensure every Cheshunt kitchen we design is delivered on time, on budget and with the utmost respect to your home.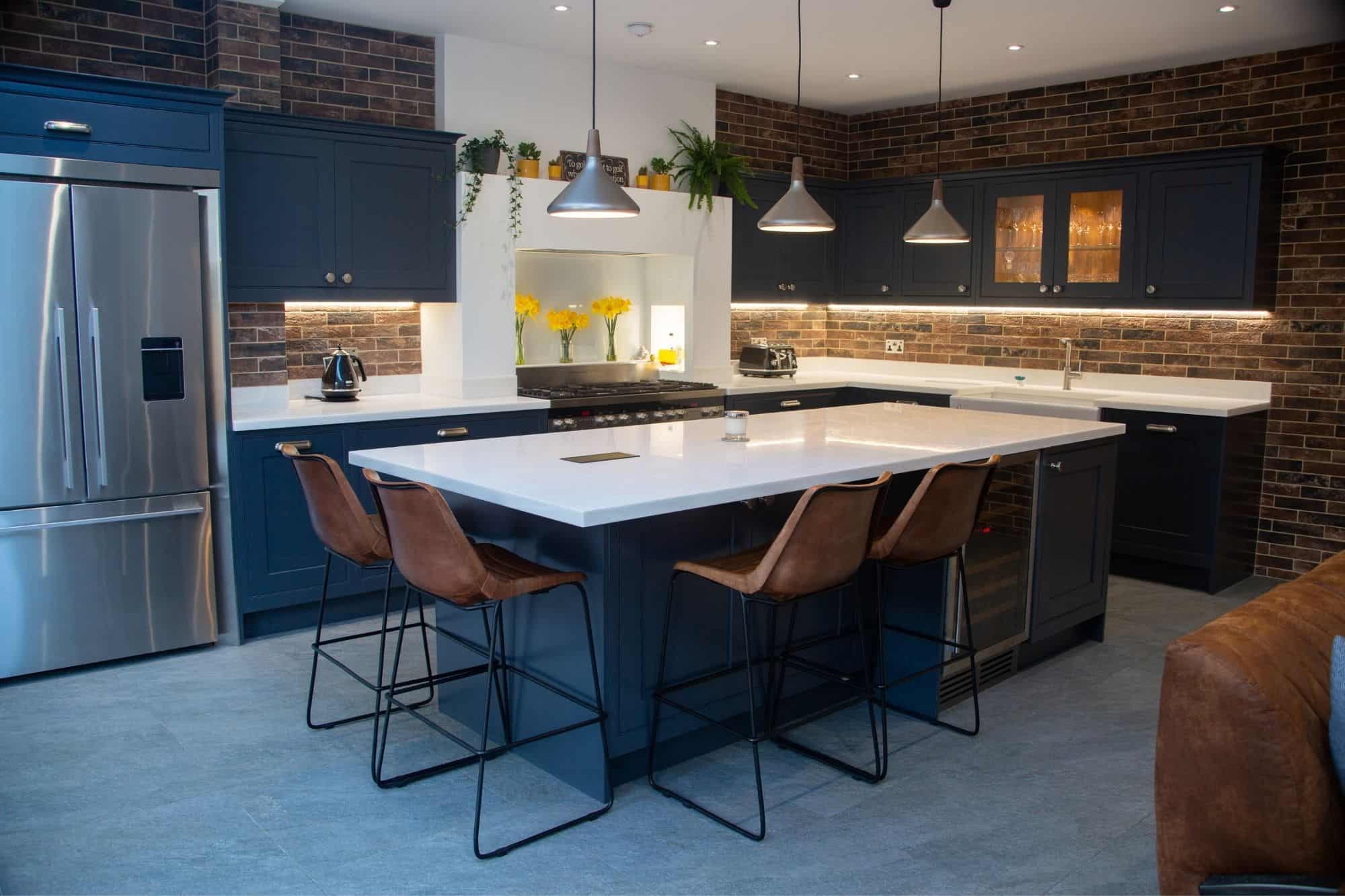 Cheshunt's Family-Run Kitchen Experts
Since opening our doors back in 2000, we have remained dedicated to our traditional family business values. Quality, longevity and good old-fashioned honest customer service are at the heart of what we do, and that means that when it comes to finding your perfect kitchen, we're committed to going the extra mile. Having stayed true to our passion for exceptional craftsmanship and attention to detail for over 20 years, we have earned an outstanding reputation in Cheshunt and across Essex.
The superb quality of our Cheshunt kitchens is undeniably in part thanks to the expertise and dedication of our fantastic professional team. Sharing our traditional values, our talented in-house team of designers and installation specialists continue to go above and beyond for our clients.
Nothing is more rewarding for our team than seeing our clients absolutely delighted with their beautiful new space. Find out more about the friendly and knowledgeable Anderson Sinclair team by clicking the button below.
Beautiful Cheshunt Kitchens Designed Around You
Transforming your Cheshunt kitchen is an exciting opportunity to elevate the focal point of your home, creating a beautiful and stylish backdrop for entertaining and relaxing with friends and family. At Anderson Sinclair, every kitchen we design is tailored around you down to the finest details. Our team will take the time to get to know you before crafting a design that reflects your personality and captures the essence of your Cheshunt home. From storage to seating, our outstanding kitchens often incorporate a variety of bespoke features to complement your individual style and practical requirements, enhancing the functionality and look of your gorgeous new interior.
Visit Our Stunning Kitchen Showroom
We are incredibly proud of our stunning recently redesigned kitchen showroom. Featuring two breath-taking full-size kitchens and an extensive sample area, there's no better place to discover the wonderful potential awaiting your Cheshunt home. Our gorgeous modern and traditional fully working kitchens beautifully demonstrate the impeccable quality and precise finish that we demand of all our designs.
As well as admiring our gorgeous kitchens, you will also have the opportunity to explore our fantastic collection of state-of-the-art appliances. Including appliances from Kuppersbusch, Fischer & Paykel and other more familiar brands, visiting our showroom is a great chance to appreciate the superb functionality your new kitchen could bring to your home. Based in nearby Loughton, our kitchen showroom is around a 30-minute drive from Cheshunt. During your visit, a member of our talented team will be on-hand to discuss your project and answer any questions you have about our service. Please click here to find out more about planning your visit.
We visited many different retailers before meeting the friendly and professional team at Anderson Sinclair. We were struck by Jon and Lily's wonderful service; they immediately went above and beyond to help us. Since purchasing our kitchen over a year ago we have had so many compliments and are incredibly grateful to the team at Anderson Sinclair.
Mr Patel
We would definitely recommend Anderson Sinclair. Their service was fantastic, the quality of the installation was exceptional and all in all their team really is second to none. From start to finish we found the potentially daunting experience of buying a kitchen was made easy and enjoyable!
Mr Beardon
We are absolutely delighted with our finished kitchen and couldn't be more grateful for the fantastic service we received. Jon and his team were incredibly professional, and communication was clear throughout our project. We wouldn't hesitate to recommend Anderson Sinclair to our friends and family.
Mrs Grave
We have just bought a kitchen from Anderson Sinclair and are really thrilled with the attention to detail and beautiful finishing touches it incorporates. No matter how many questions I asked, they always took the time to explain clearly and were able to help with my design. With the amazing support of the team at Anderson Sinclair, I can now safely say we have the kitchen we've always dreamed of.
Mrs Pearce
The amazing team at Anderson Sinclair couldn't have been more patient and accommodating. We needed extra time to store our kitchen and Jon was more than happy to help. They made the whole process completely seamless and we are totally over-the-moon with our gorgeous new kitchen.
Mrs Adelman