Stylish & Sophisticated Romford Kitchens
From hosting wonderful celebrations to preparing midweek meals, your kitchen is at the centre of family life, and that undeniably makes it so much more than just a place to cook. At Anderson Sinclair, we know how much your kitchen means to you. When we design your bespoke interior, we don't simply piece together a set of doors and appliances. We create a breath-taking, unique space that complements your home, enhances your lifestyle and elevates your experience on a daily basis.
We have a wonderful collection of luxurious modern and traditional kitchen styles to suit every taste, and our designers will work closely with you to personalise your space with a host of gorgeous finishing touches and custom features. From start to finish, our experienced and professional team will ensure your project runs smoothly, leaving you with a truly stunning and elegant kitchen that lasts for years to come.
Designing Exceptional Quality Kitchens
At Anderson Sinclair, quality is our top priority. As a team of passionate and dedicated design professionals, nothing fills us with more pride than admiring the immaculate finish and craftsmanship that goes into making our bespoke kitchens some of the best. Our superb kitchens are manufactured by the British family-run company Mereway. They combine the latest technology with traditional carpentry skills to ensure all their flawless products are built to last. To ensure our kitchens meet our exacting standards, we trust our highly trained team of experienced tradespeople and fitters to install our designs with meticulous precision and care. You can see some of our luxurious quality Romford fitted kitchens for yourself by clicking the button below.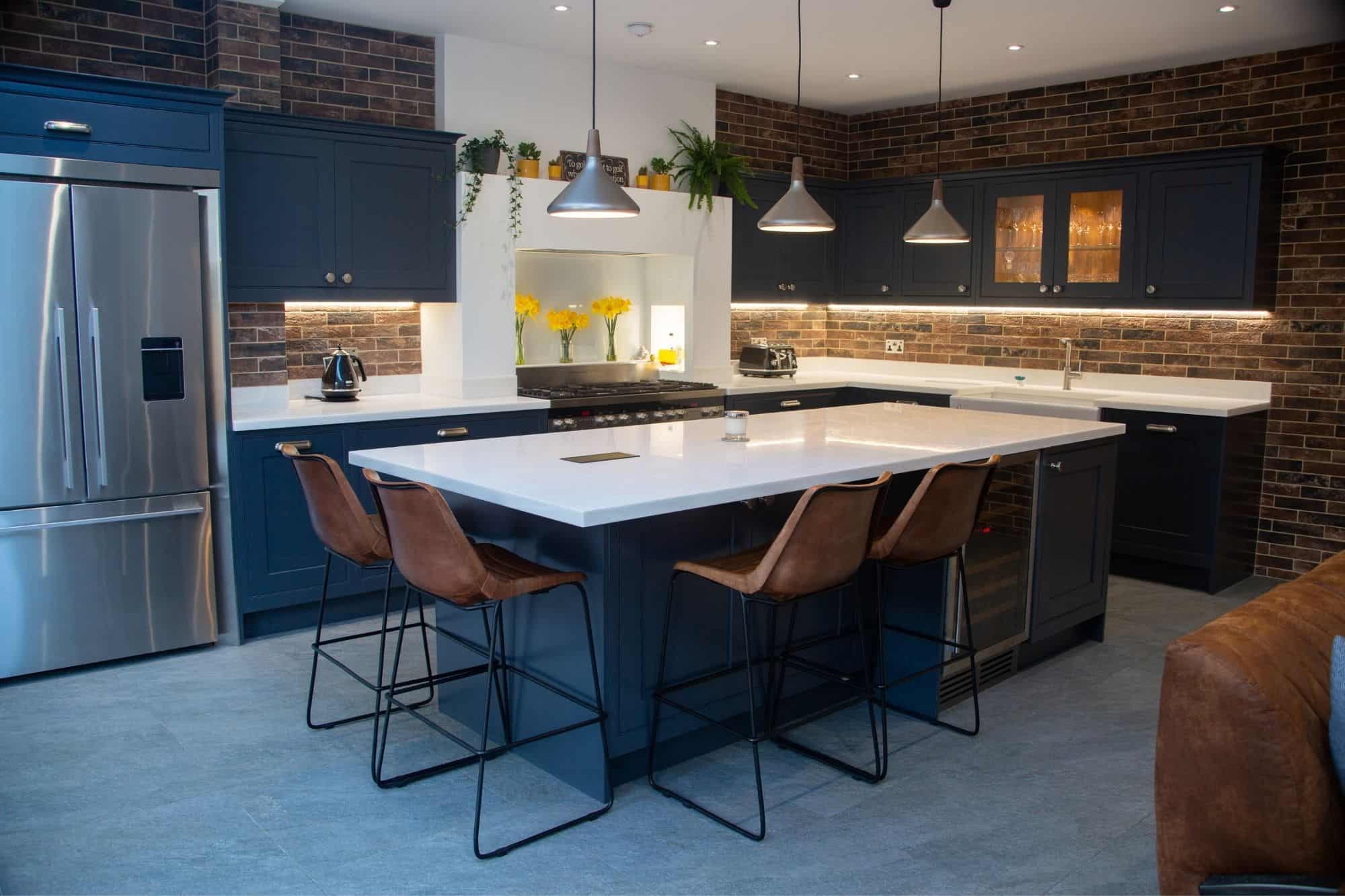 Romford's Leading Independent Kitchen Experts
As an independent family-run company, we founded Anderson Sinclair with a determination to provide clients in Romford and throughout Essex with an outstanding, honest service that takes all the stress and anxiety out of transforming your home. We know that your kitchen is incredibly important to you, and that's why our experienced and creative designers go to great lengths to ensure your bespoke kitchen is absolutely perfect for you in every way. They will take the time to get to know you, creating a design that's carefully tailored to suit your needs and individual style.
Once you've signed off your gorgeous new design, our dedicated team will take responsibility for managing your project and ensuring the subsequent stages run smoothly. We will make sure your products are delivered on time and your installation is carried out to the highest standards. With our experienced team overseeing your project, you can rest assured your experience will be completely stress-free, leaving you with a breath-taking kitchen that exceeds your expectations in every way. You can meet the talented team behind our wonderful bespoke kitchens now by clicking the button below.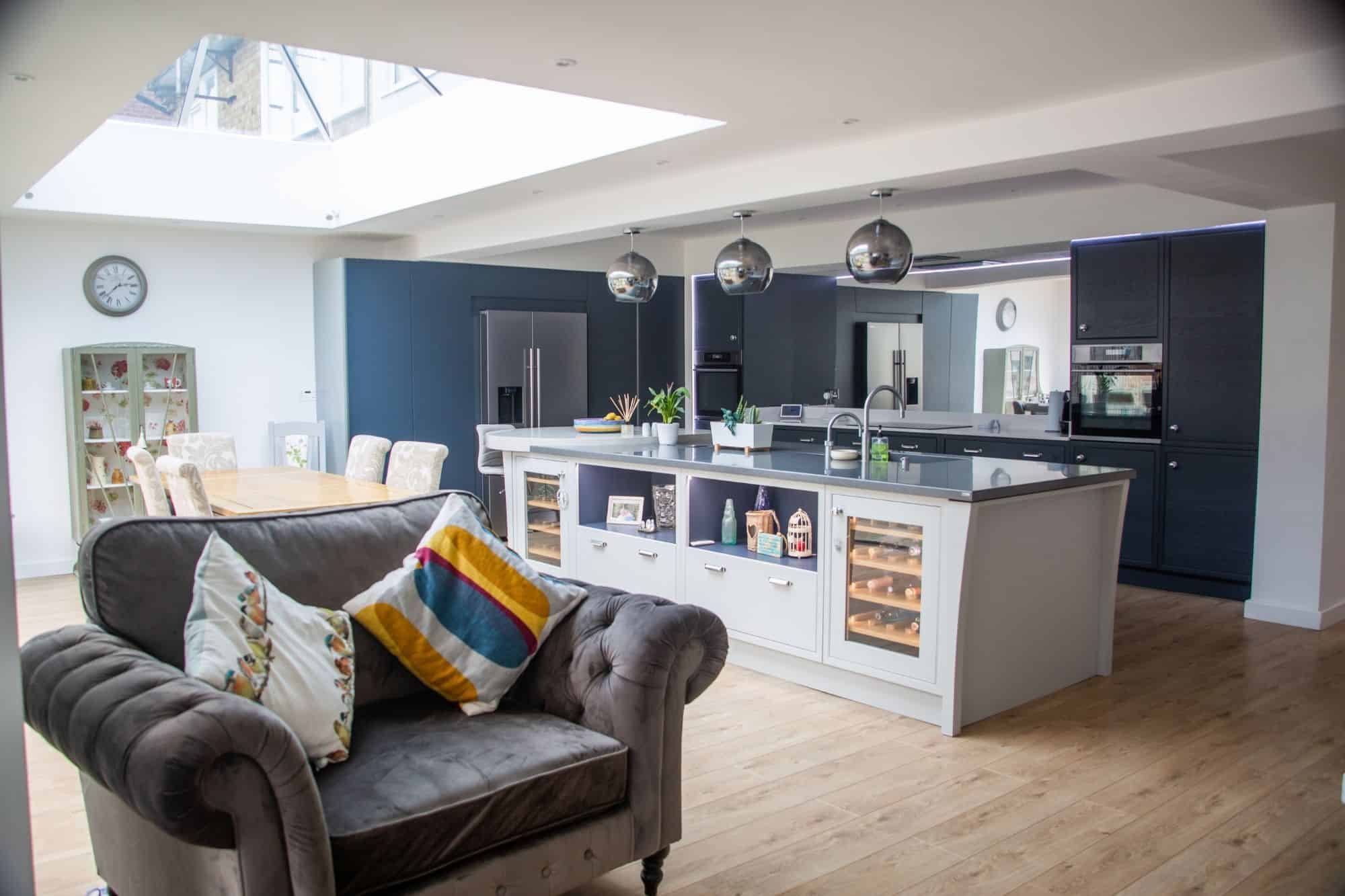 Beautiful Bespoke Romford Kitchens
How you and your family choose to enjoy your kitchen is completely unique to your individual lifestyle, and so it follows that your design should also be exclusively tailored to your needs. At Anderson Sinclair, we have a beautiful collection of kitchen styles to choose from, encompassing everything from the most modern to the timeless and traditional. Utilising their innovative and original design approach, our expert team will work closely with you to help you find your perfect interior, brimming with custom ideas and ingenious solutions. Thanks to their talent, creativity and determination, no two of our gorgeous bespoke Romford kitchens ever look alike. You can find great inspiration for your project by clicking the button below.
Visit Our Wonderful Kitchen Showroom
No matter where you're at on your kitchen journey, our beautiful Loughton showroom is undeniably worth a visit. We have two stunning full-size kitchen displays to explore, complete with a range of exclusive appliances and well-known favourites. As well as discovering our gorgeous displays, we also have a fantastic collection of samples to view to help you get a feel for the amazing variety of options available for your project. As you browse our striking kitchens, their flawless finish and exquisite quality will immediately become apparent. You can expect the same high standards from your own bespoke design.
Our showroom is a great place to find inspiration for your home. As well as experiencing our stunning kitchens, you will also find our expert team on hand to share their advice and ideas. Our knowledgeable and friendly designers would love the opportunity to discuss your project and offer their support. You can reach our showroom in just 20 minutes, and we have free parking on-site for your convenience. Find out more about planning your visit by clicking here.
We visited many different retailers before meeting the friendly and professional team at Anderson Sinclair. We were struck by Jon and Lily's wonderful service; they immediately went above and beyond to help us. Since purchasing our kitchen over a year ago we have had so many compliments and are incredibly grateful to the team at Anderson Sinclair.
Mr Patel
We would definitely recommend Anderson Sinclair. Their service was fantastic, the quality of the installation was exceptional and all in all their team really is second to none. From start to finish we found the potentially daunting experience of buying a kitchen was made easy and enjoyable!
Mr Beardon
We are absolutely delighted with our finished kitchen and couldn't be more grateful for the fantastic service we received. Jon and his team were incredibly professional, and communication was clear throughout our project. We wouldn't hesitate to recommend Anderson Sinclair to our friends and family.
Mrs Grave
We have just bought a kitchen from Anderson Sinclair and are really thrilled with the attention to detail and beautiful finishing touches it incorporates. No matter how many questions I asked, they always took the time to explain clearly and were able to help with my design. With the amazing support of the team at Anderson Sinclair, I can now safely say we have the kitchen we've always dreamed of.
Mrs Pearce
The amazing team at Anderson Sinclair couldn't have been more patient and accommodating. We needed extra time to store our kitchen and Jon was more than happy to help. They made the whole process completely seamless and we are totally over-the-moon with our gorgeous new kitchen.
Mrs Adelman