Stunning Bespoke East London Kitchens
The kitchen is the heart of your home, and the thought of transforming such an important space can understandably feel daunting. Not least because finding tradespeople and professionals that you can trust can be a real minefield. At Anderson Sinclair, we pride ourselves on offering an outstanding level of service from start to finish. From working closely with you to create a bespoke design to installing your kitchen with exceptional precision, we go to great lengths to deliver a faultless experience.
Having designed and installed kitchens for over 20 years, we appreciate the value of clear communication and will do everything we can to leave you feeling confident about your project at each step of the way. We have a gorgeous collection of luxurious modern and traditional kitchen styles to choose from, as well as a wealth of amazing cutting-edge appliances. We know that your kitchen is much more than just a place to cook, and that's why we dedicate careful thought to every detail of your design, achieving a space that beautifully elevates your home and lifestyle. At Anderson Sinclair, our talented team leave no stone unturned in their mission to create your perfect East London kitchen.
Designing Exceptional Kitchens In East London
A kitchen is so much more than a set of units and appliances, and it's the details of your design that can really take your space to the next level. At Anderson Sinclair, your project always starts with an in-depth consultation where our designers sit down with you to understand your individual requirements, this allows them to find the best bespoke solutions for your space. Our talented and creative team will encourage you to step outside your comfort zone to find a design that exceeds your expectations in every way. We specialise in creating truly unique, breath-taking interiors that represent outstanding functionality and durability. You can see some of our beautiful designs for yourself by clicking the button below.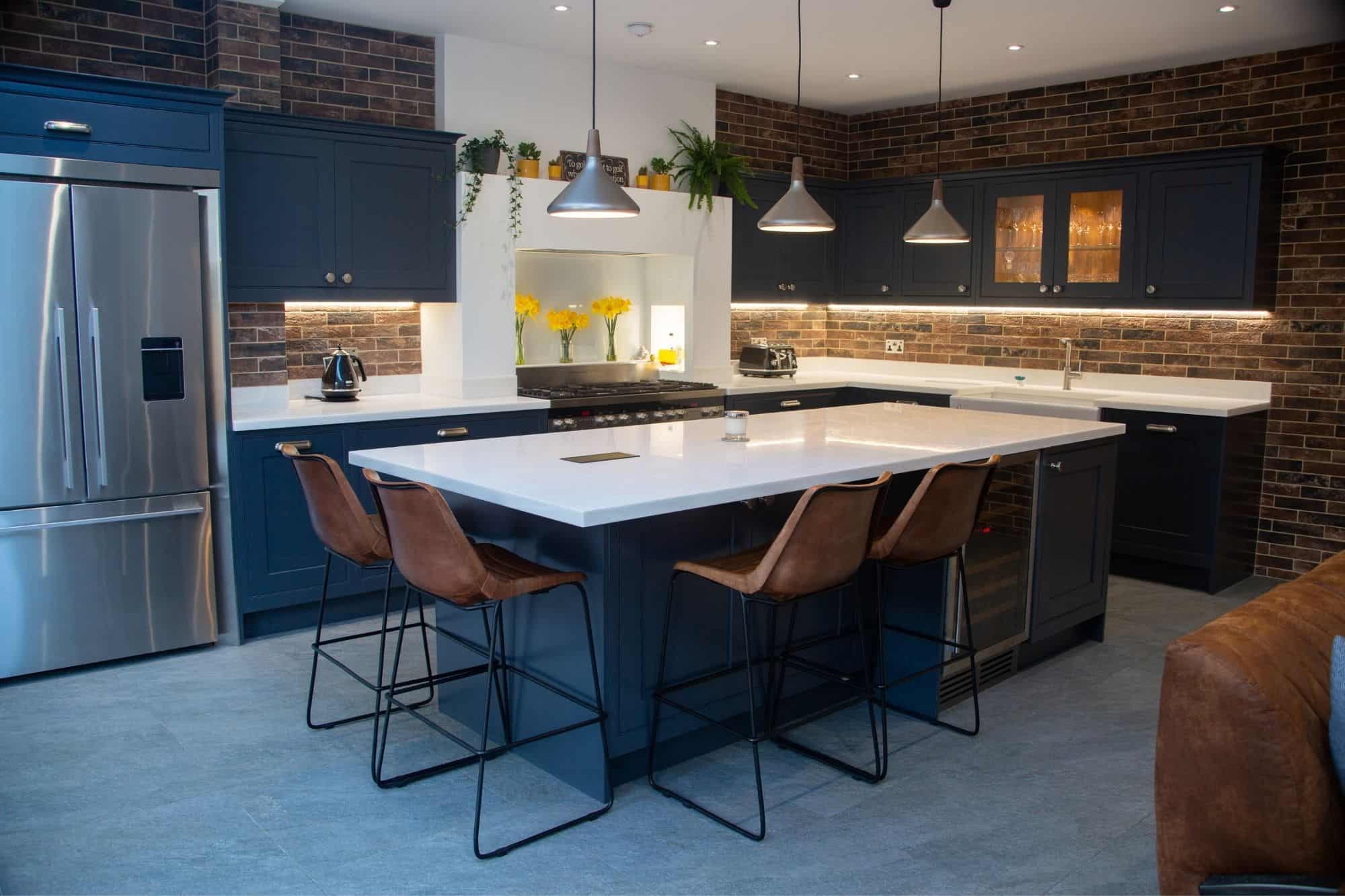 Luxury Kitchens Built To Last
Renovating your kitchen is a significant investment, and so it's important that your finished interior not only looks stunning but also stands the test of time. Anderson Sinclair is founded on a passion for quality and a keen eye for detail, and to this day, we pride ourselves on upholding the very highest standards of design excellence. We have dedicated years to sourcing a superb collection of kitchens and appliances from world-leading manufacturers, including British family-run company Mereway. Our outstanding British-made kitchens are crafted in line with our traditional values of reliability, longevity and value.
We leave nothing to chance when it comes to the exquisite and long-lasting finish of our East London kitchens. All our interiors are meticulously installed by our experienced and professional tradespeople and fitters. As longstanding members of our close-knit team, we know that they take great pride in their work, carrying out each of our installations with flawless precision and attention to detail. You can learn more about our commitment to quality by clicking below to read some of our customer reviews.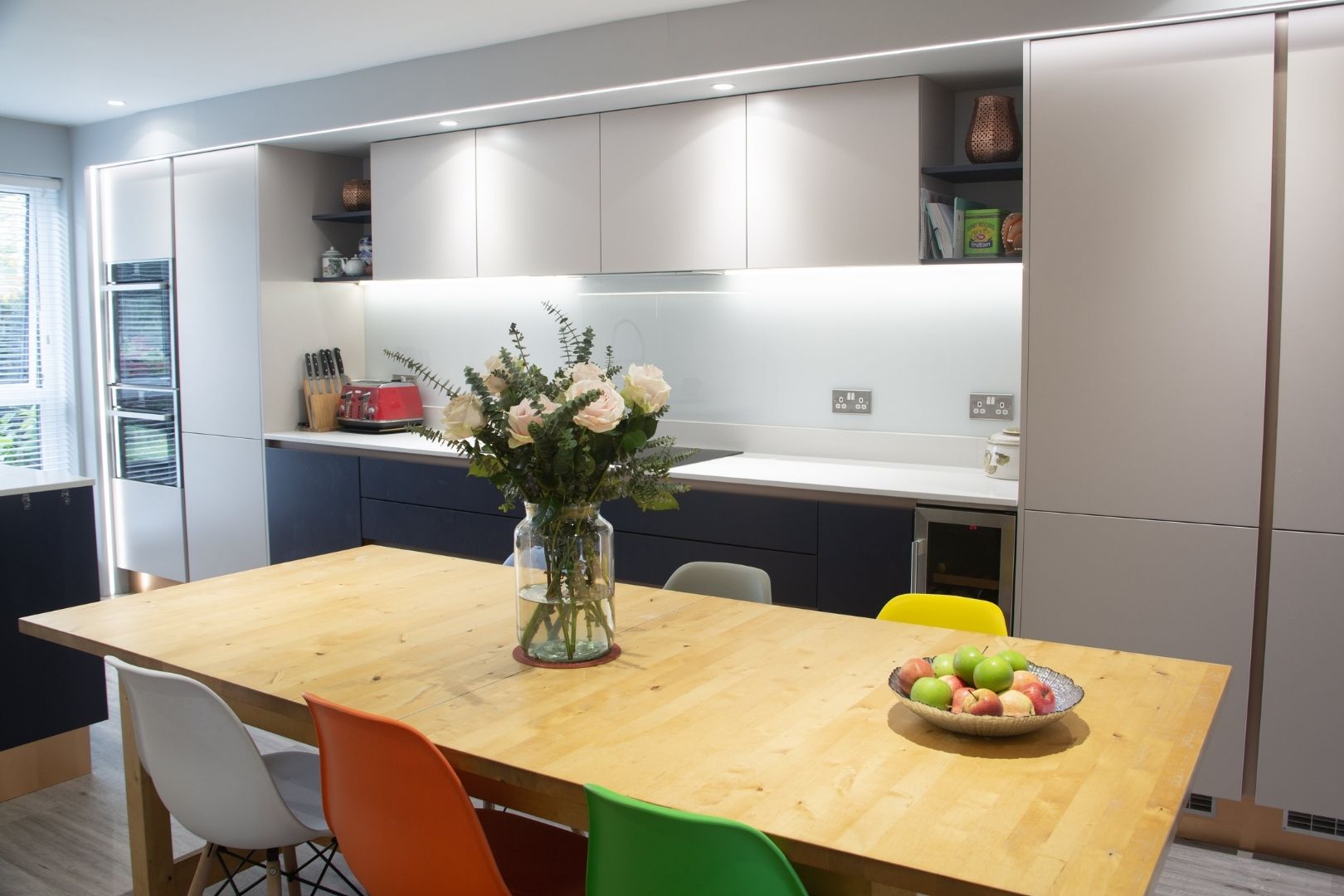 East London's Trusted Kitchen Experts
Anderson Sinclair is a local independent family-run company. We have been designing and installing outstanding kitchens in East London and throughout Essex for over 20 years. And in this time, we have earned an impeccable reputation for our fantastic service. At Anderson Sinclair, our customers always come first.  From creating a stunning tailormade design to managing every aspect of the installation process, we go above and beyond to support our clients. We can even support you with building works and home extensions. Our experienced and dedicated team take full responsibility for ensuring your project runs smoothly, leaving you with a breath-taking bespoke kitchen that provides many years of enjoyment and pleasure.
Visit Our Fantastic Kitchen Showroom
The best way to appreciate the superb quality and style of our kitchens is undoubtedly by visiting our nearby showroom. We have two stunning full-size displays to explore, showcasing one of our most popular classic designs as well as one of our latest sleek and sophisticated modern interiors. Discovering our beautiful collection in person will give you all the inspiration you need to start your project, and our knowledgeable and friendly team will be on hand to help you take the first step.
Our talented designers would be delighted to hear the ideas you have for your project and would be more than happy to talk through our products and answer any questions you might have about our service. However, if you'd prefer, you're welcome to simply browse our showroom at your leisure. Our showroom is less than 20 minutes from Ilford, Woodford, Stratford and Waltham Abbey. For more information on how to find us and to plan your visit now, please click here.
We visited many different retailers before meeting the friendly and professional team at Anderson Sinclair. We were struck by Jon and Lily's wonderful service; they immediately went above and beyond to help us. Since purchasing our kitchen over a year ago we have had so many compliments and are incredibly grateful to the team at Anderson Sinclair.
Mr Patel
We would definitely recommend Anderson Sinclair. Their service was fantastic, the quality of the installation was exceptional and all in all their team really is second to none. From start to finish we found the potentially daunting experience of buying a kitchen was made easy and enjoyable!
Mr Beardon
We are absolutely delighted with our finished kitchen and couldn't be more grateful for the fantastic service we received. Jon and his team were incredibly professional, and communication was clear throughout our project. We wouldn't hesitate to recommend Anderson Sinclair to our friends and family.
Mrs Grave
We have just bought a kitchen from Anderson Sinclair and are really thrilled with the attention to detail and beautiful finishing touches it incorporates. No matter how many questions I asked, they always took the time to explain clearly and were able to help with my design. With the amazing support of the team at Anderson Sinclair, I can now safely say we have the kitchen we've always dreamed of.
Mrs Pearce
The amazing team at Anderson Sinclair couldn't have been more patient and accommodating. We needed extra time to store our kitchen and Jon was more than happy to help. They made the whole process completely seamless and we are totally over-the-moon with our gorgeous new kitchen.
Mrs Adelman