Beautiful & Practical Kitchens In Stratford
Creating a spectacular kitchen requires striking a perfect balance between practicality and style. Your Stratford kitchen is more than just a space to cook and prepare food. And while it absolutely must live up to the demands of daily use, it should also provide a beautiful and personal backdrop for hosting, relaxing and socialising.
At Anderson Sinclair, we specialise in designing and installing gorgeous bespoke kitchens that elevate your day-to-day routine both practically and aesthetically. Our luxurious quality collection of modern and traditional styles offers a huge variety of choices, which, combined with the creativity and expertise of our team, guarantees you will find a truly outstanding new interior. We will oversee your project from start to finish to ensure our high standards are met, leaving you with a breath-taking finished Stratford kitchen that provides years of pleasure and enjoyment.
Luxurious Stratford Kitchens Designed For You
There's no such thing as the perfect kitchen, only the kitchen that's perfect for you. At Anderson Sinclair, we've been designing stunning Stratford kitchens for over 20 years, and since day one, no two of our luxurious bespoke interiors have ever looked alike. Our kitchens are designed completely around the needs of your family and your individual style. We start with an in-depth conversation to get to know you and your unique requirements before carefully crafting your design to complement your home and lifestyle. As a group of perfectionists, we dedicate meticulous attention to get every intricate detail just right. You can discover some of our gorgeous bespoke designs for yourself by clicking the button below.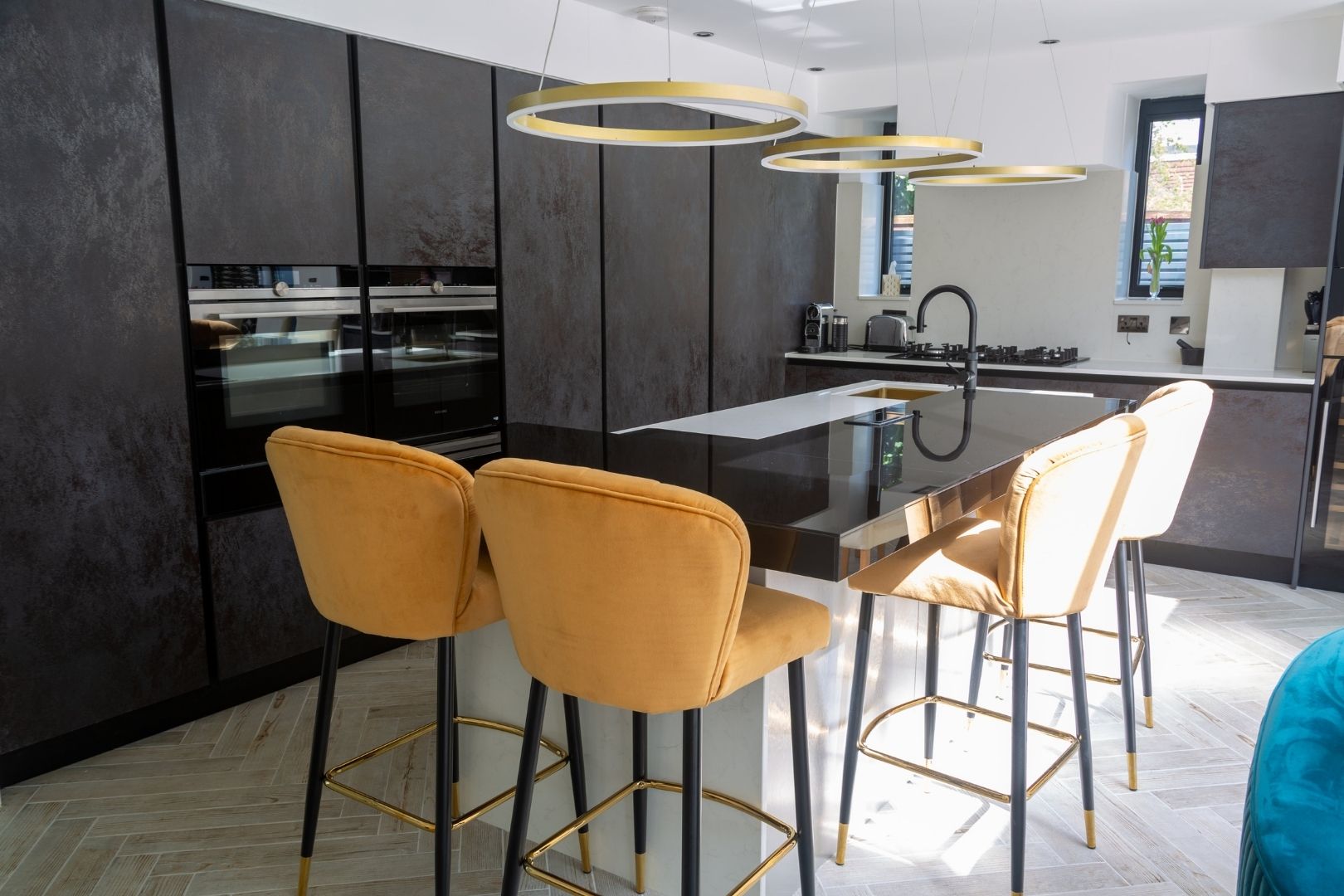 We Design Stunning Kitchens Effortlessly Brought To Life By Our Expert Team In Stratford
The kitchen is the most important room in your home, and so when it comes to renovating your space, you should undoubtedly expect your project to be carried out on schedule and to the highest standards to ensure you receive an immaculate interior with the minimum disruption to your routine. At Anderson Sinclair, we have over 20 years of experience bringing exceptional bespoke Stratford kitchens to life, and in this time, we've completely perfected every aspect of our service.
From sourcing the finest quality products to engaging a team of highly professional project managers, tradesmen, fitters and designers, we've gone to great lengths to ensure we always deliver an outstanding journey as well as a superb finished kitchen. Our dedication has earned us an impeccable reputation, which, as an independent family-run company, we are incredibly proud of. With our fantastic team taking care of your project, achieving your perfect luxury Stratford kitchen has never been easier. Find out more about the brilliant group of people behind our spectacular interiors by clicking the button below.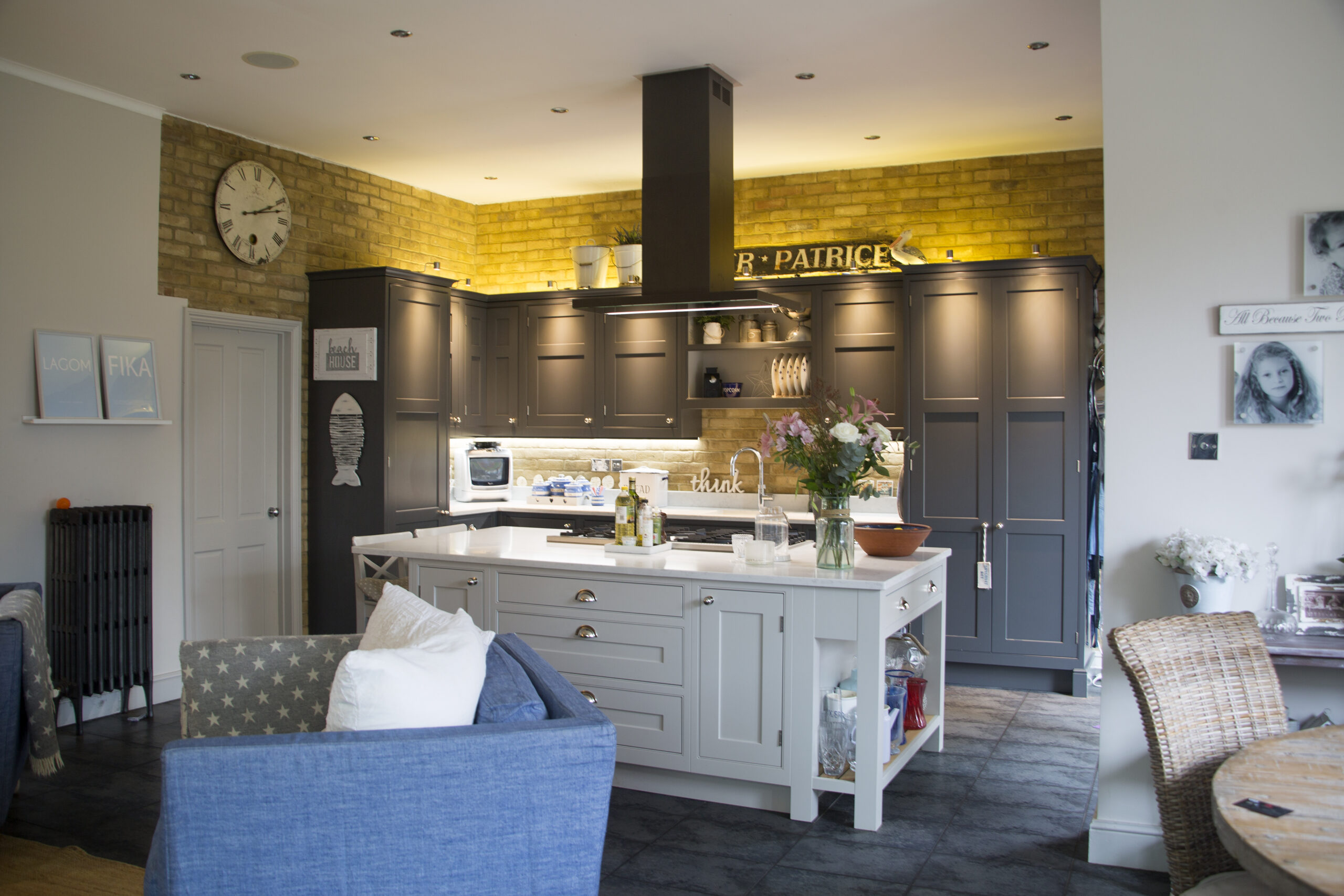 Superb Quality British Kitchens
Since our director Jon founded Anderson Sinclair based on his appreciation of precision and craftsmanship, we have continued to strive for design excellence, pursuing the highest quality in everything we do. We source our kitchens from award-winning British manufacturers Mereway. Using a combination of traditional carpentry and precision engineering, each of our British-made kitchens is made to order to the most exacting standards. Incorporating the most durable, cutting-edge components and hand-selected timber, the exquisite finish of our kitchens creates a breath-taking impact in any space. Explore our eye-catching, modern and traditional collection by clicking the button below.
Visit Our Inspiring Kitchen Showroom
Whether you're only just beginning to consider redesigning your space or you have a clear vision of your new kitchen already in your mind, our nearby showroom is well worth a visit. Experiencing our two full-size working kitchens is the perfect way to make those final decisions about appliances and finishing touches. Alternatively, browsing our displays and samples is a wonderful opportunity to discover the possibilities for your new interior.
Less than a 20-minute drive from Stratford & Woodford, we would love to welcome you to our Loughton showroom. Wherever you're at with your project, our team will be more than happy to offer their advice and support. Meeting our friendly and professional team and exploring our immaculate high-quality kitchens will give you an understanding of what you can expect when you choose Anderson Sinclair for your project. Please click here to plan your visit.
We visited many different retailers before meeting the friendly and professional team at Anderson Sinclair. We were struck by Jon and Lily's wonderful service; they immediately went above and beyond to help us. Since purchasing our kitchen over a year ago we have had so many compliments and are incredibly grateful to the team at Anderson Sinclair.
Mr Patel
We would definitely recommend Anderson Sinclair. Their service was fantastic, the quality of the installation was exceptional and all in all their team really is second to none. From start to finish we found the potentially daunting experience of buying a kitchen was made easy and enjoyable!
Mr Beardon
We are absolutely delighted with our finished kitchen and couldn't be more grateful for the fantastic service we received. Jon and his team were incredibly professional, and communication was clear throughout our project. We wouldn't hesitate to recommend Anderson Sinclair to our friends and family.
Mrs Grave
We have just bought a kitchen from Anderson Sinclair and are really thrilled with the attention to detail and beautiful finishing touches it incorporates. No matter how many questions I asked, they always took the time to explain clearly and were able to help with my design. With the amazing support of the team at Anderson Sinclair, I can now safely say we have the kitchen we've always dreamed of.
Mrs Pearce
The amazing team at Anderson Sinclair couldn't have been more patient and accommodating. We needed extra time to store our kitchen and Jon was more than happy to help. They made the whole process completely seamless and we are totally over-the-moon with our gorgeous new kitchen.
Mrs Adelman