Visit Our Kitchen Store Near Hornchurch
With so many beautiful options to choose from, knowing where to start when planning your dream kitchen can be challenging. Our kitchen store near Hornchurch is the ideal place to begin your journey. We have two stunning, full-size kitchens on display. One showcases our latest, award-winning range while the other demonstrates a more traditional, sophisticated style. Both include a variety of gorgeous design details, ingenious practical features, and fantastic appliances. Experiencing our superb quality kitchens in person is sure to leave you feeling inspired.
Visiting our showroom isn't just a great opportunity to take a closer look at our exceptional kitchens. It's also a brilliant chance to meet the team behind our designs. Our friendly kitchen specialists will happily talk you through the stages involved in bringing your vision to life, giving you complete peace of mind that your project will run smoothly. They'll also be delighted to discuss your design, helping you find some fantastic new ideas for your space. Our store is just a 35-minute drive from Hornchurch, on the outskirts of Loughton. For more information on how to find us, please click here.
Bringing Quality Kitchens To Hornchurch
At Anderson Sinclair, we are a self-confessed team of perfectionists. We pride ourselves on our high standards and are only content to work with the finest quality products. We source all our kitchens from trusted British manufacturer, Mereway. Their award-winning collections offer impressive practicality, stylish looks, and outstanding durability. However, there's more to creating stunning, long-lasting kitchens than choosing quality products. From refining your bespoke design to installing your kitchen with flawless precision, our team will ensure every aspect of your project exceeds expectations. Our skilled and experienced fitters won't finish working until every last detail of your new kitchen is perfect. We leave no stone unturned in our pursuit of excellence.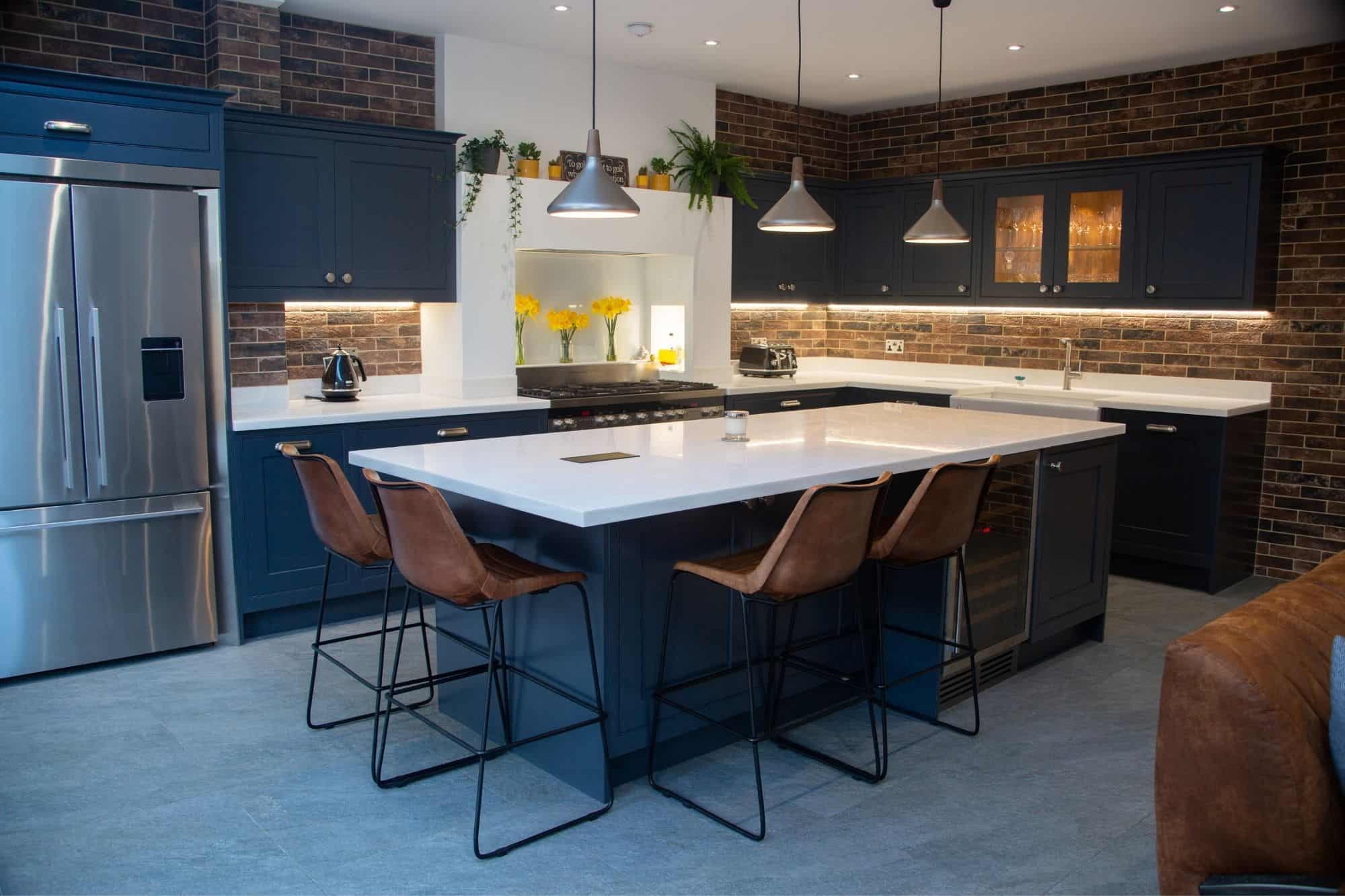 Our close-knit team have been working together to create exceptional bespoke kitchens for over 20 years. From our designers to our showroom manager, we are dedicated to providing the very best service. Every member of our team is an experienced and qualified professional. Thus, we know exactly what to do to deliver the highest quality, long-lasting bespoke kitchens. As a local, independent business, we pride ourselves on going the extra mile to ensure our customers are 100% satisfied with our work. You can rest assured we always have your best interests at heart. To get to know our brilliant team even better, please click the button below.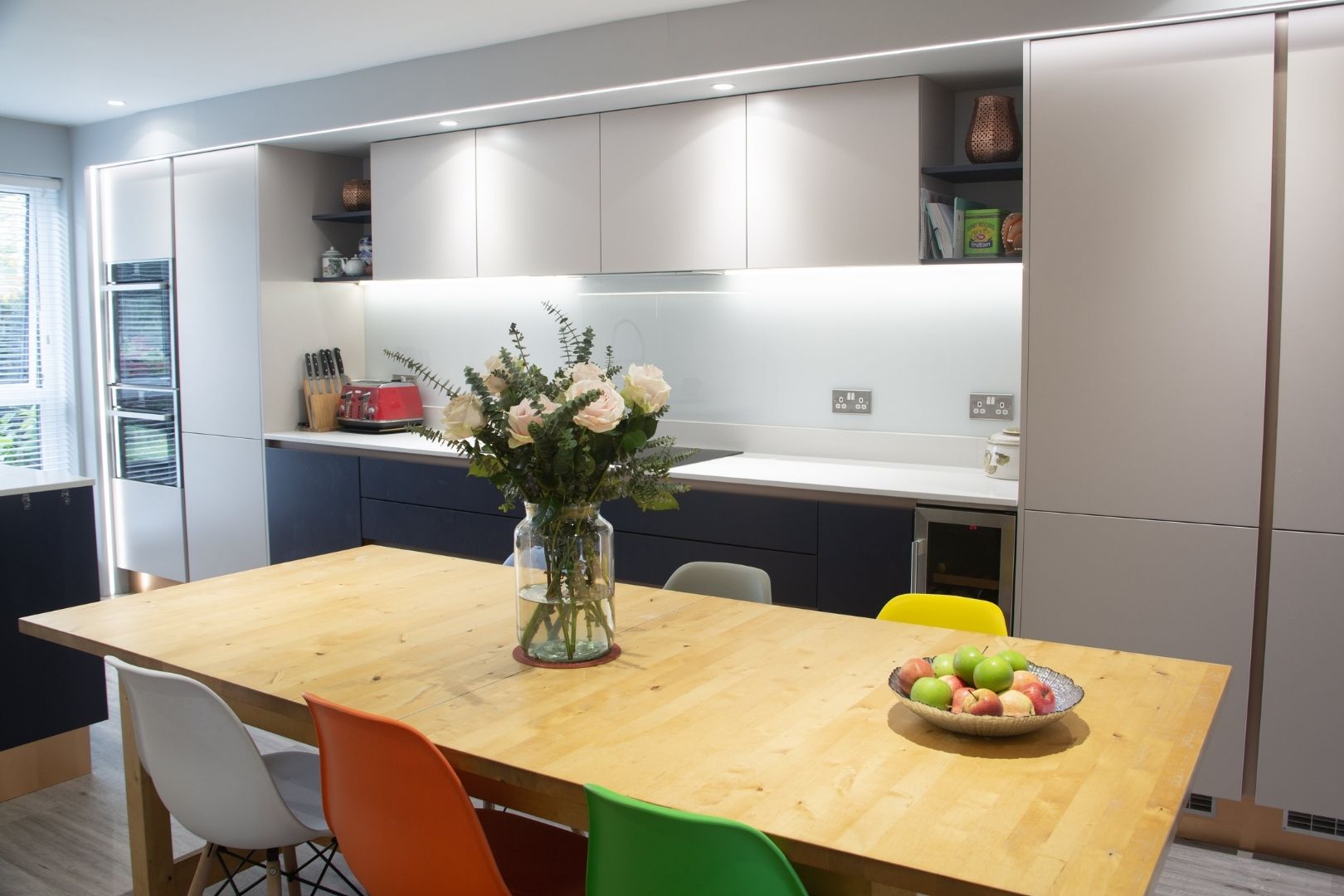 Relax Knowing We'll Take Care Of Everything
Whether you're simply refurbishing an existing space or extending your property, any home renovation can potentially become rather stressful. With his background in construction and engineering, our director, Jon, understands the challenges associated with undertaking building work and the inconvenience and stress it can cause. Thus, we've made it our mission to ensure none of our clients ever need to experience these worries. Should you wish, we can manage your project for you. We'll work with our trusted partner trades to ensure your project stays on schedule and meets the highest standards. With our expert support, renovating your home will be straightforward and hassle-free.
Stunning Hornchurch Kitchens Designed Around You
From how you like to relax to your individual style, your perfect kitchen is completely unique. And, at Anderson Sinclair, we understand better than anyone how much your Hornchurch kitchen means to you. Our talented and passionate designers will go above and beyond to create a bespoke concept that beautifully complements your needs and tastes. They'll listen closely to your brief, getting a feel for your likes, dislikes, and specific requirements. Our visual, spatial, and technical expertise ensures our designs tick all the boxes in terms of practicality, longevity, and elegance. To make sure nothing stands in our way when it comes to finding your perfect design, we have sourced an impressive selection of cabinet styles, finishes, appliances, and accessories. Our beautiful modern and traditional collection offers something to suit every taste. You can see some of the stunning bespoke kitchens we've created for our clients by clicking here.
We visited many different retailers before meeting the friendly and professional team at Anderson Sinclair. We were struck by Jon and Lily's wonderful service; they immediately went above and beyond to help us. Since purchasing our kitchen over a year ago we have had so many compliments and are incredibly grateful to the team at Anderson Sinclair.
Mr Patel
We would definitely recommend Anderson Sinclair. Their service was fantastic, the quality of the installation was exceptional and all in all their team really is second to none. From start to finish we found the potentially daunting experience of buying a kitchen was made easy and enjoyable!
Mr Beardon
We are absolutely delighted with our finished kitchen and couldn't be more grateful for the fantastic service we received. Jon and his team were incredibly professional, and communication was clear throughout our project. We wouldn't hesitate to recommend Anderson Sinclair to our friends and family.
Mrs Grave
We have just bought a kitchen from Anderson Sinclair and are really thrilled with the attention to detail and beautiful finishing touches it incorporates. No matter how many questions I asked, they always took the time to explain clearly and were able to help with my design. With the amazing support of the team at Anderson Sinclair, I can now safely say we have the kitchen we've always dreamed of.
Mrs Pearce
The amazing team at Anderson Sinclair couldn't have been more patient and accommodating. We needed extra time to store our kitchen and Jon was more than happy to help. They made the whole process completely seamless and we are totally over-the-moon with our gorgeous new kitchen.
Mrs Adelman