These days, kitchen islands are something of a kitchen icon. You simply won't find a glossy interior design magazine without one, and at Anderson Sinclair, our clients and designers alike absolutely love them! As well as looking stylish and sophisticated, a kitchen island offers a host of fantastic practical benefits which have the potential to transform the way you use your space. However, in the past couple of years a handful of designers have controversially spoken out against this sought-after kitchen feature, and so, to put your mind at ease and to help you make the right decision for your design, we've put together this article to explore the amazing benefits and potential downsides of the infamous kitchen island.
Why We Love Our Kitchen Islands
An Alternative Dining Area
One of the most common complaints raised by some interior designers is the notion that the kitchen island has replaced the more traditional and homely dining table. Of course, a spacious country kitchen featuring a stretching rustic oak table would have a certain charm, but for many homeowners, this simply isn't feasible or desirable. The kitchen island can provide a much-needed dining area in a compact space and works beautifully in the kitchen below to create a subtle division between the kitchen and living area. If you do have a more spacious kitchen and you enjoy sharing your culinary delights with guests, then opting for a larger dining table rather than a kitchen island can be a good choice.
As you can see from the incredibly stylish interior below, kitchen islands undeniably go hand-in-hand with modern open-plan living, and knocking through a wall is a popular choice when it comes to making space for your all-important island. Opening up your living area can create a spacious, airy and sociable feel; however, open-plan living isn't for everyone. Bear in mind that any noise from the kitchen will travel across the space as will food odours. Investing in good extraction and quiet appliances will help. Alternatively, you may wish to consider a kitchen-diner as opposed to a fully open-plan design.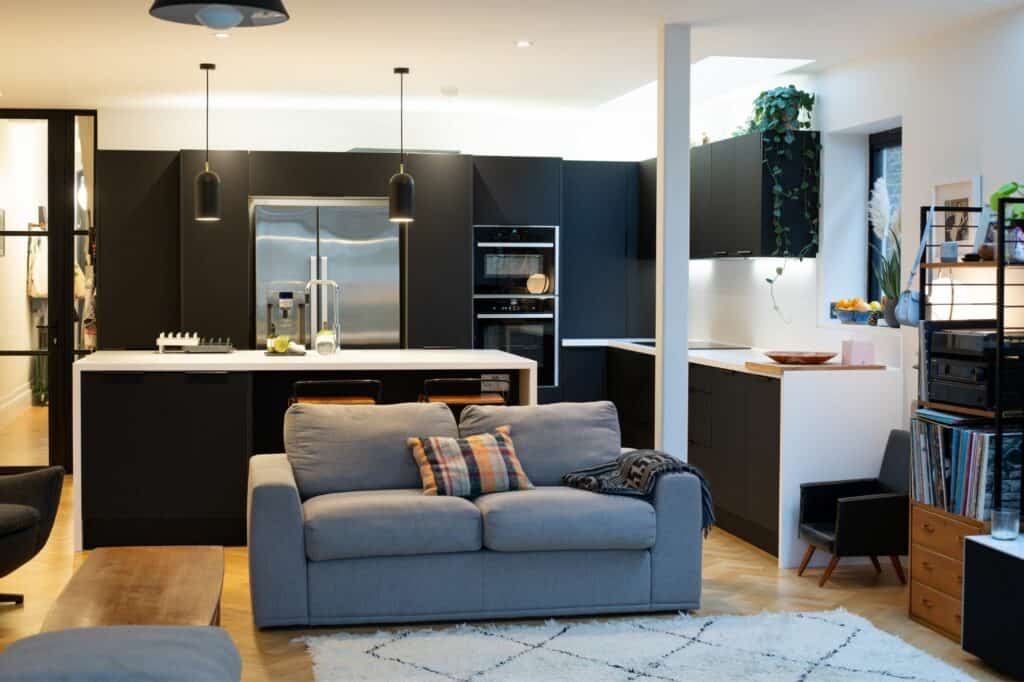 Gain Space For Worksurfaces, Storage & Appliances
Many designers adhere to a form follows function approach, and in a kitchen with ample storage and work surfaces, perhaps the kitchen island might not be wholly necessary. But in reality, for most of our customers storage is their number one concern. Gaining storage in the form of full height pantry or larder style cupboards often involves sacrificing counter space and with food processors, mixers, blenders and slow cookers to accommodate alongside everyday utensils and ingredients, storage is inevitably always in high demand.
Kitchen islands are ideal for creating extra storage and worktop space and can even provide room to situate your hob or sink. However, if you do have a compact kitchen then be wary of trying to squeeze in an undersized island, as, depending on your lifestyle, you might find the storage provided is hindered by narrow walkways and a restrictive layout.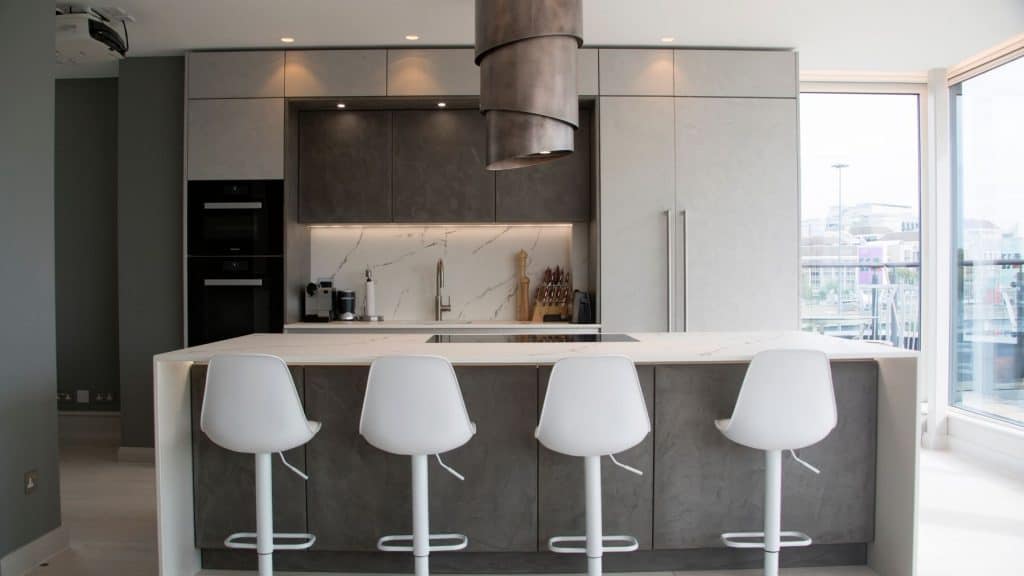 Harmonious Open-Plan Living
Getting the scale and proportion of your island to complement the layout of your space can be tricky, especially with an off-the-shelf kitchen. A poorly designed island has the potential to block appliances such as ovens and dishwashers and can result in a restricted and inefficient workflow. At Anderson Sinclair, our trained specialists design every kitchen bespoke, taking these considerations into account to ensure your island complements your space and lifestyle. We wouldn't hesitate to recommend you consult your local kitchen experts to make sure your island is well designed and integrated with your layout.
With an open-plan kitchen, it's important to create distinct zones within the space. These zones give you the versatility to fully immerse yourself in different activities, whether that's relaxing while watching TV on the sofa or enjoying a sophisticated evening meal with friends. An island can help to soften the contrast between the practical aesthetic of the kitchen and the rest of your room. The soft grey kitchen island below tones down the gorgeous navy blue of the main cabinetry, leading into the neutral colour scheme of the living area. Bespoke open shelving provides a nook to display ornaments while glass-fronted cabinets with internal lighting generate an inviting glow. The homely features of this island create a beautiful backdrop to the rest of the space.
Enjoy Your Kitchen With Friends & Family
If you love entertaining, a kitchen island is a wonderful addition to your home. They immediately put guests at ease as they provide a perfect spot to rest a drink while socialising with the host. Some designers feel that allowing guests to congregate in the kitchen can be a hindrance to busy food preparations, however, if you position seating out of the way of the main thoroughfare and ensure any cooking implements are stored on the internal side of the island you should avoid too much inconvenience. In the breath-taking kitchen below, we have included a luxurious wine cooler alongside the bar seating so guests can enjoy helping themselves to drinks.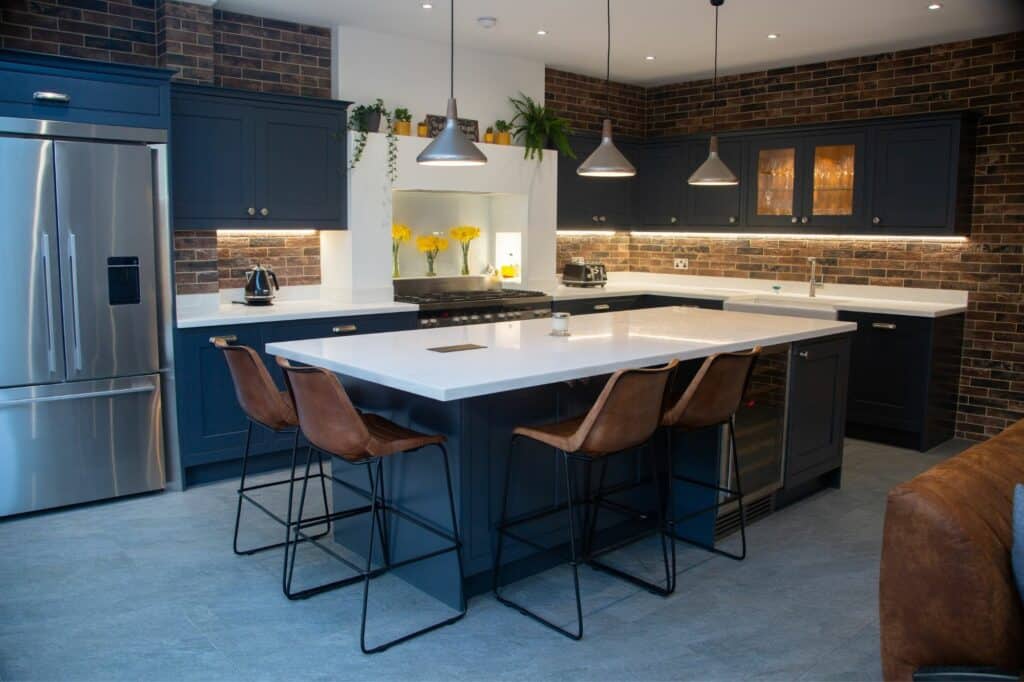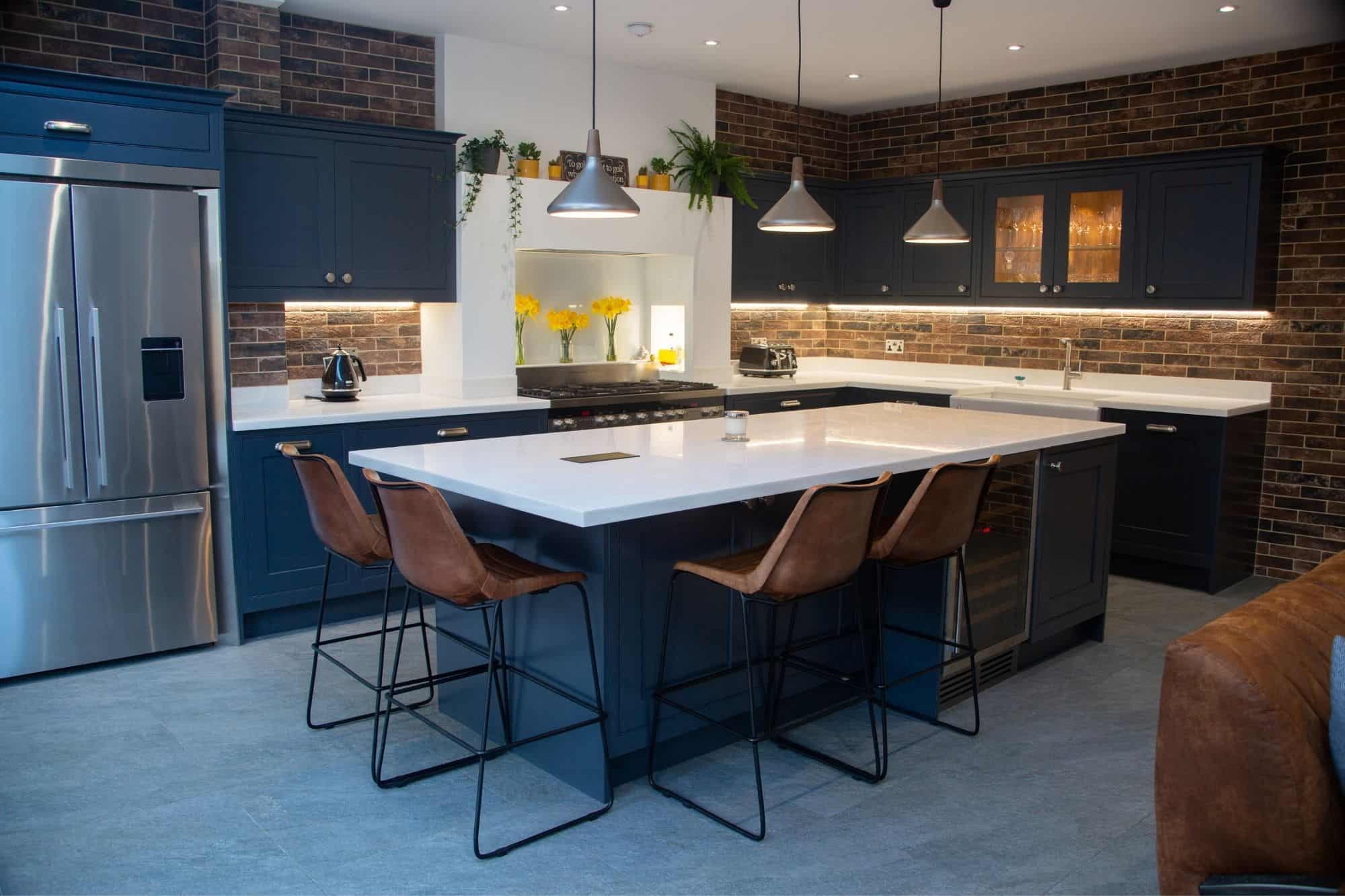 Kitchen islands not only make a stunning design statement, but they also provide plenty of exceptional practical benefits. However, you should of course consider whether a kitchen island is the right choice for your home and lifestyle. Should you wish to discuss your options and explore the potential of your space, our expert team at Anderson Sinclair would be delighted to help. You can call us on 0208 088 4058 or email info@anderson-sinclair.co.uk.