We spend a lot of time in our kitchens. In fact, a recent study showed that most of us spend more time in the kitchen than in the living room, and so naturally, the flotsam and jetsam of everyday life can tend to build up. However, since the kitchen has firmly positioned itself as the place to be whether cooking or socialising, this is the last thing you need. To help you create a stress-free kitchen that's both stylish and practical, our expert designers at Anderson Sinclair have put together this guide on storage ideas to keep your kitchen organised and looking its best.
Zone Your Kitchen
Before getting to grips with the different types of storage available, you should make sure you plan your kitchen layout to maximise the use of space. There are many different approaches when it comes to finding the most successful kitchen layout for you and our experienced designers will be happy to help.
Once you have decided on the basic shape of your kitchen and the location of your main appliances, your fridge, sink and hob, consider planning your storage in terms of these different functional zones. Your hob is the focal point of your cooking zone, you may want a combination of shallow and deep drawers to accommodate utensils, pots and pans as well as a pull-out system nearby for regularly used oils and seasonings.
When organising your storage, zoning areas of your kitchen by use, for example, making drinks or grabbing breakfast, means that not only is it quicker and easier to find what you need, but you are also less likely to see items migrating across the kitchen, destined to be left marooned on the worktop. A well organised kitchen is much easier for the whole family to keep neat and tidy.
Convenient Drawers
Adding more drawers to your kitchen design is a wonderful way to immediately transform your space. They can be hidden behind cupboard doors or constructed as full-length pull-out systems, whatever you choose, you'll never look back.
Drawers allow you to reach right to the back of your cupboard with the minimum amount of effort required. Pegs can be added to deep drawers to make them perfect for storing heavy piles of plates and crockery, bespoke dividers are ideal for storing utensils as well as all those miscellaneous bits and bobs. Never again will you have to waste time rummaging for herbs and spices only to end up making a trip to the shops. Drawers are a simple yet effective way to make your kitchen infinitely more practical and enjoyable to use.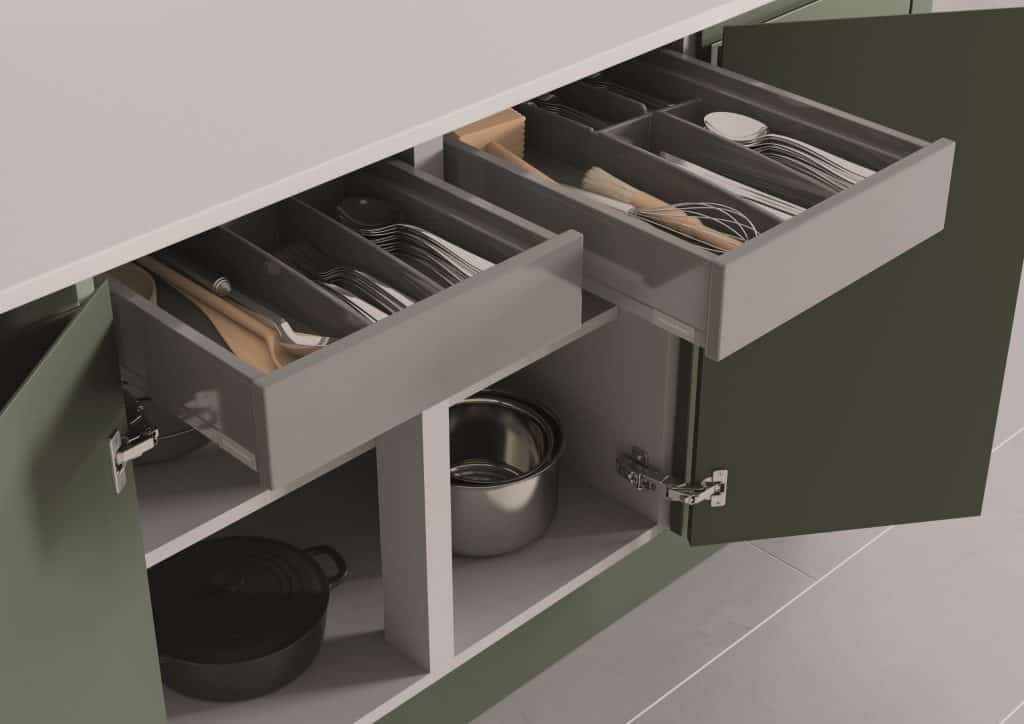 Spacious Pantry Style Cupboard
Pantry style cupboards are a one-stop shop for storing all your dry ingredients, they can even be used to hide small appliances like coffee machines or toasters. With their impressive capacity and a range of bespoke internal designs to suit your needs, pantry cupboards are a fantastic storage option for a classically styled kitchen.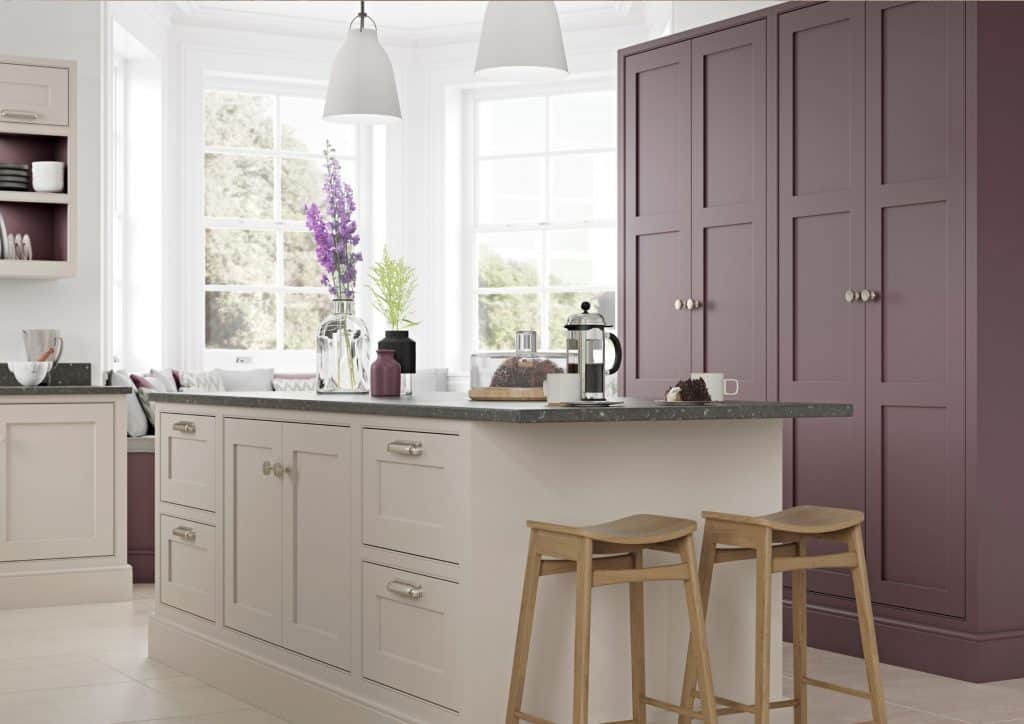 Full Height Units
Sleek full height units offer a generous amount of storage space, while pull-out systems and clever internal designs can make them every bit as practical to use as the popular pantry style cupboard. Tower units make a stunning visual impact when used wall to wall in a modern interior and can provide much-needed storage capacity in a compact kitchen where a kitchen island provides the necessary countertop space.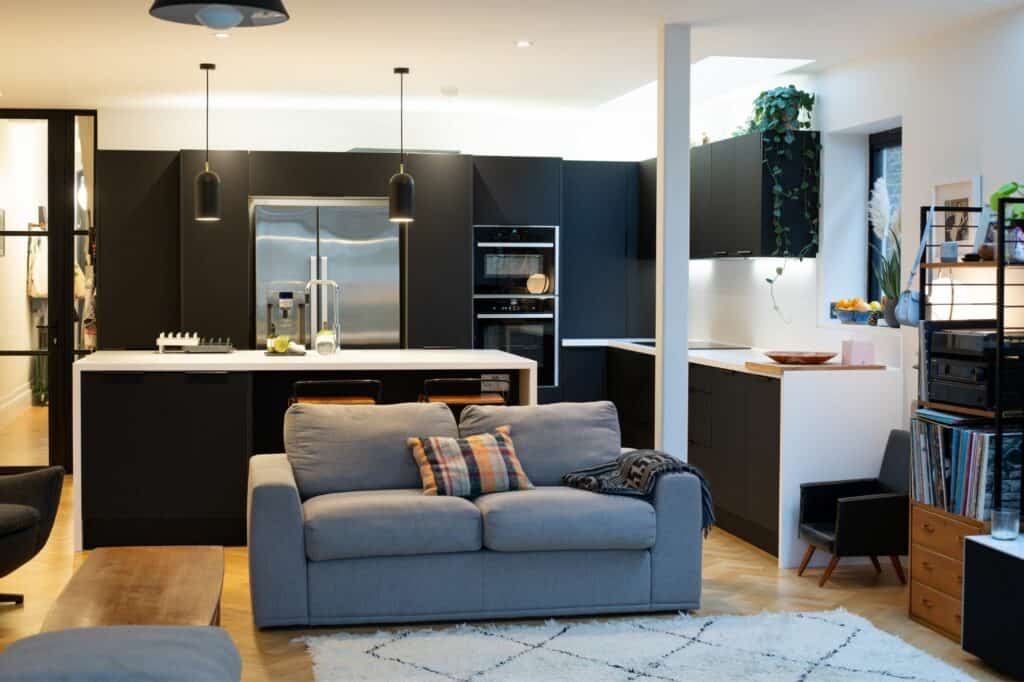 A Clutter Hiding Island
Kitchens are undeniably the focal point of our lives. When the kids come home from school and you get back from work, the kitchen is often where we regroup to tell of the day's events before the dinner preparations begin. Homework, empty lunch boxes, phones and laptops all inevitably join the throng, and before you know it your kitchen worktops have disappeared. A kitchen island establishes a hub for family and friends to gather while including drawers and storage baskets creates the perfect place to stow the day's detritus. Kitchen islands are a great way to introduce extra storage and have a host of other benefits which you can read about by clicking here.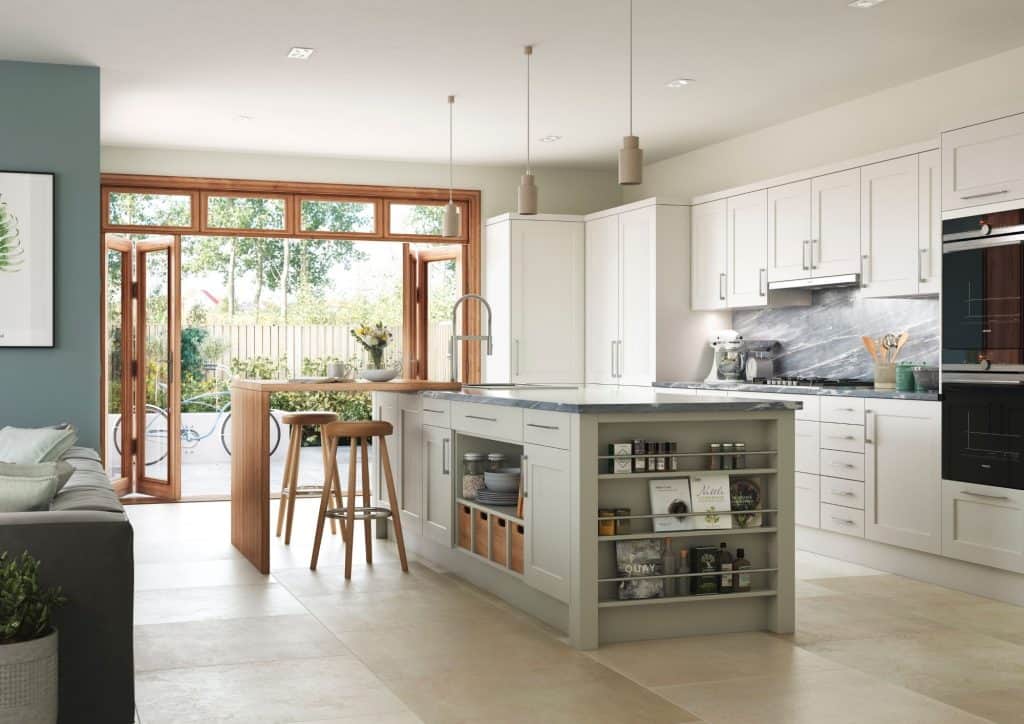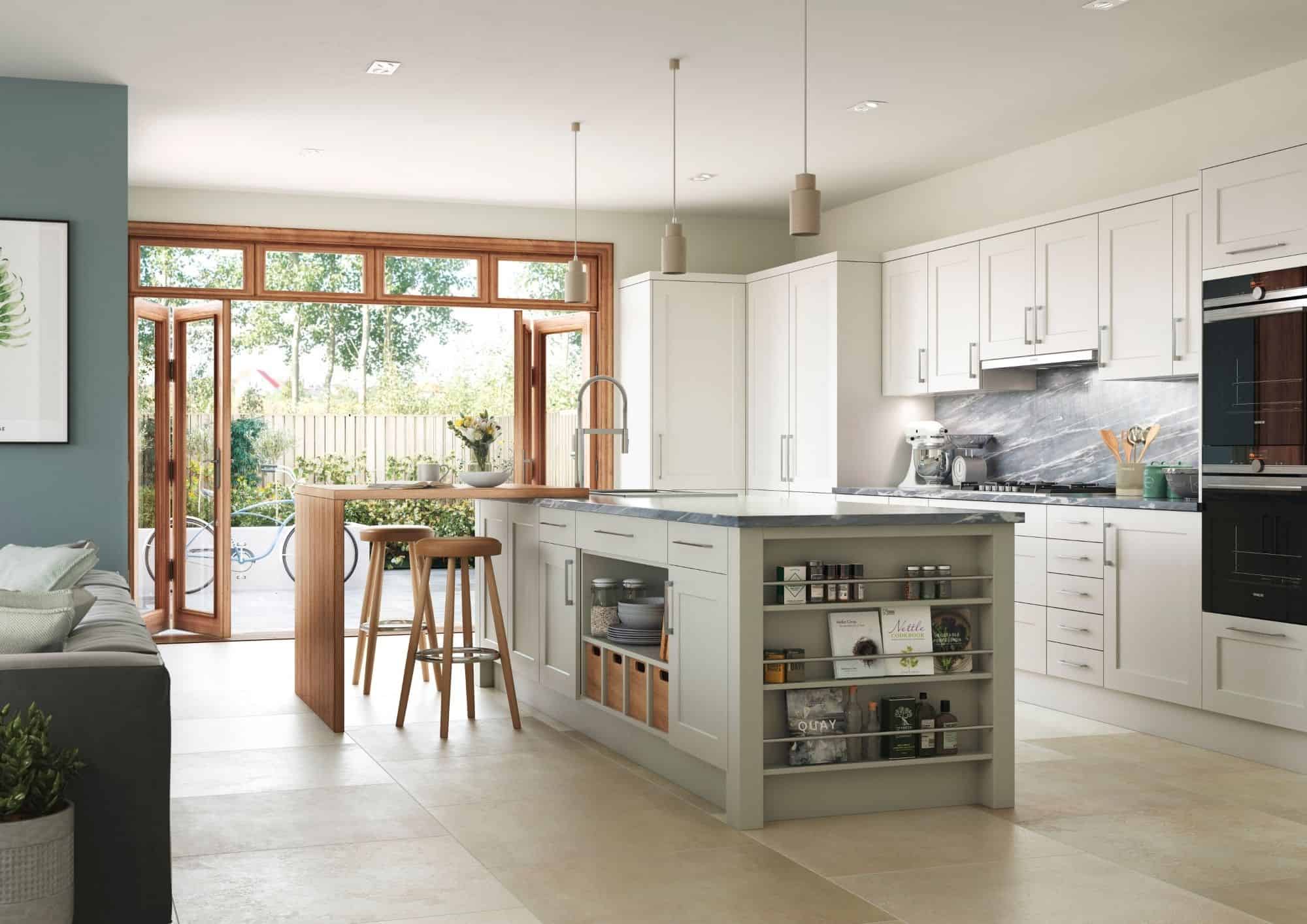 Display Shelving
When it comes to creating a kitchen that's both stylish and practical you must strike a balance between the amount of cabinetry in your design and the atmosphere of your space. Too many overhead cupboards can make a kitchen feel cluttered and claustrophobic. However, display shelves are a great way to break up a row of cupboards, adding interest and personality to your interior whilst still providing a functional purpose.
Make Use Of Wasted Space
To really get the most out of your kitchen be sure to make use of any potential storage space that might otherwise be overlooked. Bringing your cabinets all the way up to your ceiling height can create room for storing items that aren't used regularly such as serving dishes, spares or appliances.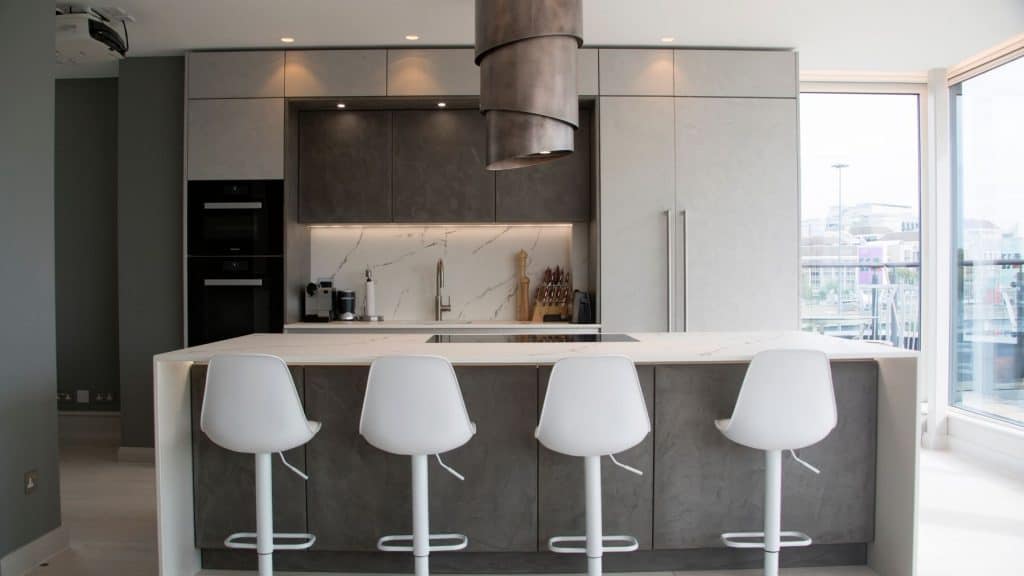 In the beautiful kitchen below, we designed bespoke storage alcoves set either side of the range cooker to give our clients a place to keep oils and seasoning. The shelf above provides a wonderful spot for displaying artwork and ornaments. The best way to discover inspiration on how to make use of potentially wasted space is to speak with your local kitchen design experts.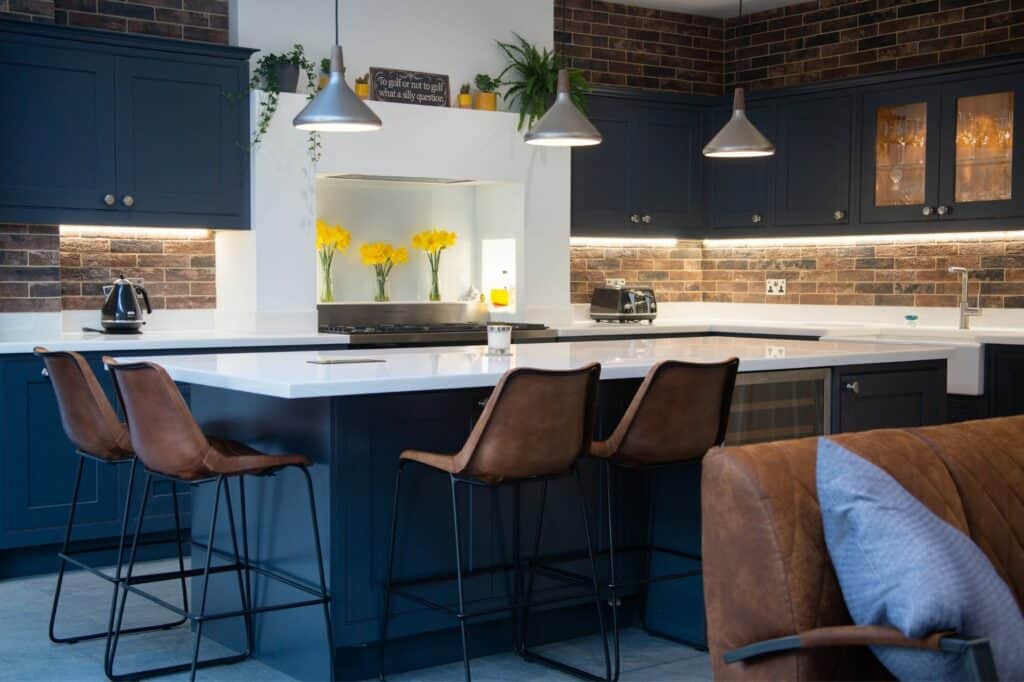 If you'd like to get more advice on how to create an organised, stylish and practical kitchen you can speak to the expert team at Anderson Sinclair by calling 0208 088 4058 or emailing info@anderson-sinclair.co.uk. We've designed thousands of gorgeous bespoke kitchens for clients across Essex and would be delighted to help you with your unique project so please don't hesitate to get in touch.