Handleless kitchens are very popular with our clients here at Anderson Sinclair, and if you envisage creating a clean modern interior then they can certainly make a wonderful choice. In the past couple of years, handleless kitchens have continually graced the pages of the most prestigious interior design magazines, and with their practical and stylish benefits, it's not hard to see why. We've put together this article to share exactly what makes handleless kitchens so popular and to help you decide whether a modern handleless kitchen is right for you.
What Is A Handleless Kitchen
A handleless kitchen is, of course, a kitchen without traditional bar or knob handles. However, there are two types of handleless kitchens, only one of which is really handleless and is known as a 'true handleless' design. A true handleless kitchen features a metal rail built into the unit which creates a space for fingers to grip and open the door or drawer. This style of kitchen is based on the original German model and relies on state-of-the-art mechanisms and precision manufacturing to create a sleek and durable design. The other option is called a J-Pull or J-Trim system. This is where a J-shaped profile is cut into the top of the door to create a lip that can be used similarly to a traditional handle. Manufacturing a J-Pull kitchen is more cost-effective, though cutting into the door itself thins the material making it more susceptible to damage. At Anderson Sinclair, we only supply kitchens that are built to last. All our true handleless designs are crafted in the UK from the finest materials.
Stunning Minimal Aesthetic
One of the defining features of a handleless kitchen is its breath-taking clean and minimal styling. Doing away with traditional handles allows you to create a sleek run of uninterrupted cabinetry which looks undeniably refined and sophisticated. The subtle simplicity of a handleless kitchen design is perfectly suited to modern open-plan living. In a traditional kitchen, utilitarian handles can sometimes visually jar with the softer more relaxing aesthetic of a living space, whereas a handleless kitchen provides a stylish and understated backdrop. As well as beautifully complementing a wide range of interiors, a handleless kitchen seamlessly harmonises with the latest cutting-edge appliances and accessories, ensuring your top-of-the-range coffee machine never looks out of place.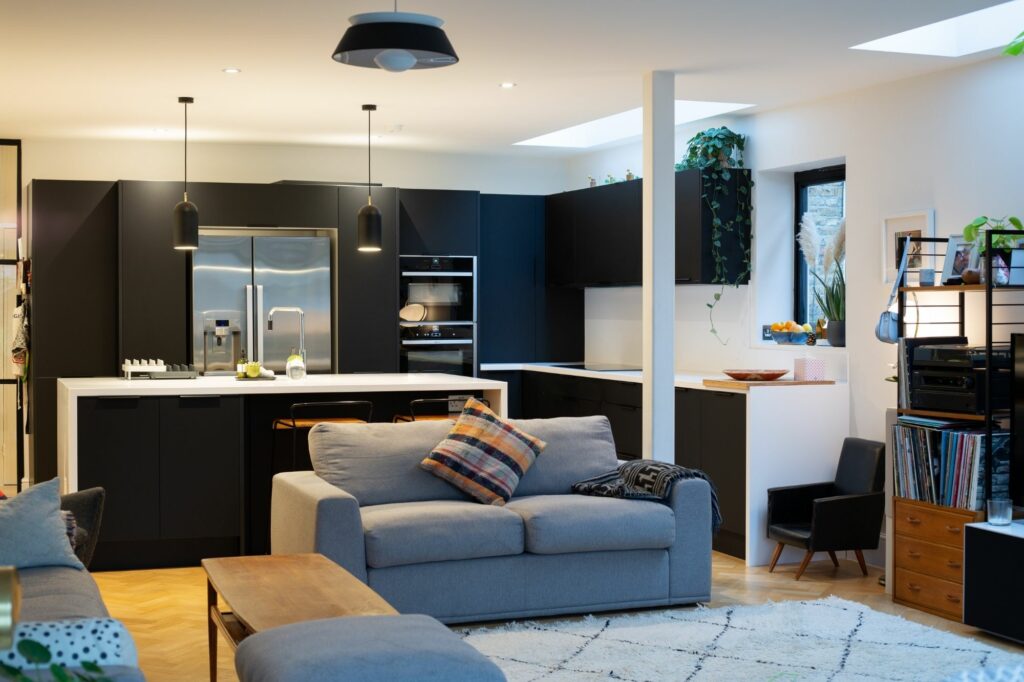 Extraordinary Design Versatility
As handleless kitchens have grown in popularity, more and more colours, finishes and styles have become available. The extraordinary variety of designs allows you the complete freedom to create exactly the look and style you desire. Soft matt neutrals pair beautifully with warm beech and oak woodgrain textures to create a tranquil and airy Scandinavian-inspired aesthetic. Combine a monochrome palette with a distinctive gloss finish to make a striking contemporary statement. Or alternatively, opt for elegant and sophisticated grey and blue hues to establish a charming classically-inspired space. At Anderson Sinclair, our handleless kitchens are available in a stunning range of colours as well as unusual surface finishes such as oxidised metal, brushed steel and textural stone. For the ultimate in design flexibility, you can even include both handle and handleless cabinetry in your kitchen design.
A Streamlined Space
With no extraneous detailing or visual clutter, your kitchen will look and feel remarkably streamlined. A smooth continuous run of cabinetry will immediately bring a natural flow to your interior, creating an inviting and calming atmosphere. Keeping your kitchen design clean and minimal will undoubtedly help to make your room feel more spacious and open.
Extra Safety
Handleless kitchens are ideal for families with young children. Kitchen handles are unfortunately at just the right height for little ones to catch their head and seem to provide a homing beacon to curious fingers, but you simply won't have to worry about this with a handleless kitchen design. A handleless kitchen will ensure neither you nor your family knock into protruding knobs or handles leaving painful bumps and bruises. Nor will you ever have to experience the frustration of getting clothes snagged on awkward handles again.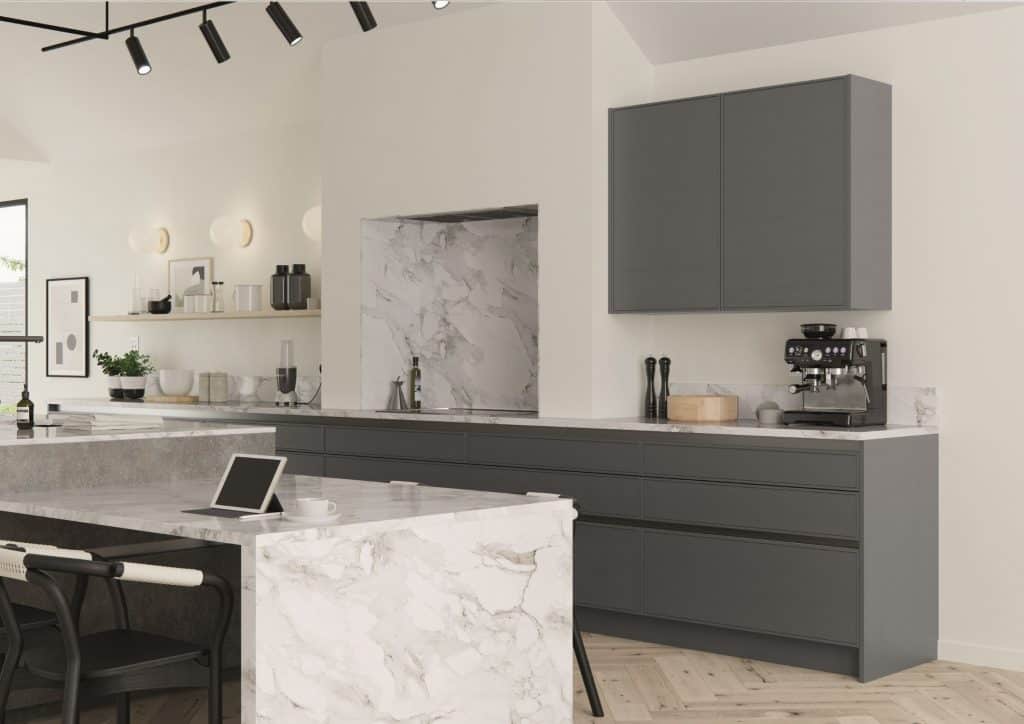 Easy To Clean Doors
Without handles to get in the way, you can effortlessly wipe cupboard doors and drawers clean in one fell swoop. This makes keeping your kitchen looking its best wonderfully easy. However, it is worth bearing in mind that crumbs and dust can accumulate in the recesses around your cabinets, these will need to be thoroughly cleaned.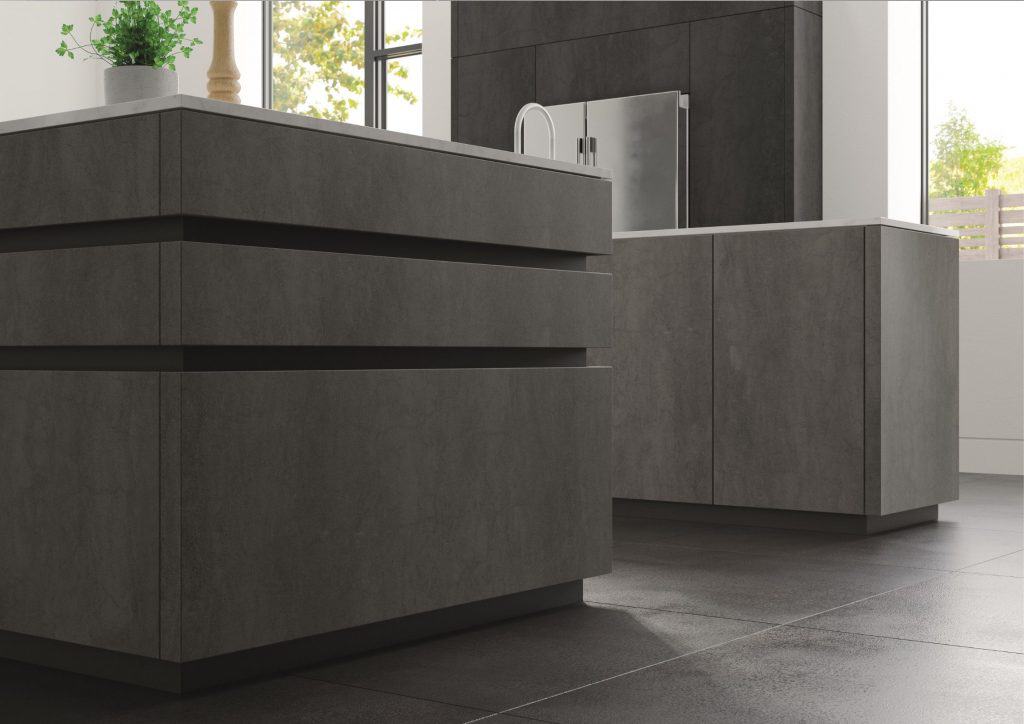 Complete With The Latest Storage
Contemporary handleless kitchens come with all the latest smart storage designs, from pull-out larder units to cleverly hidden drawers. The rail system of a true handleless kitchen makes accessing your storage totally effortless and incredibly convenient. A long run of units won't look out of place in a modern handleless kitchen and can really maximise the amount of storage you are able to include in your space.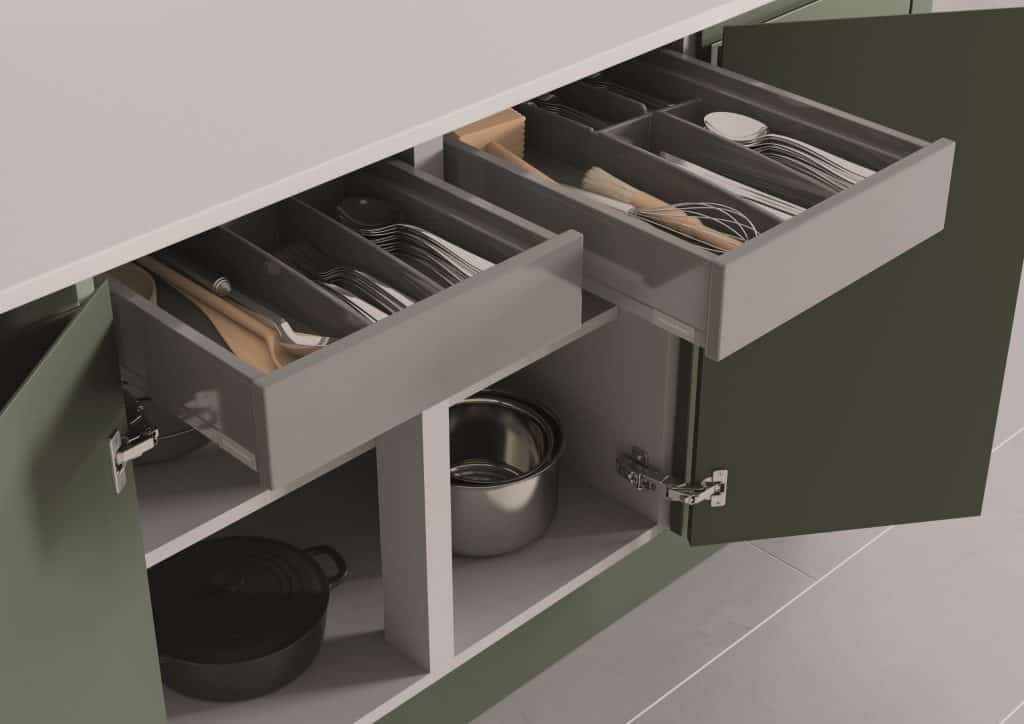 From their impressive looks to their superb functional features, handleless kitchens offer amazing potential to transform your space into a sleek and sophisticated interior that's loved by your family and truly envied by your guests. At Anderson Sinclair, our luxurious handleless kitchens are designed bespoke to you by our team of talented experts, which combined with their exceptional quality ensures they last for years to come. Since handleless kitchens are a little different from traditional kitchens, we would like to invite you to experience them for yourself at our Loughton showroom when we are able to reopen. If you'd like to find out more, you can call our friendly team on 0208 088 4058 or email us at info@anderson-sinclair.co.uk.