A warm and bustling hive of activity, the kitchen is undeniably the heart of your home. Pair this with the fact that most of us only update our kitchens once every 20 years, and it's clear that your new kitchen design is incredibly important. With both practical and stylistic decisions to consider, finding the perfect kitchen can seem like a daunting task, however, our dedicated team of experts is here to support you throughout your journey to ensure you get the most from your space.
At Anderson Sinclair, our talented designers take great pride in their work and always go above and beyond to exceed your expectations with their innovative, elegant and practical tailormade interiors. We appreciate that the kitchen design process is new to you and are committed to providing our expertise and guidance no matter how clear or uncertain your vision. However, to help you get the most from your project, there are certainly some details you can consider in advance. To shed some light on exactly what you can expect from your kitchen design journey and to help you prepare for your first design appointment, we've put together this comprehensive blog.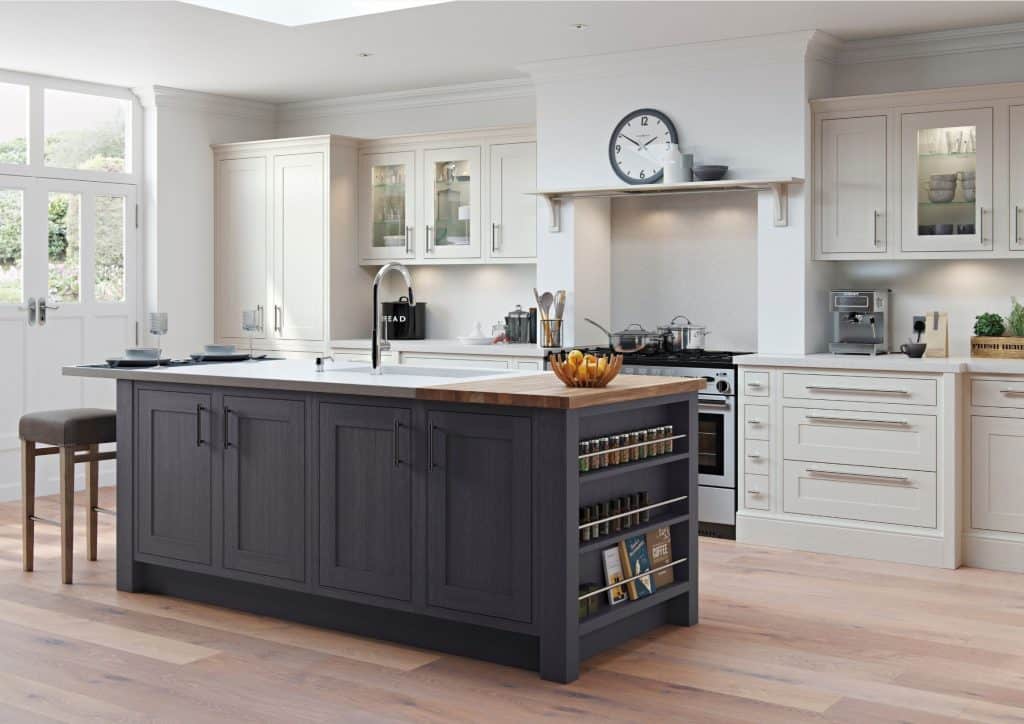 Your Journey
Visit Our Essex Showroom
We always recommend you start your kitchen design journey with a visit to our fantastic Loughton showroom. With two full-size kitchen displays to explore alongside an extensive collection of material samples, our showroom is a wonderful place to find inspiration for your project. As well as experiencing the exceptional quality of our kitchens, a visit to our showroom is a great opportunity to get to know our friendly team. We pride ourselves on our outstanding service and visiting our showroom is the best way to appreciate the dedication and enthusiasm our talented designers will bring to your project.
Arrange An Appointment To Discuss Your Brief
Having gained an understanding of the superb quality products we have to offer; you are in an ideal position to take the next step towards making your beautiful new kitchen a reality. Your first design appointment is where we sit down with you to discuss your space in more detail, getting a clear picture of your requirements and where you're at with your project. At this stage, we will discuss our three design options.
Regardless of the quality of your furniture and appliances, the design of your kitchen is absolutely key to the functionality and ultimately the long-term success of your interior. At Anderson Sinclair, our highly qualified experts work hard to create your bespoke tailormade design and this accounts for one of the most important aspects of your project. To enable our skilled designers to dedicate their undivided attention to your project, we ask our clients to pay our design fee up front, and once you're happy with your final design, this fee is then deducted from your deposit.
We offer three design fees which are based purely on the scale of your project, the care and attention we dedicate to your bespoke design always reflect the highest standards. Our £300 service focuses purely on the design of your kitchen interior, this is ideal if you either have a separate kitchen or you know exactly what you want to achieve with the rest of your room. Our £500 design fee encompasses the complete spatial planning of your open-plan living space. This might include a kitchen dining area or a kitchen and living room. This service takes into consideration your whole space, incorporating the interior design and visualisation of your final plan. We can also support you from scratch with building works and home extensions and these services range in price from £750-£1000. Should your needs change at any point during the design process, we can alter your fees accordingly.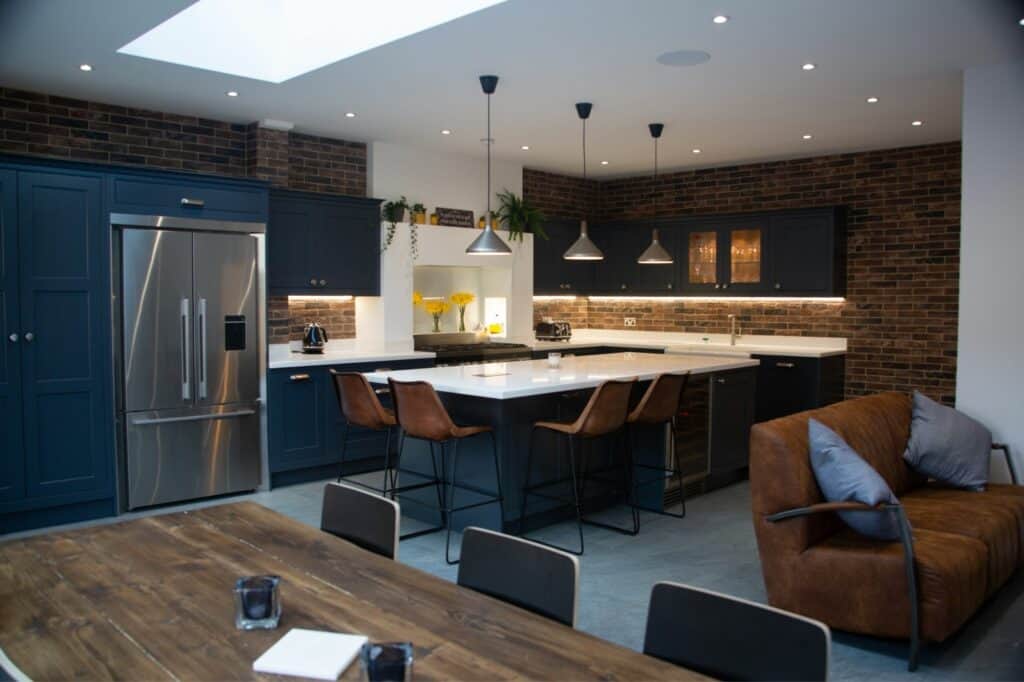 One-on-One Design Development
Once your design fees have been processed (this usually takes around 5 working days), we can get to work crafting your kitchen. We work closely with you during the design process, often creating several visualisations before deciding on the best one to develop. Our talented and creative designers are passionate about maximising your space both practically and aesthetically. We often encourage our clients to take a step out of their comfort zone to discover new and exciting design opportunities. At Anderson Sinclair, nothing is too much to ask, and we simply won't finalise your bespoke design until you are completely blown away by every detail.
Your Professional Installation
At Anderson Sinclair, every stage of your kitchen design journey is as important to us as the last and your final installation is no different. We rely on our own trusted team of tradespeople and fitters to install your kitchen with meticulous precision and attention to detail. Our team is committed to ensuring your project is smooth and hassle-free right up to the day you sign off on your stunning new space.
How To Prepare
One of the benefits of working with Anderson Sinclair is our outstanding design service. Our team of talented experts bring fantastic innovation and creativity to every project they undertake and so you can rest assured they will find the very best solution to suit your lifestyle and taste. While coming prepared is a great way to help our team get a head start on your project, we don't expect you to have a fully-formed idea of your design, in fact keeping an open mind is a great way to discover the amazing potential of your space.
Work On A Wishlist
The more information you can give your designer at your initial appointment the better, and a great place to start is to create a wish list. You might already have an idea of some of the things you'd like to include in your space for example specific appliances or features like seating, however, if you are finding it difficult to put your list together, we recommend you take some time to consider your current kitchen. Listing the pros and cons of your existing space should help to get you thinking about what you might like to change and ideas you could keep. Once you've come up with a list, try to prioritise your must-have features as this can help when you come to decide on your budget.
Create A Mood Board
With a variety of colours, finishes, furniture designs, worktops and features to choose from, when it comes to choosing a kitchen style the options can seem overwhelming. The best way to get to grips with this daunting array of possibilities is to start collecting a bank of your favourite images and ideas to refer to. Digital boards can be one of the most convenient ways to curate your inspiration, platforms such as Pinterest are ideal for this. You can also create a physical mood board using magazine and brochure cuttings, colour swatches and material samples. A visual mood board is the easiest way to clearly convey your taste and vision to your kitchen designer. It will help if you can gradually narrow down your ideas to one style, but even if we can get a clear understanding of the designs you don't like that gives us a good place to start.
Set a Budget
With limited knowledge of the costs associated with investing in a new kitchen, setting a budget can understandably be challenging. Of course, you want to ensure you can include the features on your wish list, but you will also want to feel confident that your new kitchen represents great value. Our talented professional designers are absolutely dedicated to helping you get the most from your space, but they can only do this if they know your budget. A clear budget allows us to support you from the start to find a solution that prioritises your needs, maximises your design and delivers a beautiful end result. If you have any doubts or questions about setting your budget, our team is more than happy to help.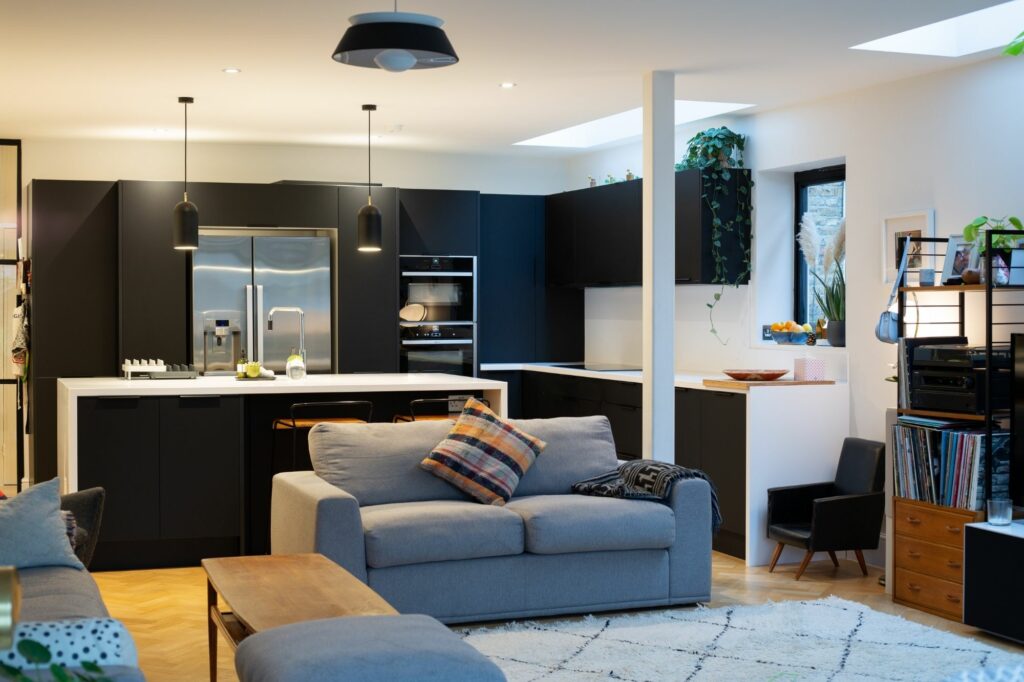 What To Bring To Your First Design Appointment
Architects/builder plans – Seeing your space sooner rather than later allows us to support your build, ensuring you have the services and features you need to maximise your design.
Photos of the room or space as it stands – Images will help our designers to get a feel for your space.
Your wish list & budget – The more information we have the better we can help prioritise certain aspects of your design from day one.
Your mood board or collection of inspiration – This is the easiest way to convey your taste and personal style.
An open mind – Keeping an open mind allows us to work together on a truly unique and exciting design.
If you'd like to speak to us about our services or for more advice on preparing for your kitchen design journey, please don't hesitate to get in touch. Our friendly and knowledgeable team would be more than happy to help with your project. You can call our showroom on 0208 088 4058 or email us at info@anderson-sinclair.co.uk.