At Anderson Sinclair, we've been working with Mereway since 2006. Like us, Mereway is a family-run company who pride themselves on their traditional values of quality, reliability and service. Over the years, we've gotten to know their friendly, honest and knowledgeable team, and when it comes to supplying luxurious great value British kitchens, no one does it better than Mereway.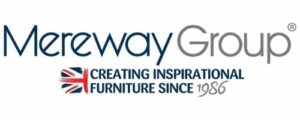 Mereway: Manufacturing High-Quality Kitchens Since 1986
With a heritage spanning over 35 years, today Mereway is one of the UK's leading kitchen manufacturers. Since 1986, Mereway has been dedicated to delivering exceptional quality furniture, and this has earned them a reputation for producing one of the finest, most durable kitchen cabinets in the industry.
At their Birmingham factory, they fuse traditional methods of craftsmanship with state-of-the-art precision engineering to bring to life immaculate kitchens that deliver outstanding durability while capturing authentic British character. Placing quality and longevity at the heart of their approach, Mereway's expertly crafted kitchens combine the very best of classic British design with modern creativity, resulting in interiors unrivalled in both practicality and style.
Every door is manufactured from one single piece of handpicked timber to ensure strength and stability, while skilful planing and edge smoothing guarantee a flawless finish. Finally, each beautifully crafted cabinet is hand-painted with care and precision. Mereway only uses FSC and PEFC approved timber in the manufacture of their kitchens. From start to finish, Mereway's kitchens are meticulously crafted at their British factory. Overseeing the whole journey ensures that each stage is carried out to their exacting standards.
With over 35 years of experience manufacturing outstanding kitchens, you simply won't find more luxurious and reliable furniture anywhere else.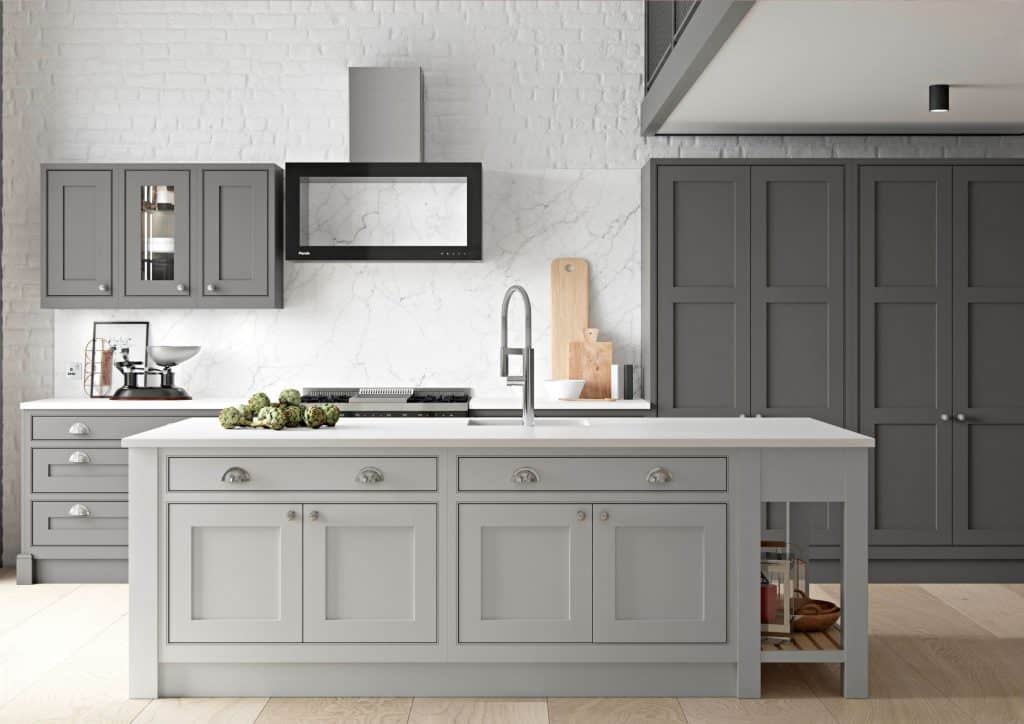 Leaders in Cutting-Edge Design & innovation
Despite taking great pride in their longstanding heritage and traditional values, Mereway are dedicated to pursuing innovation, striving to offer their customers access to the most cutting-edge modern designs. Their superb quality, pioneering products have earned them a number of prestigious awards and accolades.
Part of Mereway's stunning Cucina Colore collection, the Q-line kitchen was recently announced as 'Best Modern Kitchen' by Ideal Home Kitchen Awards. Just last year, this kitchen also won the acclaimed Gold Kitchen Product Design Award at the Designer Awards 2020. Featuring extra-wide drawers, narrow plinths, and a range of breath-taking finishes including showstopping glass and ceramic textures, the Q-line kitchen strikes an extraordinary balance of functionality and high-end contemporary looks.
From sleek and stylish modern in-frame styles to fantastic cutting-edge handleless kitchens, Mereway have continually been committed to developing a leading range of ground-breaking contemporary and classic designs.
Mereway Kitchens At Anderson Sinclair
At Anderson Sinclair, we pride ourselves on the outstanding quality of our bespoke kitchens. From design to installation, we go to great lengths to ensure each of our interiors encompasses the ultimate in practicality, elegant looks, and durability. With our years of experience and our eye for detail, nothing but the best will do when it comes to bringing our client's projects to life, and that's why we've chosen to work with Mereway.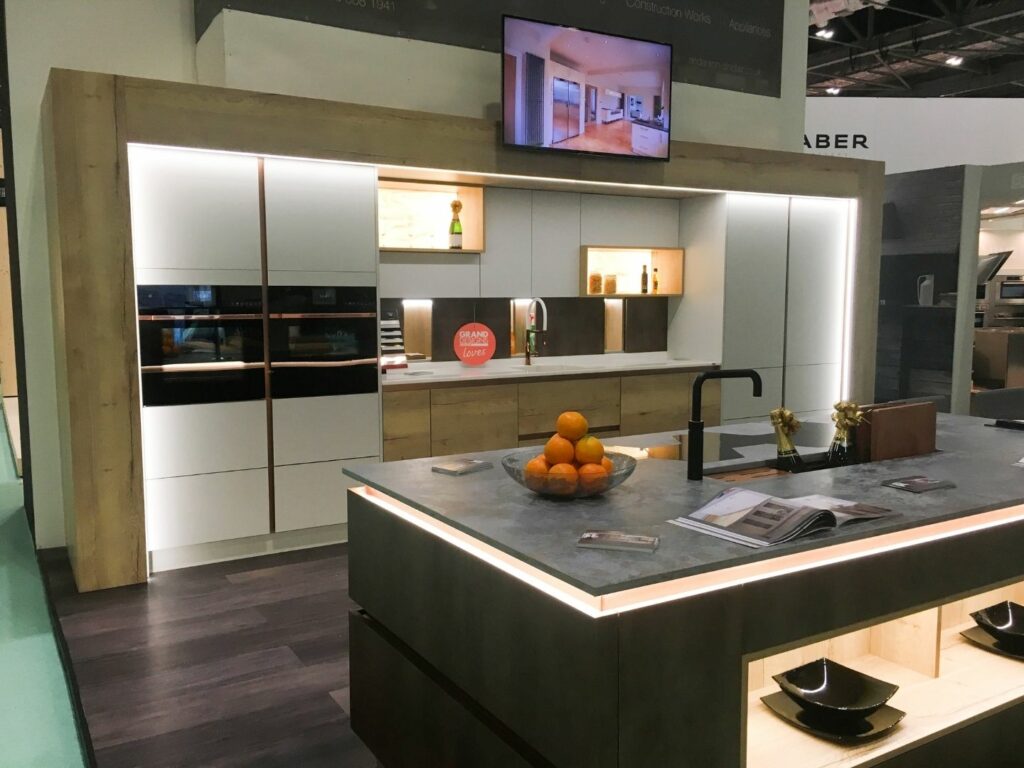 As Mereway Premium Partners, the exceptional quality of Mereway's kitchens paired with our creativity and design expertise has gained us fantastic industry recognition. At our most recent visit to Grand Designs Live, we were incredibly privileged to receive a Grand Design Mag Loves award. The judges praised the originality and ingenuity of our design, which was, of course, in part, made possible thanks to Mereway's versatile kitchen collection.
Here are some of our favourite interiors from Mereway's ranges…
Town & Country
Establishing a unique harmony of traditional design details and modern aesthetics, Mereway's Town & Country collection represents the most varied range of gorgeous styles. From slim line shaker designs to classic raised and fielded kitchens, Mereway's Town & Country range allows us to create truly unique interiors that are perfectly tailored to the individual taste and requirements of our clients.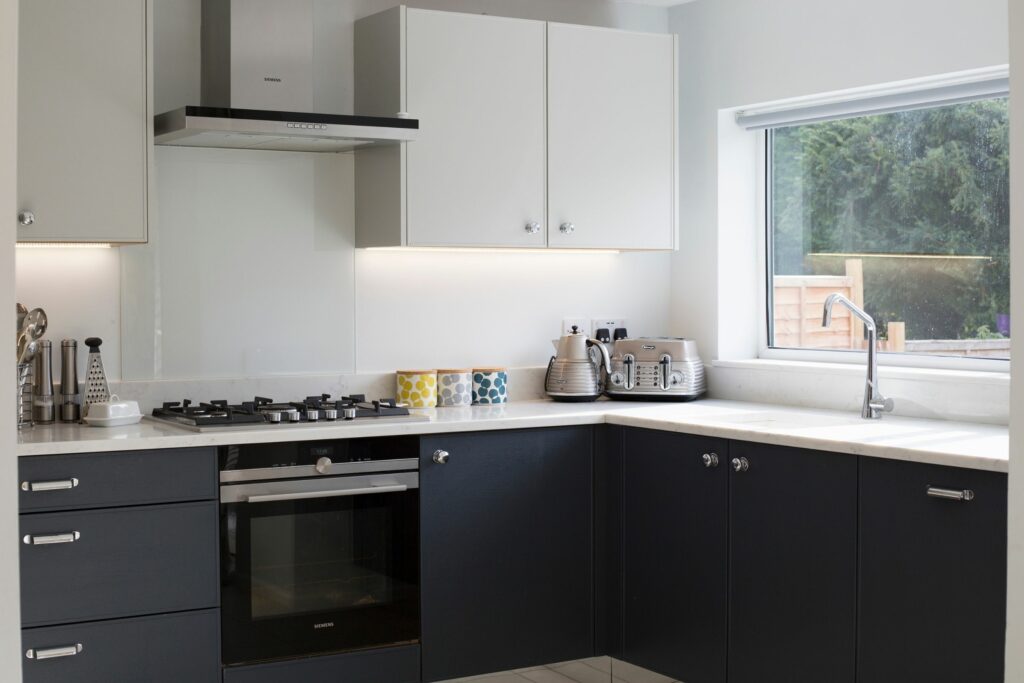 Cucina Colore
Cucina Colore is undeniably one of our favourite Mereway collections. With a selection of sleek handleless and flat-panel styles available in an extensive range of colours and exquisite surface finishes, Mereway's Cucina Colore range represents the ultimate in design flexibility and high-end contemporary style. Dramatic woodgrain and textural ceramic finishes offer the potential to establish a striking modern aesthetic whereas, satin effect glass and soft matt lacquer designs achieve something altogether more tranquil and understated.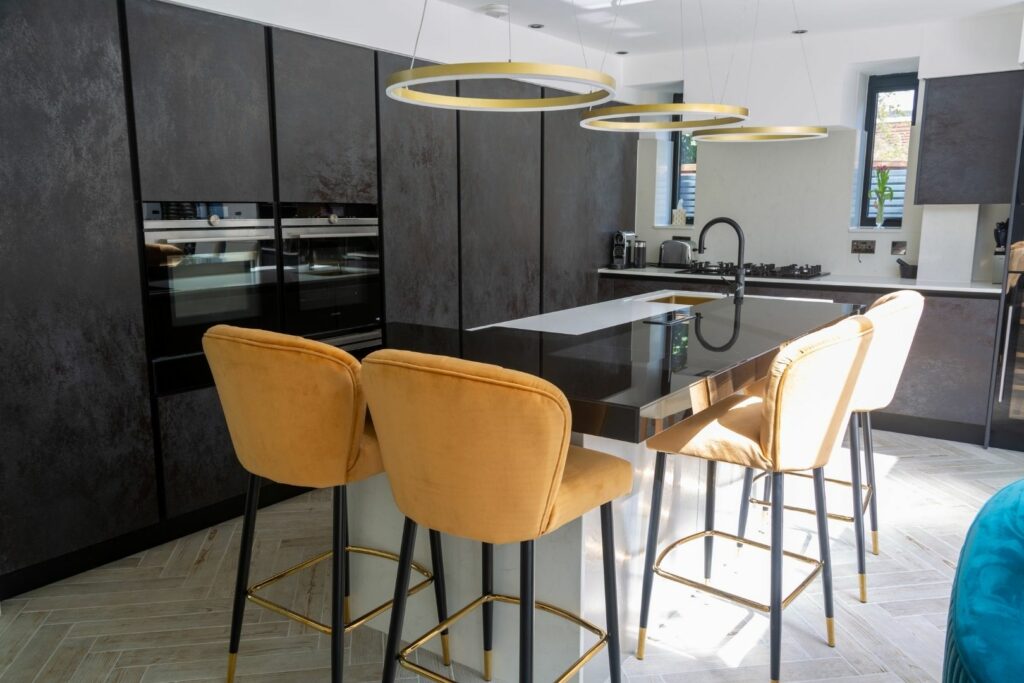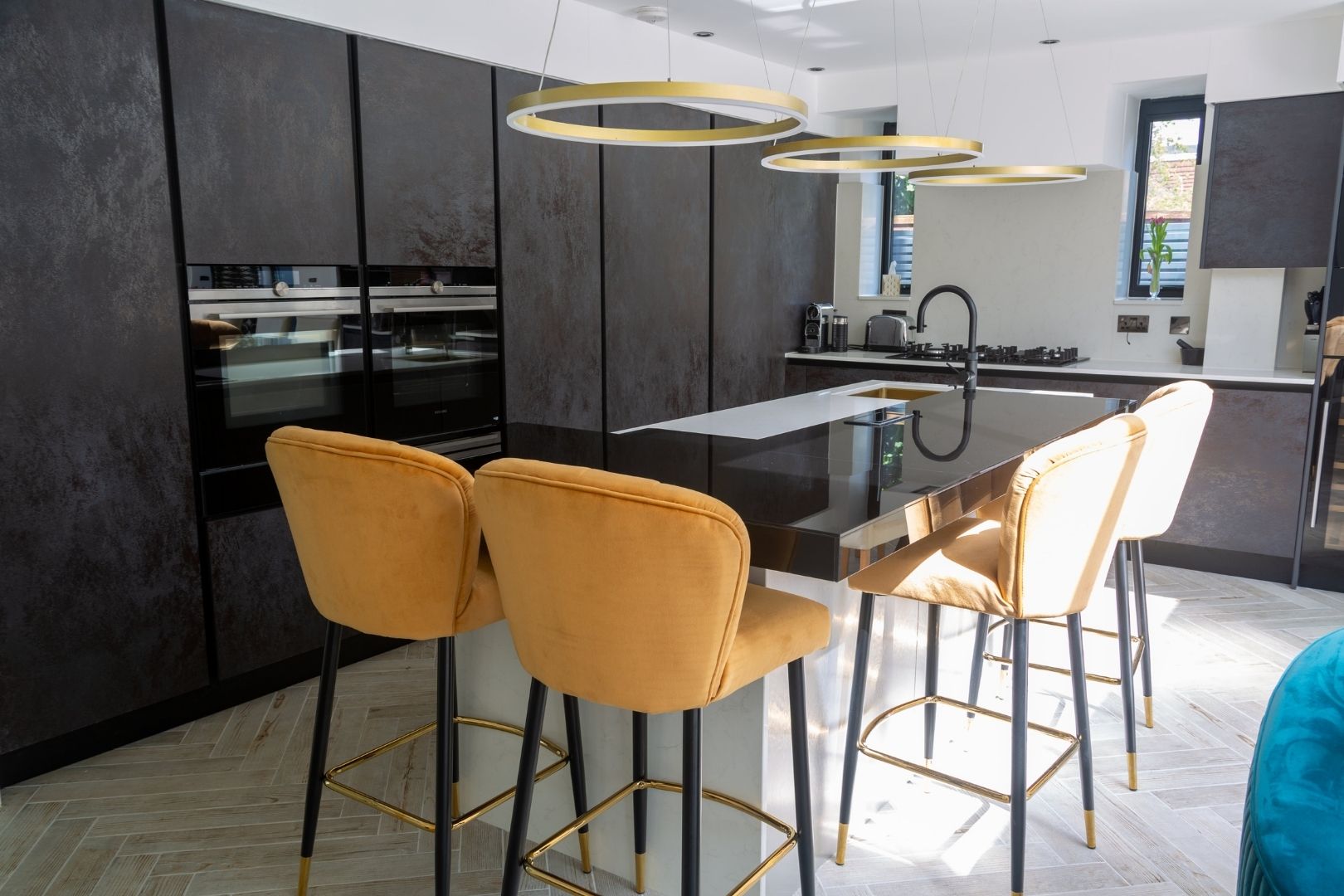 English Revival
In-frame kitchens have and always will be the height of timeless luxury, and Mereway's stunning handcrafted and hand-painted traditional kitchens are an outstanding example of this classically constructed cabinet. Utilising time-honoured British craftsmanship and carpentry skills, the English Revival collection reflects unparalleled elegance and charm.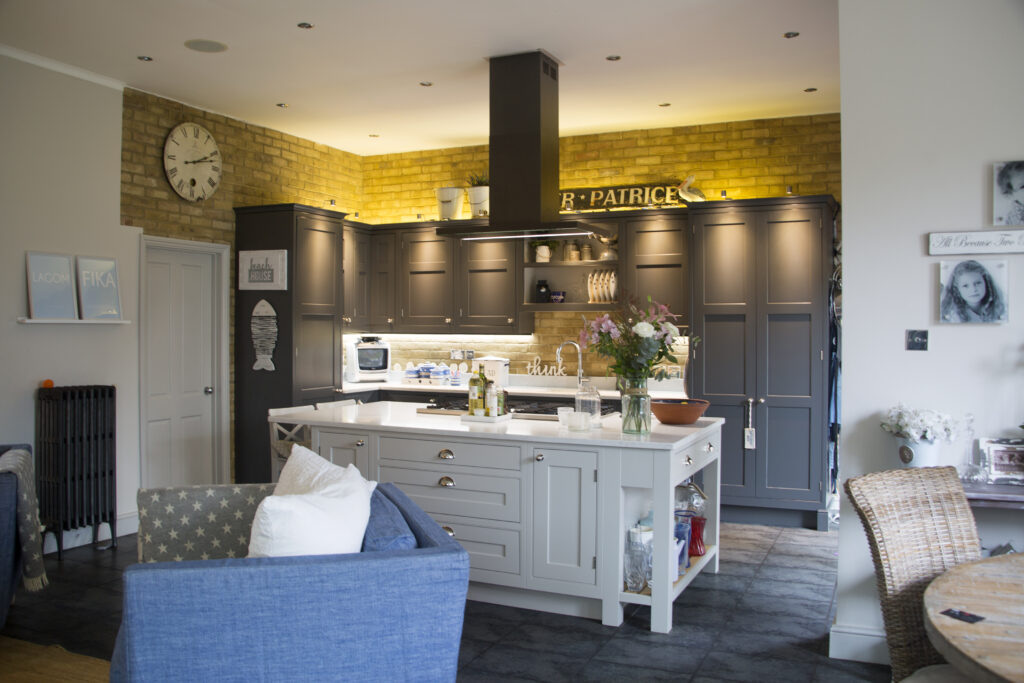 Working with Mereway for the past 15 years has been a real pleasure. The quality, reliability and amazing variety of Mereway's kitchens gives our talented team the potential to achieve truly uncompromising bespoke designs that exceed our client's expectations in every way. As one of Mereway's select Premium Partners, we have an extensive collection of beautiful designs and samples which you can experience for yourself at our Loughton showroom. Click here to find out more about planning your visit. Alternatively, if you'd like to know more about how the Anderson Sinclair team can bring your vision to life, don't hesitate to call us on 0208 088 4058 or email info@anderson-sinclair.co.uk.