From planning a fantastic layout to choosing a wonderful colour scheme, there are plenty of things to consider when redesigning your kitchen. And while it might not be at the top of your to-do list, dedicating careful thought to your kitchen lighting is essential if you're truly going to get the most out of your new space. At Anderson Sinclair, we've brought hundreds of stunning kitchens to life across Essex, and we've seen first-hand the breath-taking transformation that meticulously considered lighting can have on a room. To help you get to grips with the different lighting options and to give you some fantastic inspiration for your project, our experts have put together this handy blog.
There are three primary light source types that work together to create an effective lighting scheme.
Ambient Lighting– Your main source of lighting, ambient lighting should illuminate the whole room throughout the day.
Task Lighting– Task lighting is designed to give you clear visibility in practical areas where you may need to cook or prepare food.
Accent Lighting– Accent lighting provides a decorative element to your lighting scheme. It can be used to highlight specific design features, setting a sophisticated tone to your interior.
Making The Most Of Natural Light
Though it's not something that you can always control, natural light can make a dramatic difference to the look and feel of your kitchen. A type of ambient lighting, natural light will bring a bright, airy and inviting tone to your space, filling the room with energy and making it a wonderful place to enjoy rustling up a delicious treat or wholesome snack. While you might not wish to make too many drastic changes to your home, there are some things you can do to boost the amount of natural light entering your space.
One option is to replace small windows with bi-fold or patio doors. If necessary, your local independent kitchen specialists should be able to help rejig your layout accordingly. If you're having a new extension built, then make sure you consider including either Velux windows or a beautiful skylight. And finally, the oldest trick in the book when it comes to boosting natural light; introducing mirrors to your design. In the kitchen below a mirrored wall behind the hob makes the room feel bright, stylish and even more spacious.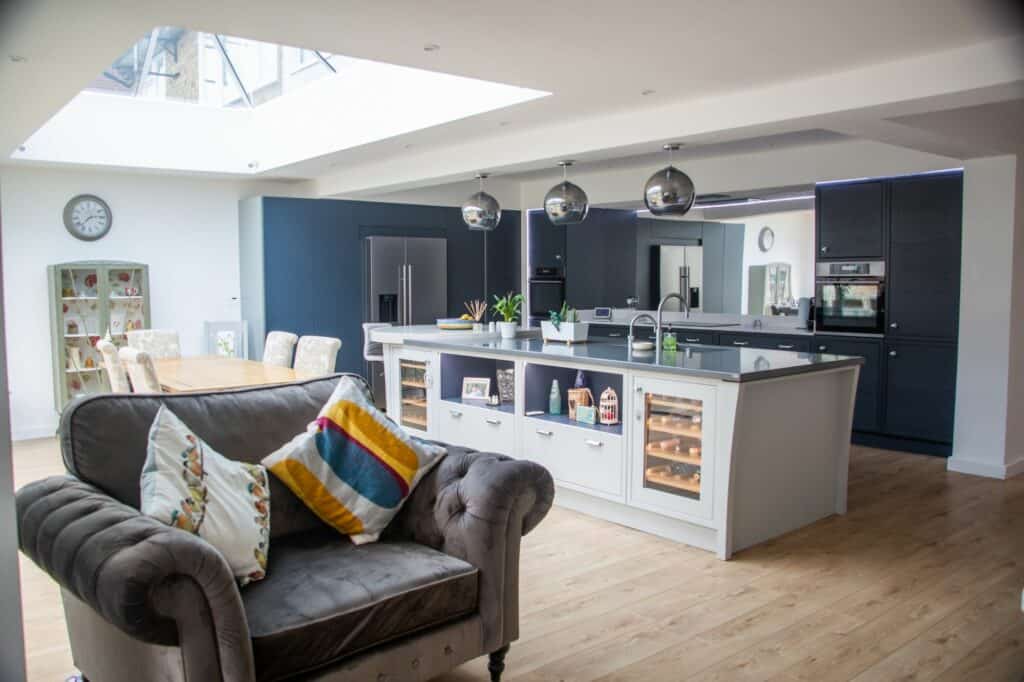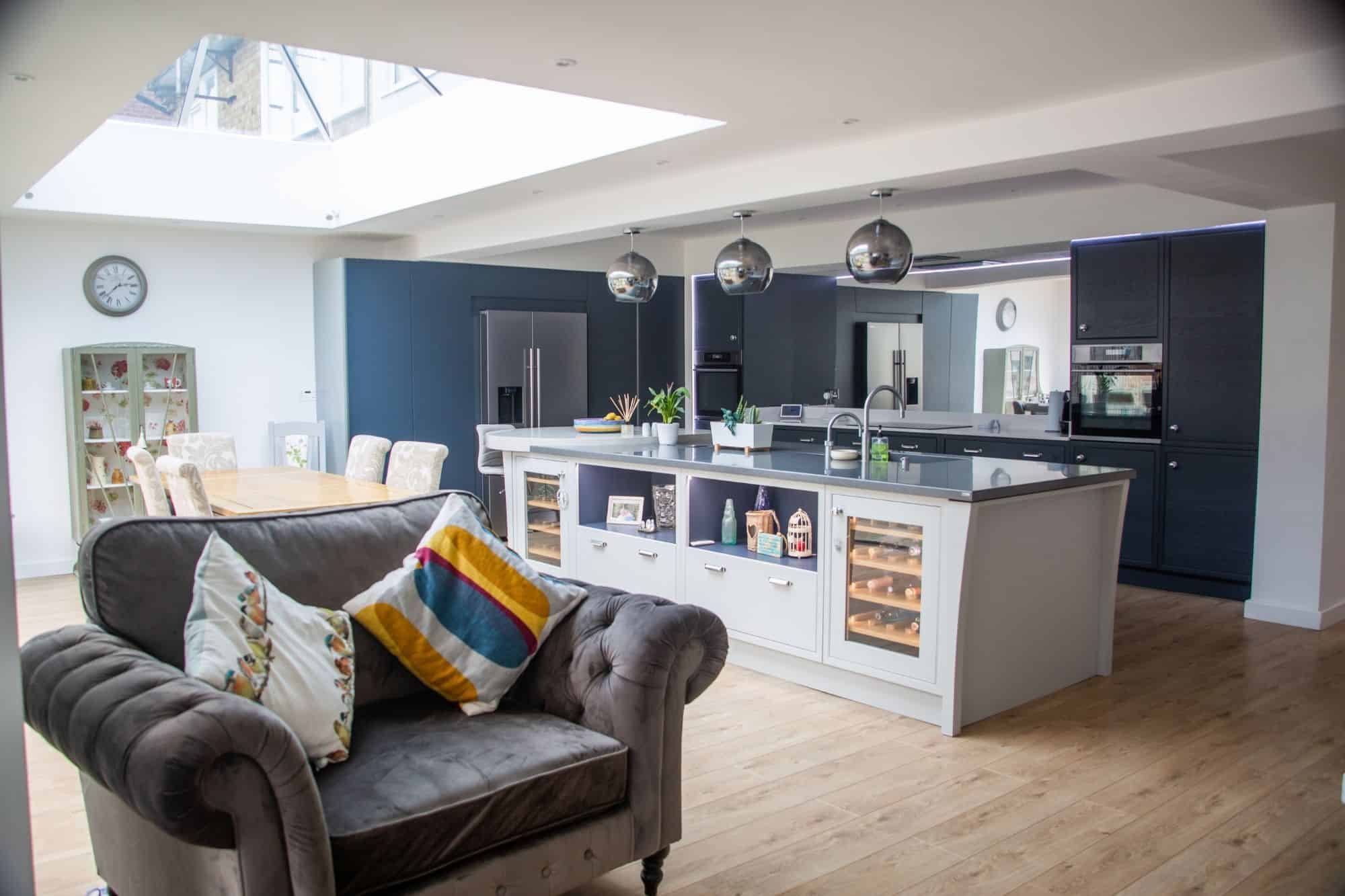 Task Lighting That Transforms Your Kitchen
Task lighting plays an important role in the kitchen, ensuring you can see clearly to prepare food safely. Task lighting most commonly includes pendant lights and undercabinet LEDs, and in the kitchen below we have utilised both to make sure that the worksurfaces are illuminated for excellent visibility when cooking. However, while task lights serve a crucial practical function, they can also add a gorgeous and sophisticated finishing touch to your design.
The undercabinet lights below beautifully highlight the texture and warmth of the exposed brick walls, making the gorgeous dark navy cabinets really pop. As the lighting reflects against the exquisite Corian Onyx worktops, a fantastic contrasting brightness is dispersed throughout the room, further enhancing the space. The subtle and luxurious veining featured in the work surface is also beautifully accentuated by the undercabinet lighting. Task lighting brings a diverse range of practical and stylistic benefits to this kitchen, seamlessly elevating the atmosphere and the functionality of the design.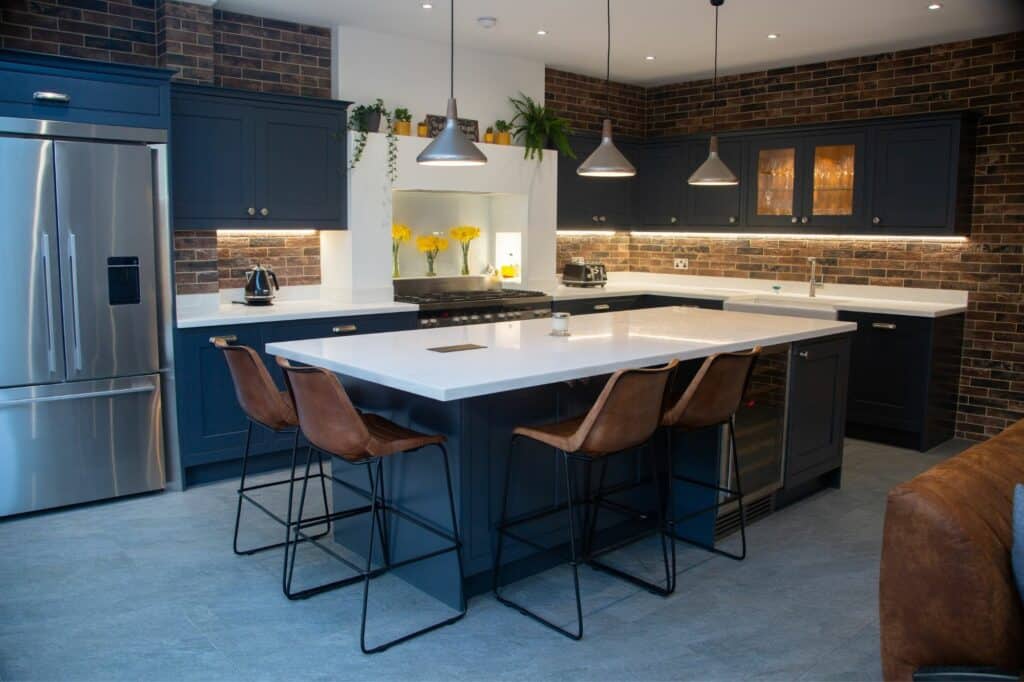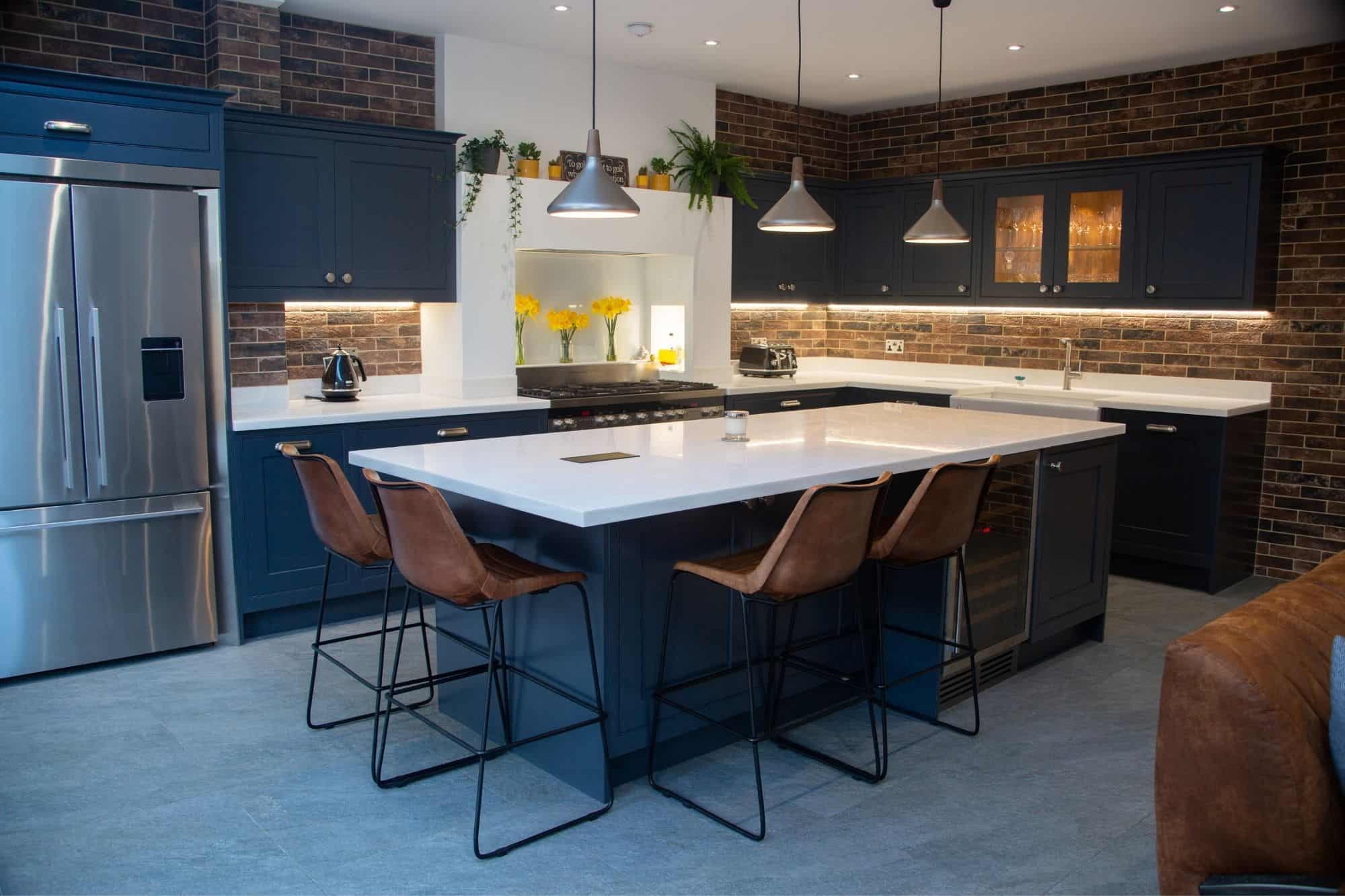 Make A Bold Statement With Stylish Pendant Lights
As well as introducing an additional layer of beautiful lighting to your kitchen, pendant lights offer a wonderful opportunity to enhance the style and look of your design. In the sleek and glamorous modern kitchen below, a trio of gold hoop pendant lights make an impressive and luxurious statement. The gold finish pairs perfectly with the gold bar stools and 1810 gold zenuno sink.
Pendant lights are a fantastic type of accent lighting. Positioning them over an island or dining area draws attention to the kitchen feature, cleverly incorporating it more fully into the overall design and creating a distinctive focal point. There are hundreds of styles of pendant light to choose from to complement a range of designs. Stylish pendant lights are undeniably so much more than just a form of lighting.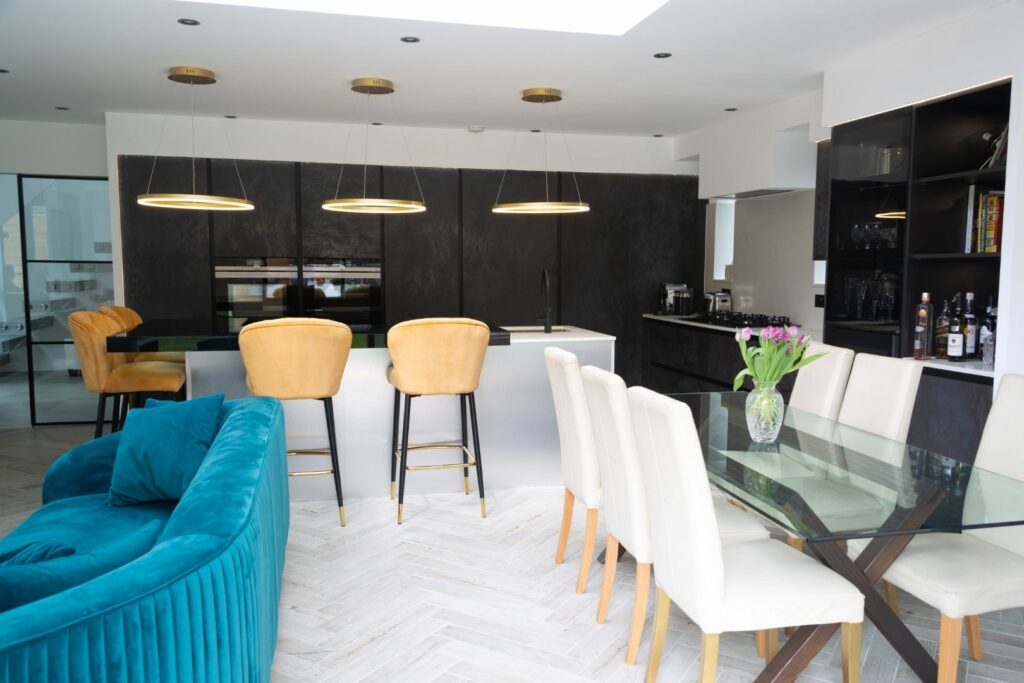 Subtle Accents To Make Your Kitchen Glow
One of the most popular styles of kitchen lighting is recessed LED downlights. Their sleek and unobtrusive appearance allows them to mimic natural light, casting an effective even level of brightness throughout your space. However, since they illuminate the whole room equally, they add little to the character and mood of your design. To get the most from your space, we recommend combining a variety of lighting styles.
While undercabinet task lights and pendant lights can help add a practical and stylish element to your interior, there are many more ways to bring depth and warmth to your space. Positioning spotlights above your cabinets beautifully emphasises their design detailing and the richness of a hand-painted finish as well as bringing a sumptuous glow to your room. Lighting above your cabinets or around plinths or handrails can also add a luxurious and sophisticated dimension to your design. Layering a range of lighting types can help make your gorgeous new kitchen a joy to use and admire day and night.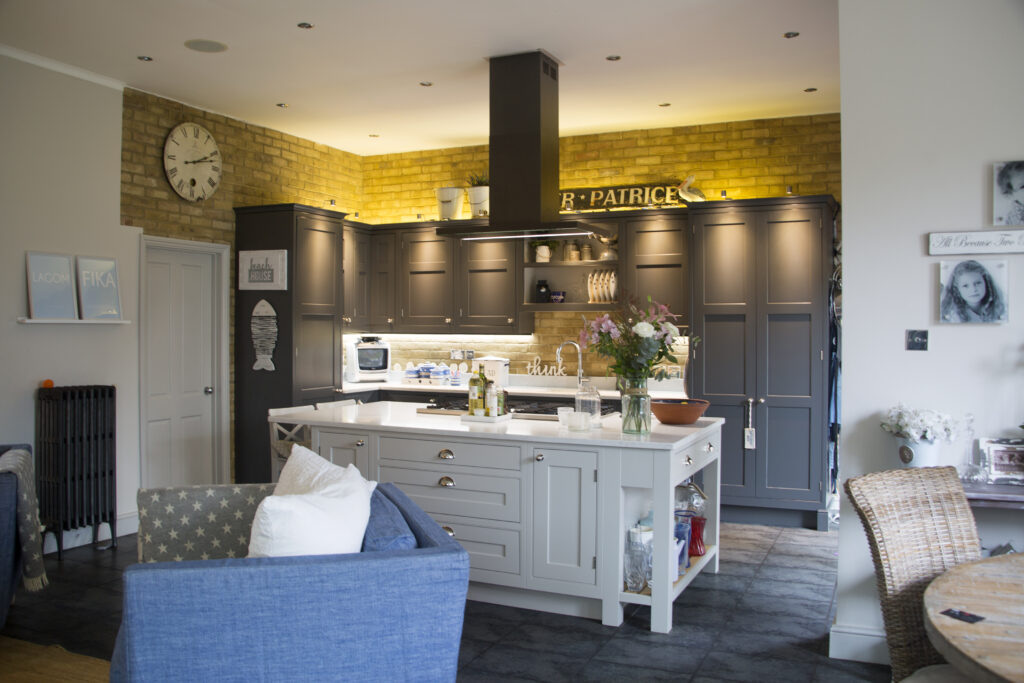 From planning gorgeous kitchen lighting to helping you find the perfect layout and state-of-the-art appliances, our experienced and passionate design specialists love nothing more than making our clients visions a reality. For more kitchen design tips, you can get in touch with our friendly professional team by calling 0208 088 4058 or emailing info@anderson-sinclair.co.uk. Alternatively, why not book a free design appointment at our Loughton kitchen showroom? You can book your visit now by clicking here.