From vibrant teal shaker-style cabinetry to industrial concrete worktops, the latest kitchen design trends can prove hard to resist. However, if you're hoping your new interior will stand the test of time, following all the newest fashions might not be the best solution. Opting for a clean and timeless scheme and relying on some clever design touches to set the tone is a great way to create a space that's beautiful, practical, and unique. Plus, these simple styling tricks make refreshing your interior quick and easy, so your Essex kitchen will always look its best. There are plenty of stylish ways to put your own twist on your design. Here are a few of our favourites…
Introduce Colour With A Vibrant Feature Wall
A dusky heather feature wall brings wonderful warmth and character to this modern Woodford kitchen. It complements the pared-back navy and grey handleless cabinetry beautifully, introducing a subtle touch of personality and sophistication. Restricting the darker shade to one wall helps keep the room feeling spacious and bright. The benefit of adding colour to a wall rather than your cabinetry is that you can easily repaint it to create a whole new look.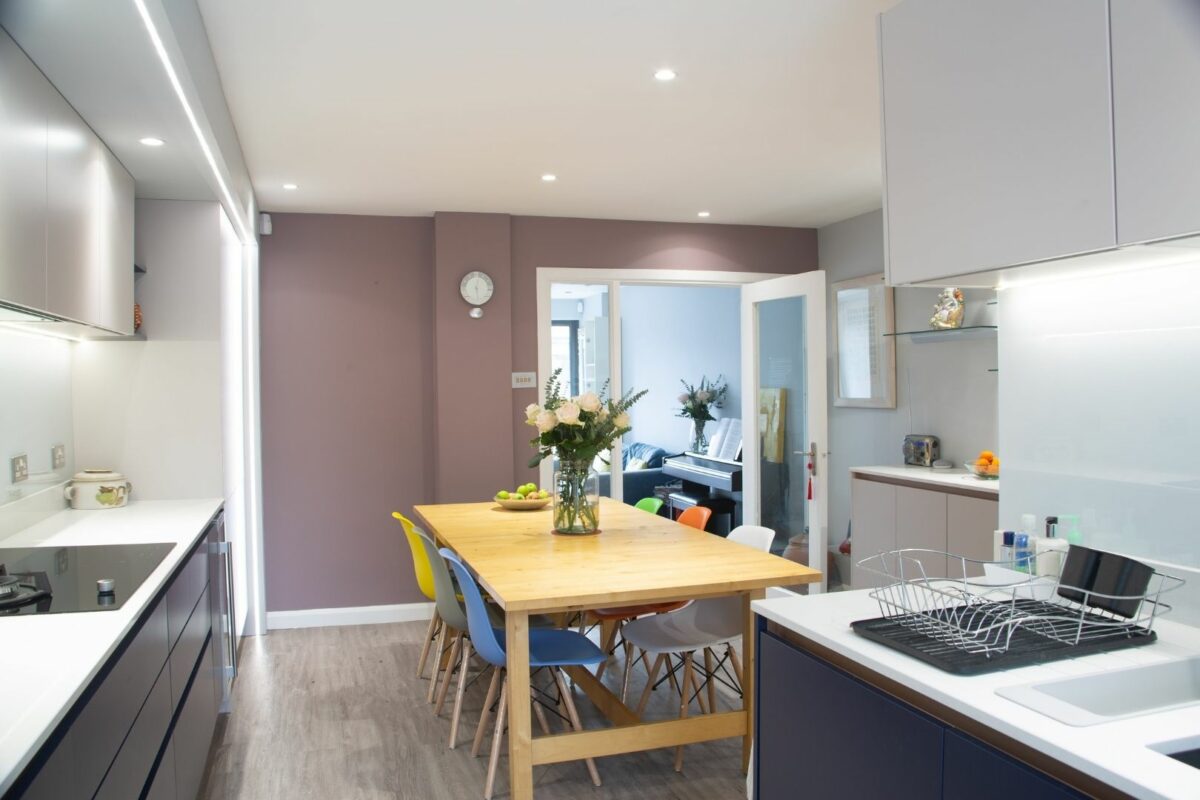 Use Your Dining Area To Set The Tone
Whether you opt for a casual breakfast bar, dining table, or dramatic island, utilising accessories to draw focus to the key features within your space is a great way to elevate your design. Chic light fittings, trendy seating, and eye-catching ornaments offer a simple and versatile way to reflect your style. The colourful chairs and solid oak table in this sleek Woodford kitchen set a charming, family-orientated tone to the room. However, with just a few small changes, this space could look and feel completely different.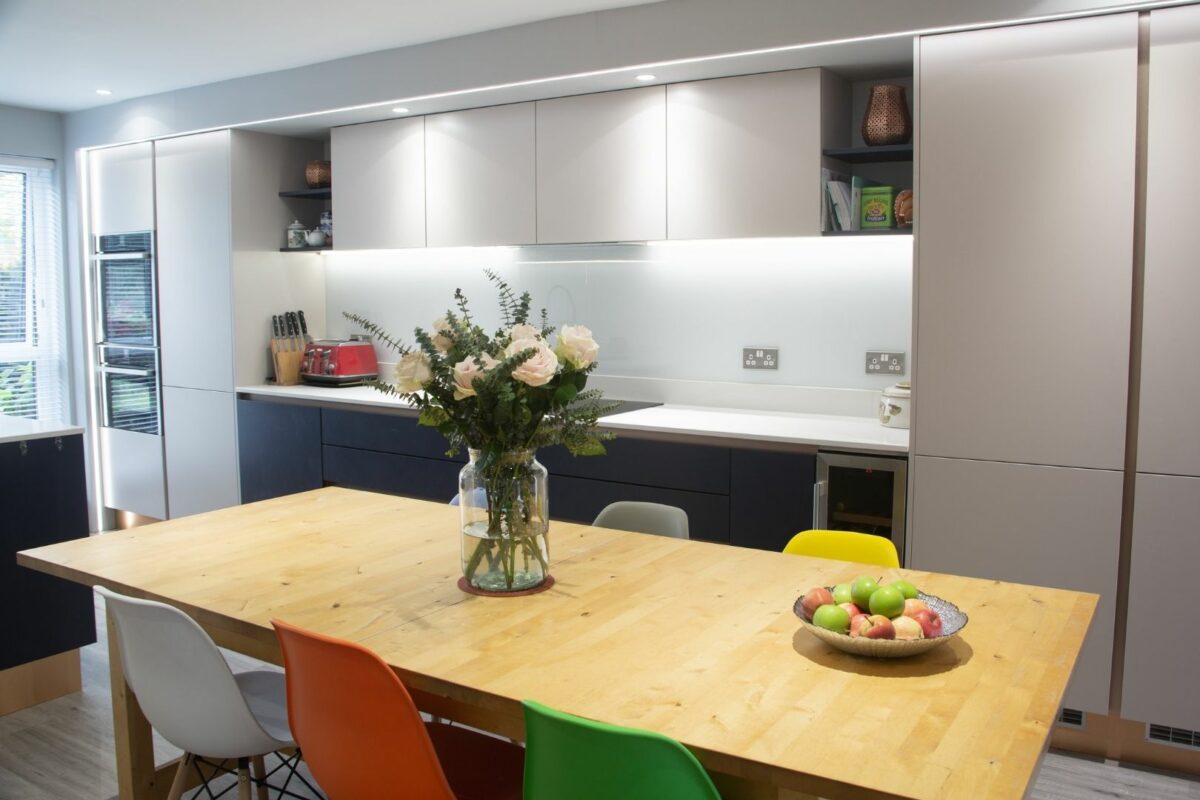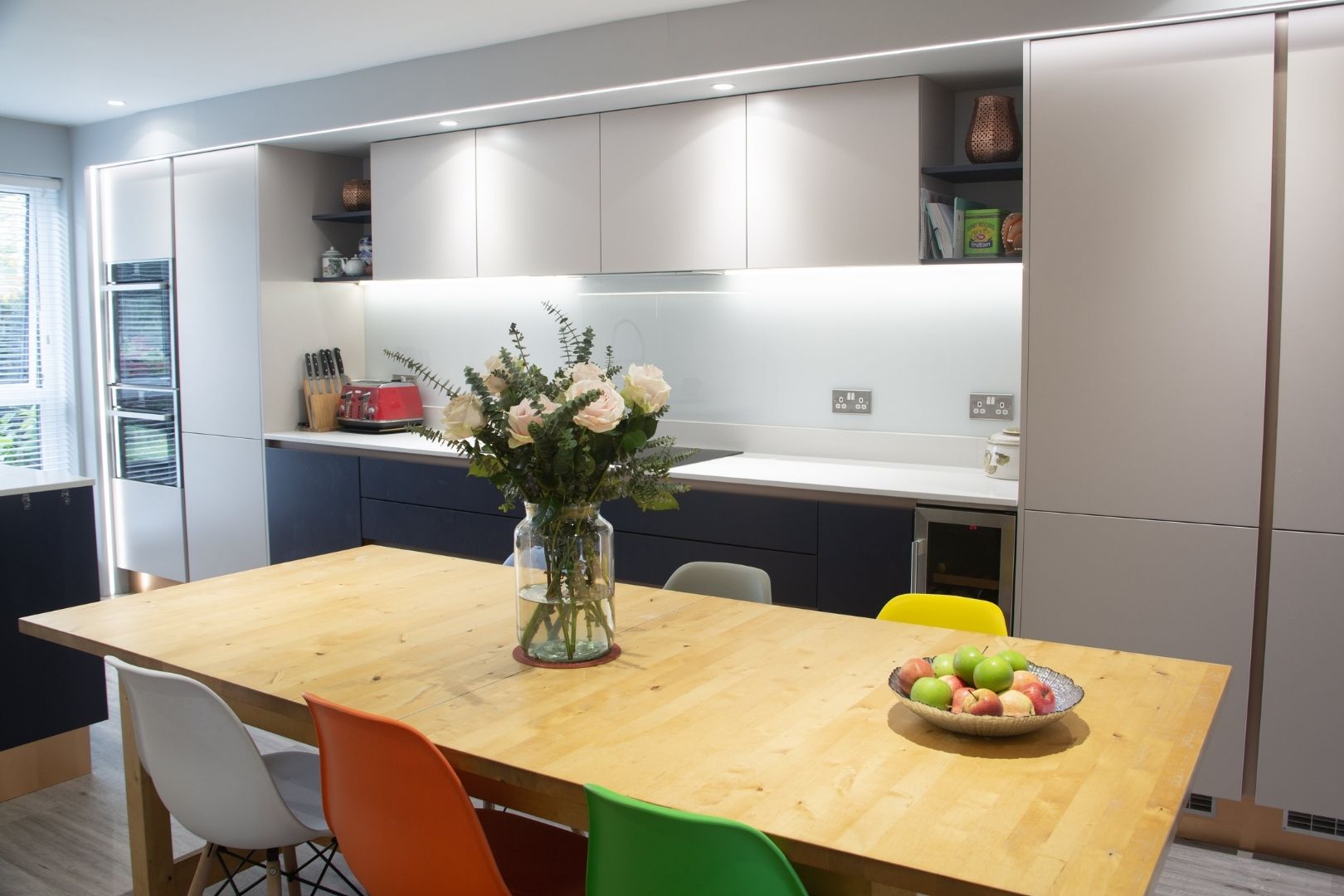 Up The Drama With Versatile Lighting
These days kitchens are more than just a place to cook. They provide a backdrop to a variety of activities, from family baking sessions to evening gatherings. Hence, investing in a versatile lighting scheme that caters to all your needs is a must. In this fabulous Hornchurch kitchen, large bifold doors and skylights flood the space with natural light. Recessed downlights provide additional illumination, ensuring the room is bright enough to use throughout the day. However, what takes this kitchen to the next level is the lighting running around the cabinets and beneath the worktop. It adds a luxurious and timeless element to the design. For more tips on enhancing your kitchen with a versatile lighting scheme, please click here to read our dedicated blog.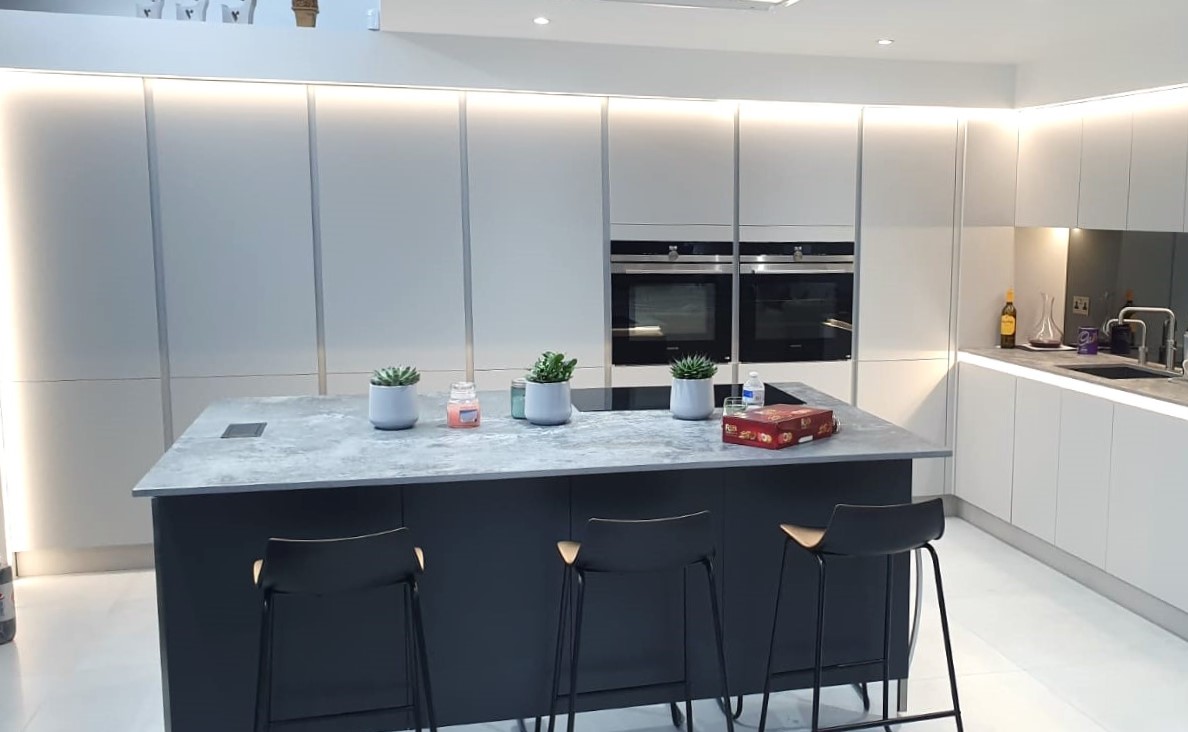 Display Your Favourite Artworks
Taking a simple white shaker kitchen as their starting point, our Epping clients have created a truly unique and eclectic space. While dark mahogany flooring and Crittall doors establish an evocative vintage aesthetic, a lovely selection of artworks and ornaments elevate the design. They bring bags of wonderful character and personality to this interior. It's amazing how just a few pieces can transform the look and feel of a space.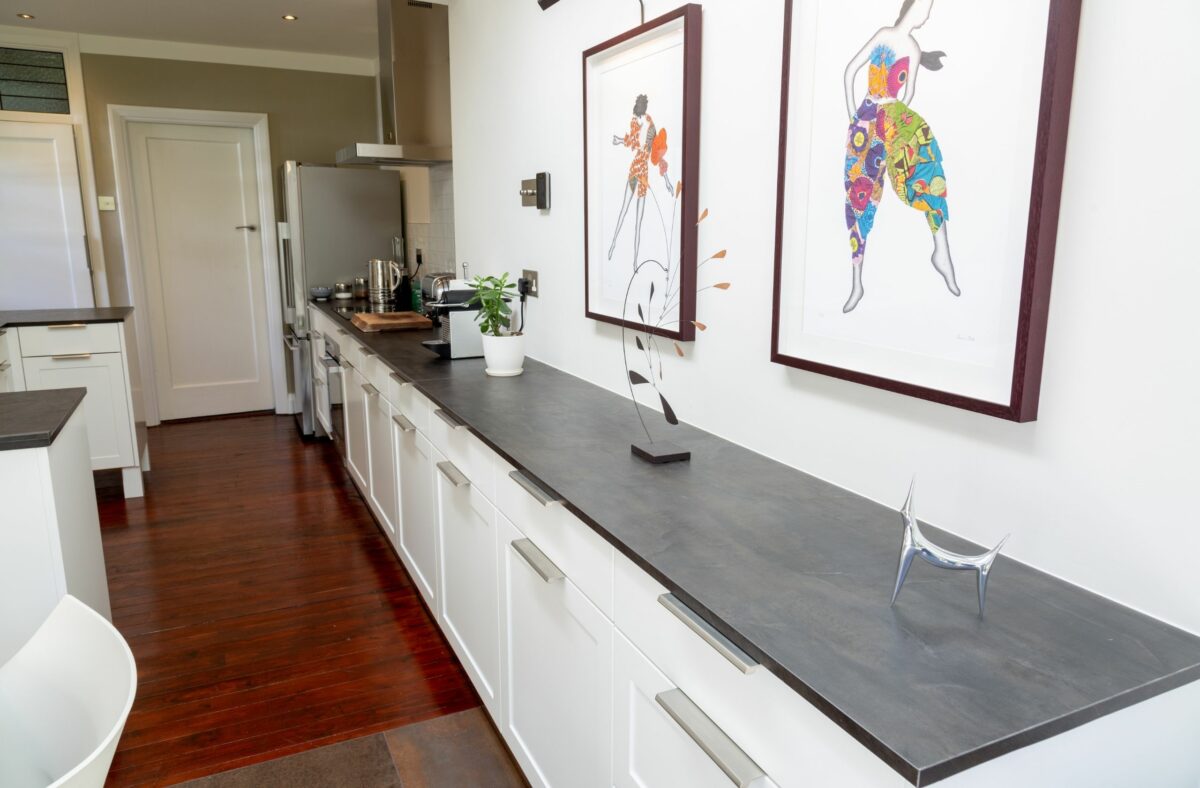 Incorporate Soft Furnishings
Soft furnishings aren't something we necessarily associate with the kitchen. However, as we inevitably spend much of our time chatting and relaxing in this space, lots of our clients choose to incorporate seating into their designs. From chic bar stools to cosy banquette benches like the one featured below, seating offers a great opportunity to add a vibrant pop of colour and texture to your interior.
Add A Touch Of Greenery
Not so long ago, we would have placed houseplants in the same category as TV dinners and shag pile carpets. However, unlike shag carpets and TV dinners, houseplants are back, and it looks like they're here to stay. From trailing potos to chic pampas grass, these trendy houseplants can add a lovely pop of vibrancy and texture to a room, elevating even the most understated kitchen. Don't forget, your choice of planter or vase can add to your scheme too.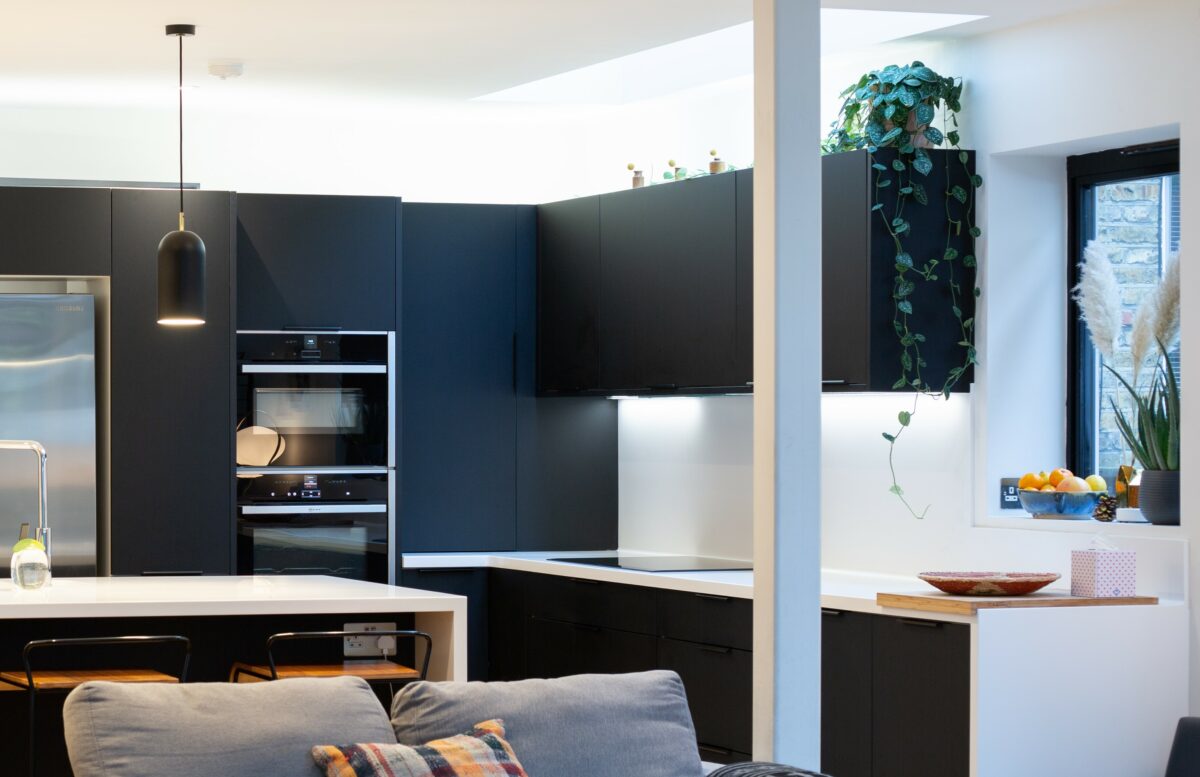 Select Your Accessories Wisely
As you can see, the finer details can have more effect on the overall look of your interior than you might think. Thus, choosing the ornaments, accessories, and furniture you bring into your space wisely is vital to achieving the finish you're looking for. These retro ply bar stools and houseplants put a vintage twist on this sophisticated Enfield kitchen. However, the stylish black pendant lights tie in with the rustic bar stools to add a trendy industrial element. Whether you're envisaging a chic and luxurious interior, an edgy urban scheme, a quirky and characterful vibe, or a cosy and homely retreat, there's nothing you can't achieve with a few carefully curated accessories.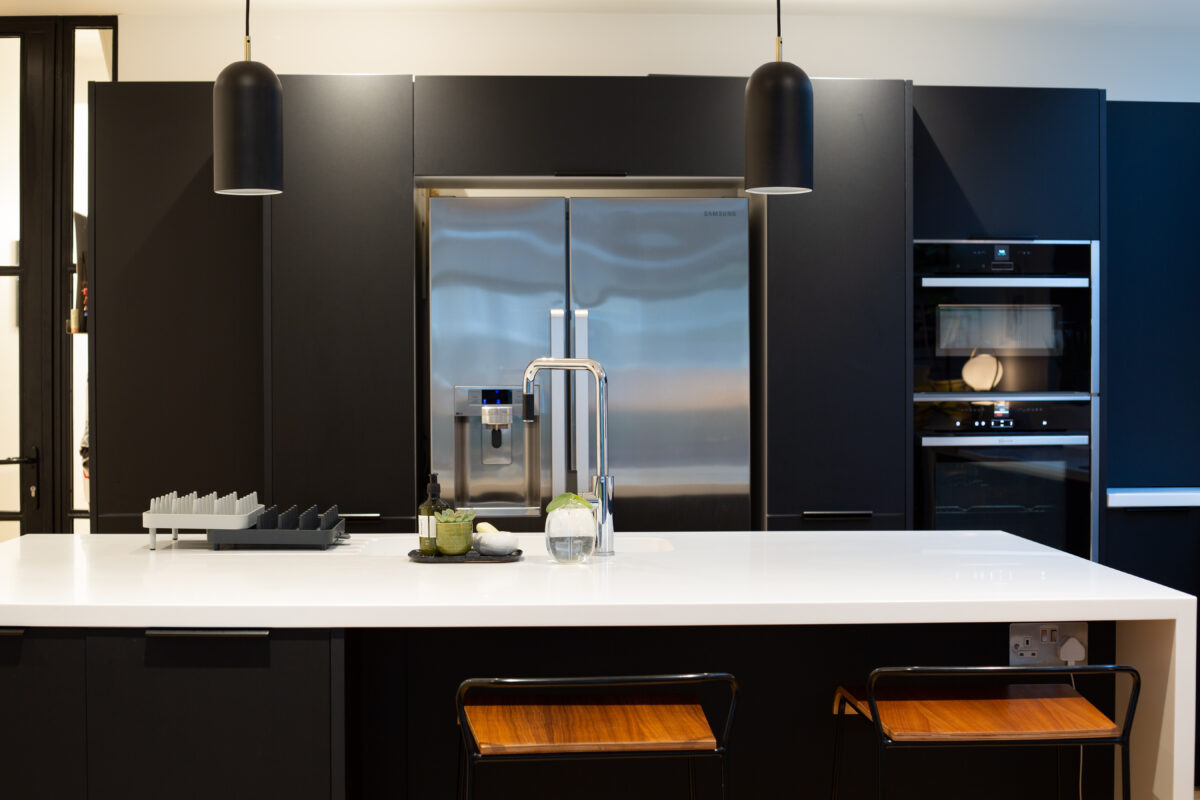 If you would like more advice on designing and styling a stunning new Essex kitchen, we would love to hear from you. Please give our friendly team a call on 0208 088 4058 or email us at info@anderson-sinclair.co.uk.